"He'll get out and come after her with a knife again" - victim's family does not believe that Azerbaijani court will protect her
The family of Dilyara Zeynalova, whom her ex-husband tried to kill, is afraid that he will receive too little time and, after leaving prison, will finish the job.
"We demand the most severe punishment for the criminal. Life imprisonment, if applicable," said the victim's mother, quoted by news agency Turan. She believes that in Azerbaijan, there are no effective laws against domestic violence, and that the authorities are incompetent in this area.
Dilyara Zeynalova is one of the most high-profile cases, but it is not the only instance of attempted murder on domestic grounds in Azerbaijan over the past few months. In October 2019, during a family quarrel, Leyla Mammadova Baku was killed in Baku when her husband stabbed her 25 times. The killer has not yet been sentenced, and the media has already stopped following the case.
• Series of femicides sparks protest campaign on Azerbaijani social media
• Femicide in Georgia: a chronicle of tragedy
High School romance, divorce, and 15 stab wounds
In early February 2020, Dilyara's ex-husband Jeykhun Bakhmanov stabbed her 15 times in broad daylight, in front of their children. The woman survived, but her throat, lungs, and one eye were damaged.
Dilyara's mother says that Jeyhun is a religious fanatic. He and Dilyara were classmates, and even then, he once cut her with a knife in a fit of jealousy. Her former mother-in-law explains why he remained at large by the fact that is father has a high-ranking position.
Despite the incident, Dilyara still married him. She later explained this by saying that if she didn't, Jeyhun threatened to come down on her family.
Her mother says that Dilyara suffered violence for 17 years, and then got a divorce. Unable to accept this, her ex-husband tried to kill her.
A criminal case has been filed against Jeykhun Bakhmanov on charges of bodily harm with particular cruelty and intention to murder. He is now in a pre-trial detention center. Due to her throat injuries, Dilyara cannot yet speak, and the investigation is put on hold until she can testify.
Dilyara Zeynalova's parents do not believe in the state and are afraid that the offender will be sentenced to only 6-7 years, as is often the case.
---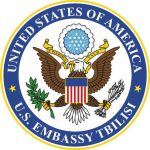 This project is funded through the Democracy Commission Small Grants Program, U.S. Embassy Tbilisi. The contents of this publication are those of the Author(s) and do not necessarily represent the views of the Department of State.