Georgian village where the Abkhaz song plays: how Abkhazians learn their native language in Achara
Abkhazians in Achara learn their native language
Friday. In one of the small classrooms of the public school in the village of Feria, there is a joyful bustle. Middle and high school students eagerly await the start of their favorite lesson.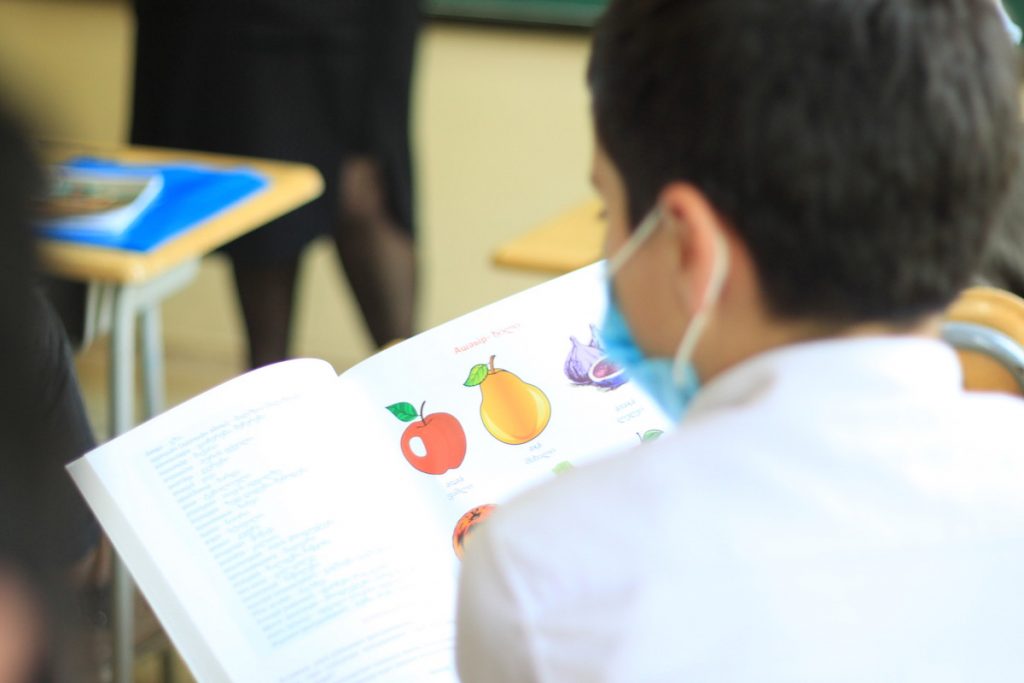 In this lesson, regardless of age and knowledge, everyone is first a grader. This is a lesson in a foreign and at the same time native language, where people of all ages learn its basics.
With the words "Bziala Pshaabet" the children greet the guest entering the class, which means "welcome" in Abkhaz.
This is a lesson in the Abkhaz language. Students are mainly ethnic Abkhaz living in Achara , an autonomous republic on the Black Sea coast of Georgia.
The Abkhaz language has been taught in this small rural school since 2016. Several Adjarian children study in the class with Abkhaz children.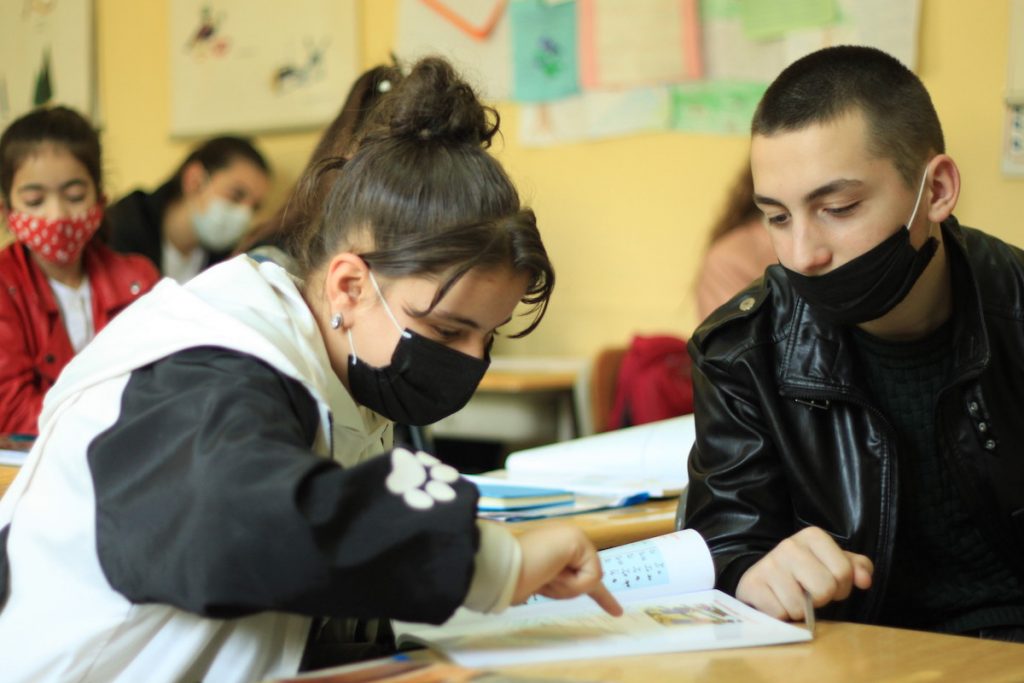 Feria is located in Khelvachauri municipality, three kilometers from Batumi. According to the 2014 census, 1,830 people live in the village. Abkhazians (so-called muhajirs) settled in the village, exiled from Abkhazia to the Ottoman Empire in the second half of the 19th century. (According to historical documents, in 1867-1877, the Russian Empire resettled more than 50,000 Abkhazians from Abkhazia to Turkey, which then included Achara).
In Achara, Abkhazians live in more than 10 villages of the Khelvachauri region and in several districts of Batumi.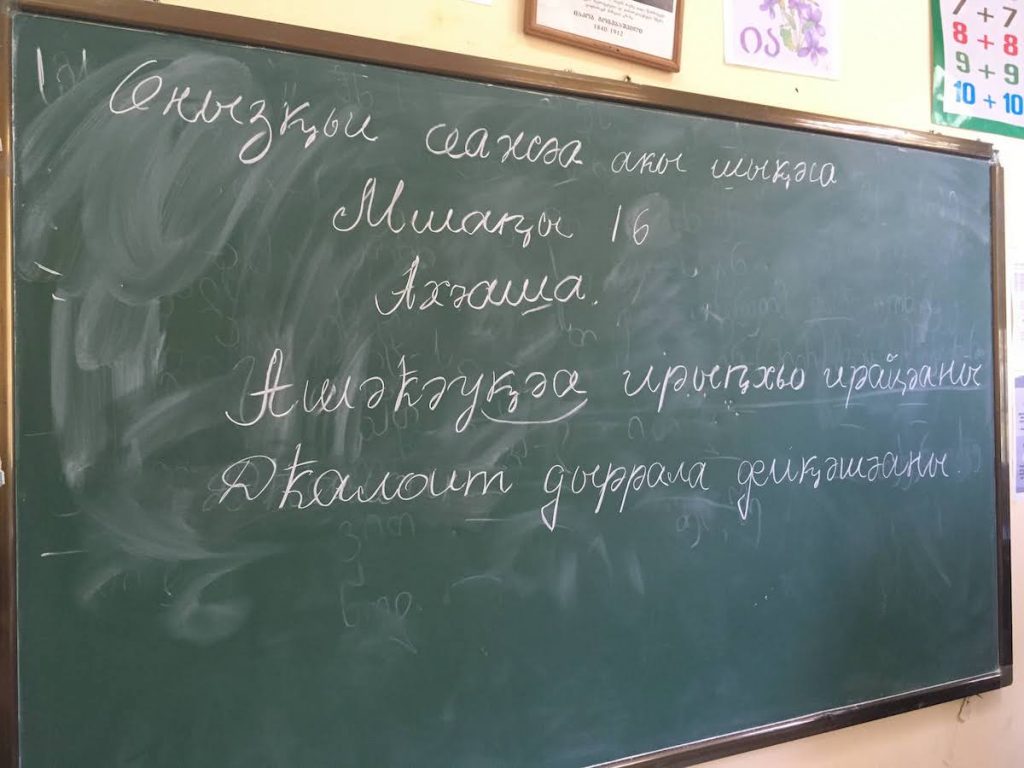 Guests are not unusual for a school in Feria – Abkhaz language lessons are rare in Georgia, so journalists and politicians often come here.
"I think Abkhaz is one of the most difficult languages ​​in the world", says Ruslan Cholokava, a 16-year-old Abkhaz who has been studying Abkhaz since the sixth grade.
At first it was very difficult to learn the native language, but after learning the alphabet it became easier. Now he speaks with his relatives in Sukhumi in Abkhazian.
Like Ruslan, 26 Abkhaz and Ajarian children study Abkhaz at the Feria public school.
"Initially, people of any age could attend classes. When they came, we let them into class, just to learn the language. Now only children go. The elders work, they are busy", says Liana Aykutsba, an Abkhaz language teacher.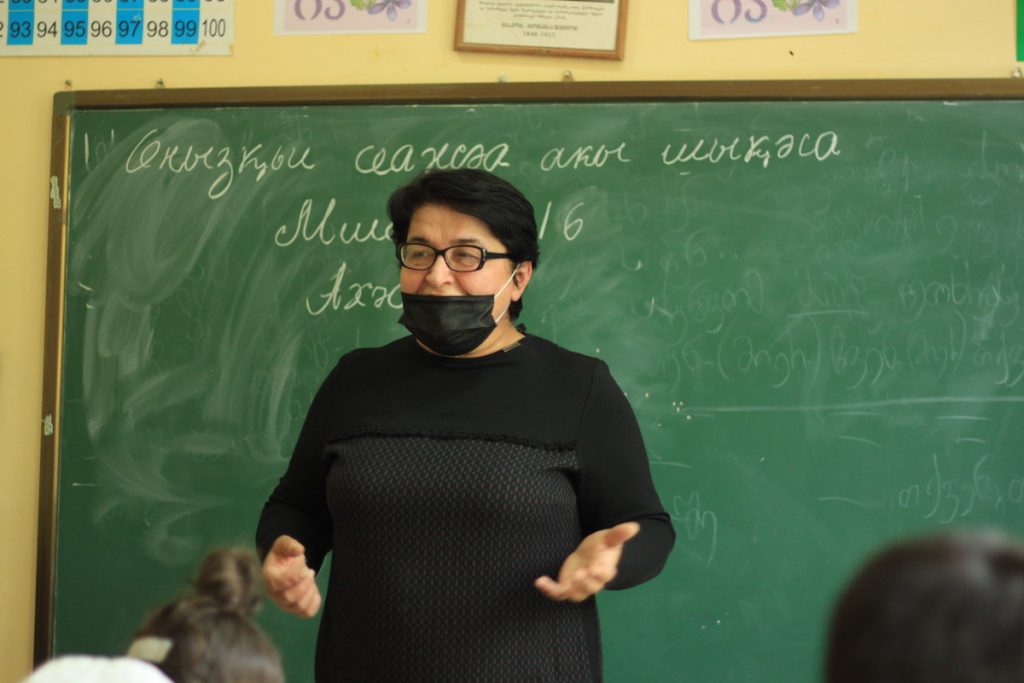 Over the past six years, since lessons began at school, Liana has taught the Abkhaz language to about twenty children.
Liana learned the language from her parents. As she recalls, as a child, she spoke Abkhaz at home, and the Adjarian neighbors also understood this language, because there were many Abkhazians in their area.
"Now even Abkhaz families no longer know the language. Only the older generation speaks the language, and relatively young people also show a great interest in it", says Liana.
In addition to the village of Feria, the Abkhaz language is also taught in the school number 14 in the city of Batumi.
The Abkhaz language lessons are an initiative of the Abkhazians living in Achara:
"Many Abkhazians lived and live in Feria. Generations have grown up in the school. Among them are Abkhaz teachers who now teach Georgian language and literature in our school. The village has very friendly relations. Great attitude towards each other", says Leyla Dumbadze, headmaster of the school in the village of Feria.
As children say, poems in Abkhaz help them learn the language.
12-year-old Nika Eseridze is an Adjarian. He began studying Abkhaz thanks to his classmates and neighbors.
According to him, he dreams of going to Abkhazia with his Abkhaz friends and make new friends there.
"My Abkhaz friends talk a lot about Abkhazia. If I go there, probably no one there will know Georgian, so I will have to talk to them in Abkhaz to make friends. I'm small now and they won't let me in, but when I grow up, I really want to go", says Nika.
Like Nika, 16-year-old Anri Khokhba, who has been studying the Abkhaz language with his brother since the eighth grade, wants to go to Abkhazia.
He plans to get higher education in Sukhumi – he wants to study architecture.
"I have a relative, the rector of Sukhumi University, and he told me that I can continue my studies there", says Anri.
Today the majority of Abkhazians living in Achara come from mixed families.
According to 81-year-old Rezo Diasamidze, who was born into an Ajarian-Abkhazian family, Abkhazians are so closely connected with local residents that it is difficult to separate them. Together with his family, he has been living in the Abkhaz region of Batumi for over 50 years. Abkhaz by mother, he also brought a wife from Abkhazia. However, three months after the wedding, the wife returned to Abkhazia.
"She hated this place, she had her own customs, we had our own. I could not get used to society. Then I married an Adjarian girl. Mom didn't like her, but over time she began to say what a good daughter-in-law you brought me", grandfather Rezo recalls.
Over the years, the Abkhazian settlements in Batumi and surrounding villages have changed. Some changes their place of residence, some leavefor emigration, some return to Abkhazia.
Relatives of 26-year-old Sopho Chinba from Batumi have been living in Abkhazia for over 15 years. According to Sopo, the government provides houses for the Abkhaz who came to live in Abkhazia from Georgia, which, in her opinion, is being done to return the Abkhaz to their homeland.
"I can't imagine getting up so suddenly and going to live there when you have everything here. Even young people from there cannot go to study in Europe. And they really want to. I prefer to be where I was born, but that does not exclude the possibility of me going there", said Sopho, who paid a business visit to Abkhazia in 2016.
A psychologist by profession, she participated in a peacekeeping project with Abkhazians living in Abkhazia, Kutaisi, Tbilisi and Achara, which allowed her to learn about the problems of both sides of the Georgian-Abkhaz conflict.
Sopho believes that one way to resolve conflict is through frequent contact between people – allowing them to get to know each other, see each other, share their pain and never look back.
Sopho was in Abkhazia for only four days. Sukhumi reminded her of old Batumi with low buildings on the seashore and an old boulevard.
The Georgian-Abkhaz conflict was difficult for the ethnic Abkhaz woman Eter Ayozba living in Batumi, and who grew up in one of the districts surrounded by her neighbors, Adjarians.
According to her, it was the support and love of good neighbors that saved her family from the pressure that the Abkhaz experienced during the Georgian-Abkhaz war.
"During the war, I was under intense pressure. Come in large numbers – so they told me to my face at work. On TV, this proud people were simply razed to the ground due to imprudence and wrong policies. My mother was very upset, but the neighbors loved her very much and there was no such attitude. They did not say a word about the Abkhaz", she recalls.