Five found guilty of killing Boris Nemtsov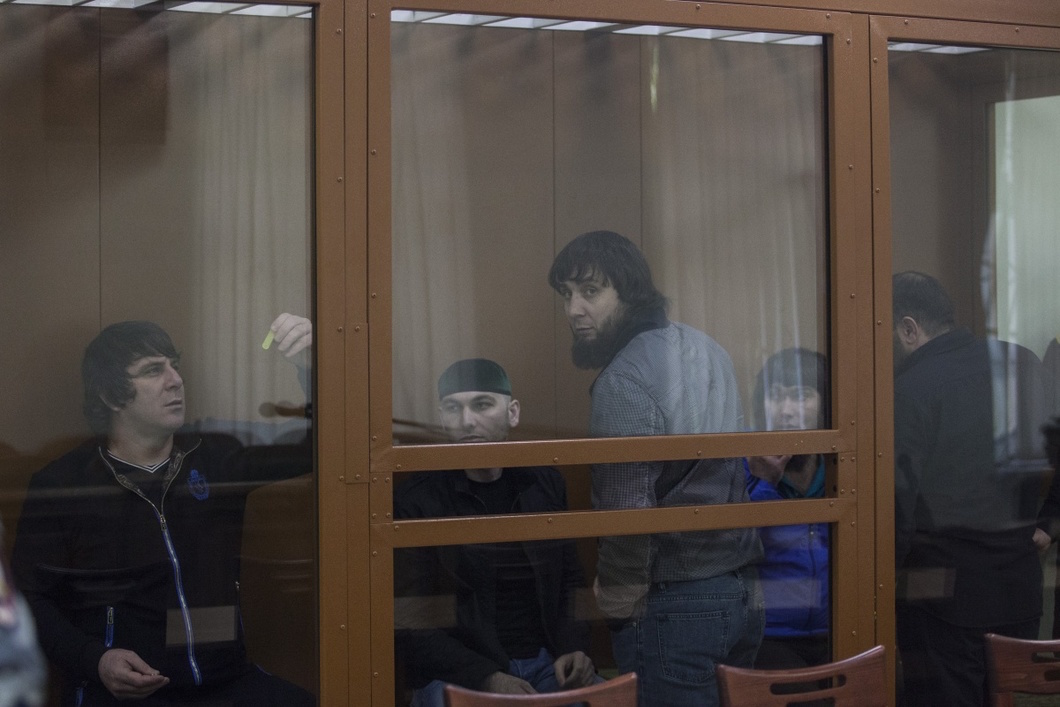 Found guilty in the murder. From left to right: Tamirlan Eskerkhanov, brothers Anzor and Shadid Gubashev, Zaur Dadayev and Khamzat Bakhayev. Photo by Vlad Dokshin, Novaya Gazeta
All five men accused of killing Boris Nemtsov were found guilty by a jury in Moscow. They can face life imprisonment.
Politician Boris Nemtsov was killed late at night on 7 February, 2015 in the vicinity of the Kremlin.
The suspects were identified and arrested by early March 2015. Moreover, their confessions were videotaped.
Then problems arose:
– Access to videos was denied
– All attempts to question the high ranking Chechen law enforcement officers close to Ramzan Kadyrov failed
– A massive and expensive campaign in the media and social networks was staged, meant to discredit the "unprofessional" investigation
– In court the Chechen officers were not questioned "because they refused to open doors".
The lawyers of the victims – Boris Nemtsov`s family – believe the prosecution and the judge shared a common goal – to convince the jury of the following:
– Ruslan Mukhitdinov, an ordinary driver from Chechnya, decided to kill Nemtsov out of  sudden hate
– For that goal, he acquired USD 200 000, weapons, and organized a group of fellow countrymen
– They killed Nemtsov but failed to escape
According to Nemtsov`s family lawyers, the aim was to detract the jury from the paymasters and organizers of the crime.
The case cannot be considered closed – Novaya Gazeta reports.
Investigation of the paymasters and organizers is likely to be shelved, just as in the case of the Anna Politkovskaya killing.