Fake news in Moldova: fires, droughts, terror attacks and discredited politicians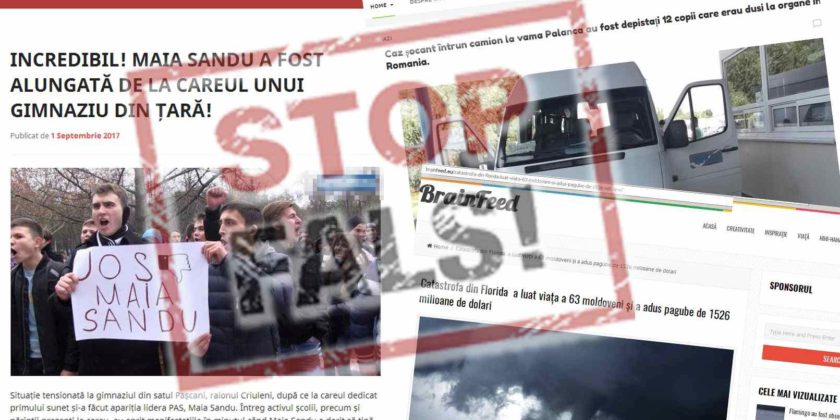 Originally published by Ziarul de Garda
In Moldova, sites often pop up that spread knowingly false information. They are often created to resemble real news agencies, and many social media users, not suspecting any dirty tricks, send the fake news to their friends. The newspaper Ziarul de Garda talks about how this scheme works and why it still endures.
A 'news' item published on 1 September by a news portal under the name of 'Independent Press' appeared to be normal: citing some 'Ms. Maria', it described how the pro-European opposition politician Maia Sandu was booed at a school assembly.
The information was quickly spread amongst social media users and Sandu had to deny the information on her own Facebook page, and then the administration of the school where the incident supposedly took place chimed up as well.
The site 'Independent Press' (in Moldovan, Presa independentă), has on multiple occasions published information about the chairwoman of the Moldovan party 'Action and Solidarity', Maia Sandu. For example, they reported earlier that the ex-president of Romania Traian Băsescu had accused Sandu of populism. Băsescu himself had to explain that the publication was a 'Russian-Dodonovo [pack of] lies'.
Recently, the 'Independent Press' released another 'revelation'. This time about the chairman of the opposition Liberal Party, Mihai Ghimpu, who was supposedly investing two million euros, which he 'earned from politics', into the purchase of a four-star hotel. The publication was reprinted by several pro-Russian resources, including rtr.md, mail.ru, sputnik.md, bloknot-moldova.md and others.
Mihai Ghimpu stated that it was false and that he is not willing to polemicize with the 'press of the KGB'.
Presaindependenta.wordpress.com is registered in the United States in the city of San Francisco, and its administrator is Vasile Popa from Chisinau.
Sites that copy or use titles similar to that of well-known media outlets are not a rarity in Moldova. The"clones" publish both real and fake and distorted information which often pertains to political opponents of the current government.
Why fake news is so easy to spread
A site registered in May of 2017, jurnal-tv.legendary-new.info, published a news item about how 12 children were supposedly found who had been taken to Romania to have their organs removed. One can read the publication only after sharing it online, because a pop-up appears before one can read the article with a button asking the user to 'share', which does not close until the user pushes the button.
This scheme was used for a publication of the site Pro-inside.website as well – here, an article alleged that a fire had broken out in a wine cellar, during which the 'best wines of Moldova burned over the course of a few hours'. There was never any such fire.
How to handle the problem
The chairman of the Press Council of Moldova, Viorica Zakharia, urges readers not to be naive and to always pay attention to what is written in the address bar of the browser:
"If you see a name that is very similar to that of a well-known media outlet, it means that someone has started a scheme to decrease trust towards this outlet and simultaneously to raise the interest in their own fake news. [Such clones] are created not only in order to give rise to panic or to discredit certain political figures, but also to strike against the truly independent and trustworthy press," said Zakharia.
In the majority of cases, the sites are registered with anonymous administrators, and often the servers are located in Russia. But in Moldova, there is at least one person who does not hide neither his name nor the fact that he publishes false information on his sites.
Corneliu Ababi is part of the 'Democratic Party' youth organization and is 21 years old. He owns dozens of sites which specialize in fake news. More often than now, they write about road accidents with dozens of victims, about large fires, earthquake predictions and devastating droughts. One can also find reports on corpses rising from the dead after burial, and about blood-letting terror attacks.
The owner of the site confirms that he publishes false news in order to earn money from traffic to his sites, and that he has no political goals. However, there is quite a bit of 'news' about politics on his sites as well: sites registered under his name write, as a rule, about the political opponents of the Democratic Party of which he is a member. Generally, such news items are negative.
Will they not get their 'just desserts'?
The Association of the Independent Press has appealed to the police of Moldova with a request to report on whether investigations are under way for sites that are registered outside the country and that spread fake news. The deputy chief of the General Police Inspectorate of Moldova, Giorgi Kavkalyuk, said that investigations into such news outlets can only be conducted when a criminal case is involved.
"We have a department for the fight against cybercrime. We can make a request in the analogous institutions of other states in the event of a criminal case," stated Kavkalyuk.
Opposition figure Maia Sandu has appealed to the police. She was told more or less the same: the police said that it was 'impossible to determine who had done this' [written the article].