85% of Georgians support NATO membership - Edison Research
Edison Research study on Georgia
According to a public opinion poll conducted by the American research organization Edison Research, 85 percent of the Georgian population support the country's membership in NATO, and 90 percent in the European Union.
The public opinion poll was commissioned by the Georgian broadcaster Formula TV.
As part of the random sampling and face-to-face survey, 1,500 people over the age of 18 who have the right to vote and live throughout Georgia (excluding the conflict zone) were interviewed. The margin of error of the study is +/- 3%.
The field part of the study was conducted from May 25 to June 14, 2023.
To the question "Do you support or oppose Georgia's accession to NATO?" The responses were divided as follows:
Support – 85 percent
I do not support – 15 percent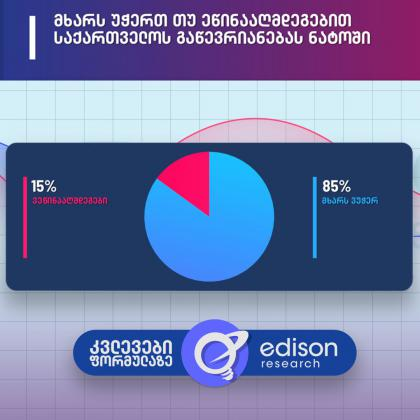 According to the study, 90 percent of the population support accession to the European Union, 10 percent are against it.
---
---
Answering the question "If parliamentary elections were held today, which party would you vote for?", 37 percent of respondents named the ruling party "Georgian Dream", 25 percent the opposition "United National Movement". The remaining votes were distributed among thirteen more parties.
At the same time, 63 percent preferred that as a result of the upcoming parliamentary elections, the parliamentary majority would go to some new party, and not to Georgian Dream.
---
---
According to the survey, 64 percent of the population believe that the country is developing in the wrong direction, and 36 percent in the right direction.
Also, 64 percent of the population believes that Georgian Dream is not doing enough to meet the requirements of the European Commission.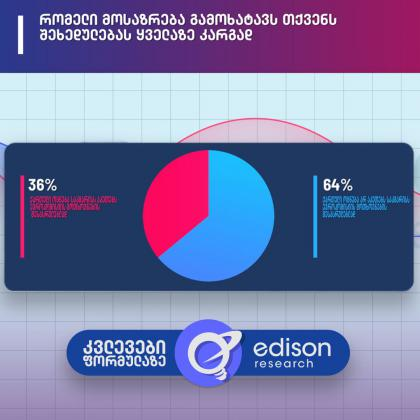 94 percent of respondents believe that Georgia deserves EU candidate status.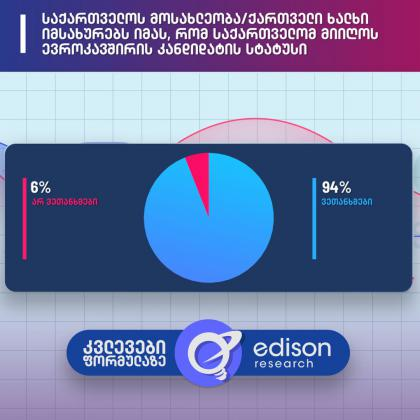 51 percent of respondents expect Georgia to receive EU candidate status in autumn 2023; 28 percent are absolutely sure of this, and 21 percent believe that they definitely will not receive it.
57 percent of the population believe that ex-president Mikheil Saakashvili should be pardoned, and 43 percent that this should not be done.
---
---
61 percent of the population considers US sanctions against Georgian judges fair, 39 percent – unfair.
---
---
Also, 63 percent of the population believe that the sanctions imposed by the West against Russia are very or partially effective. The answers to this question have been broken down in detail as follows:
Very effective – 18 percent;
Partially effective – 45 percent;
Not effective – 37 percent.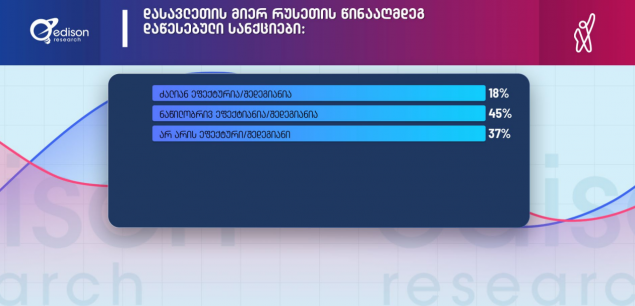 53 percent of the population believe that vote buying hinders free and independent elections in Georgia. Other factors mentioned were the involvement of criminals (35 percent), the use of administrative resources (29 percent), the dependence of the Central Electoral Committee on the ruling party (28 percent), etc.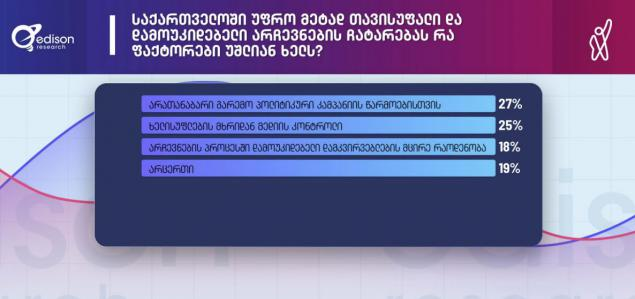 In addition, according to the results of the poll, 61 percent of the population does not agree with the opinion that the West is trying to drag Georgia into the war, and 39 percent believe that it is.