Early parliamentary elections to be held in Azerbaijan
The Constitutional Court of Azerbaijan gave the go-ahead to schedule early parliamentary elections, which will take place in about three months, though the exact date has not yet been made known.
Initially, parliamentary elections in Azerbaijan were scheduled for November 2020.
• Op-ed: honeymoon month in Azeri-Russian relations 
Timeline
On November 28, the ruling New Azerbaijan Party proposed dissolving the parliament and recruiting new MPs to thereby 'support the president's course and the reforms he is pursuing.'
On December 2, the parliament (consisting mainly of members of the New Azerbaijan Party) almost unanimously supported the initiative and sent the president a corresponding appeal.
On the same day, the president sent a request to the Constitutional Court, and on December 4, the court ruled that this proposal was consistent with the constitution.
What will happen next?
The current parliament will exist until the announcement of the election results, but new laws and decisions will not be adopted.
Part of the opposition is already actively preparing to participate in early elections, considering it their chance to get into parliament.
Other opposition parties are going to boycott as they are sure that they will be undemocratic and unjust.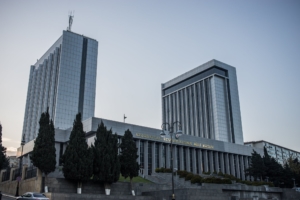 Speculation concerning the move
According to the most popular of unofficial accounts of what is happening, this is just one of the stages of the transfer of power from President Ilham Aliyev to his wife Mehriban Aliyeva, who now holds the post of first vice president.
More information about the dissolution of the Azerbaijani parliament, versions and reactions of society can be found here.