Dutch entrepreneurs come to Armenia to teach, stay to live
S
andra Commandeur and her husband Marty Pieterse came to Armenia from the Netherlands seven years ago.
They were invited to work with the Dutch company Greenhouse. Sandra and Marty came to instruct locals in the use of greenhouses to grow Dutch roses. The couple didn't even imagine that they would end up staying in Armenia after their contract came to an end.
"I had not even heard of Armenia's existence, but soon it became a second home for me. I like the people here. Of course, in the beginning, the first year when we moved, I was shocked. Life in Armenia is not at all the same as in Europe.
At first the contract was made for a year, and then we extended it for another three years. My husband is a specialist in greenhouses, and I am a teacher. But because my parents were also specialists in the construction of greenhouses, I have always been familiar with the subject," Sandra says.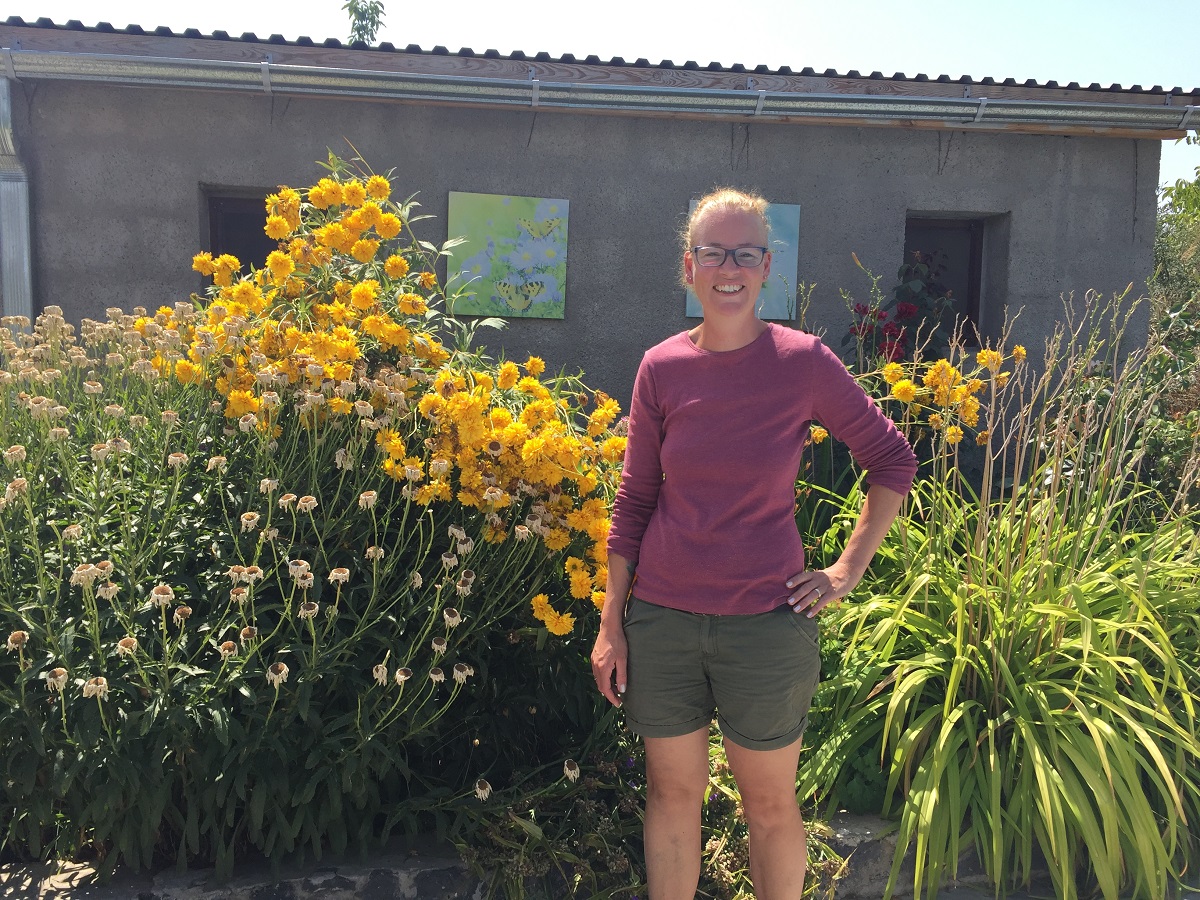 At first the couple lived in the home of an Armenian family in Gokht.
"They spoke Russian in addition to Armenian. At first I thought to learn Russian, but because our colleagues, mostly young girls and women, were born in the post-Soviet period, they spoke more Armenian and I decided to learn Armenian instead. It was difficult of course, but I got the hang of it.
The girls helped me learn Armenian. I was like a young child who was only beginning to learn the language. I learned it in about a year. My first words were hello, incorrect, did you understand me, and so on," says Sandra.
Over the next three years the couple got quite attached to Gokht and to their fellow villagers. Local residents also grew attached to them. After their work contract ended, Marty bought a home in the village in which nobody had lived for 15 years, and began to repair and fix it up.
"The view alone that we have is enough to stay here forever. It's a fairy tale. After the renovation, we decided to open a guest home for our friends and their families. We began doing something we had never done before.
This was a brave step for us of course. A new business, risks, investments in a country that you don't know very well, but you don't want to leave either. We thought, if it works, then great, if not, then our friends and family will have an interesting place to spend their vacation," Sandra explains.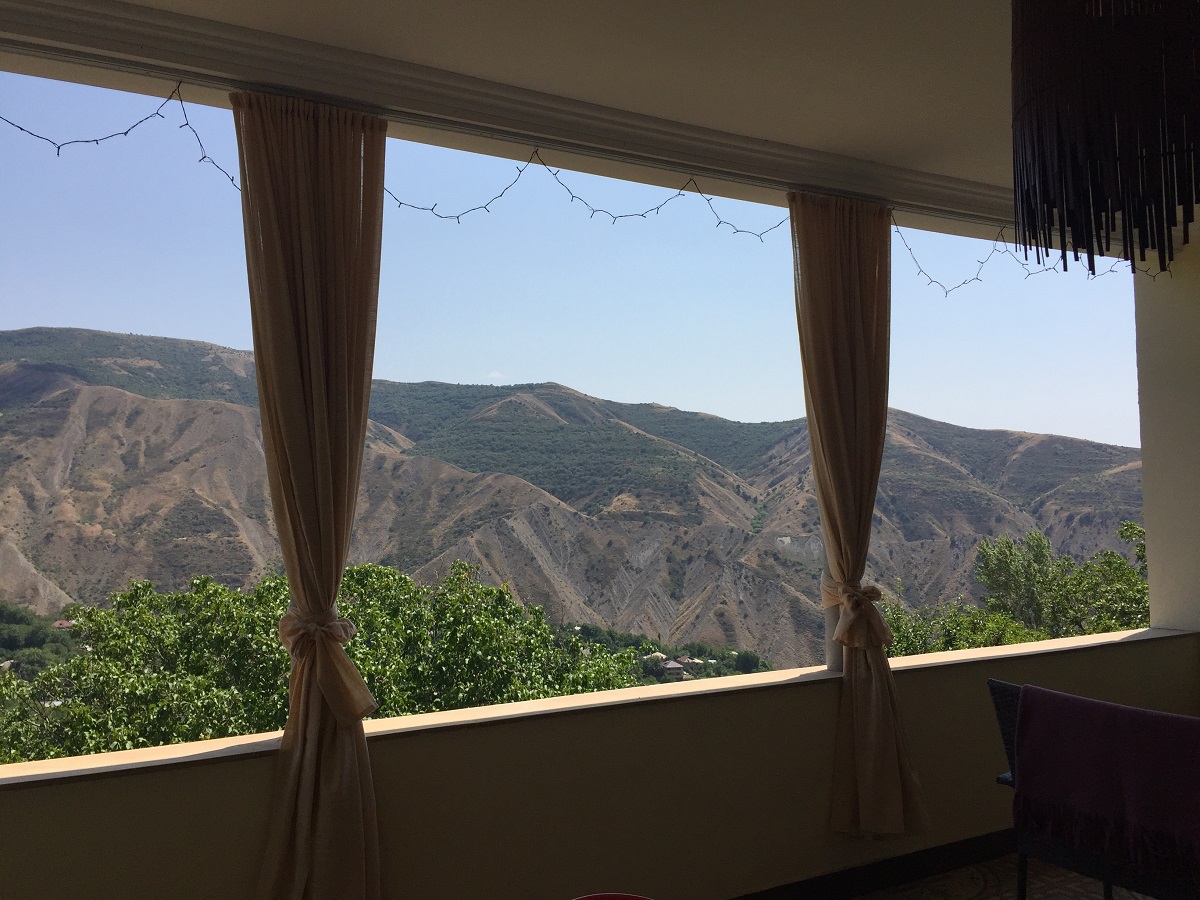 The house is located on a hill from where one has a view of Gegam Ride and Khosrow Forest. Gokht itself is some 40 kilometres away from Yerevan, neighboring Garni [ed. where there is a pagan temple from the 1st century] and Geghard [ed. a monastery complex on the UNESCO cultural heritage list] – very touristic destinations in Armenia.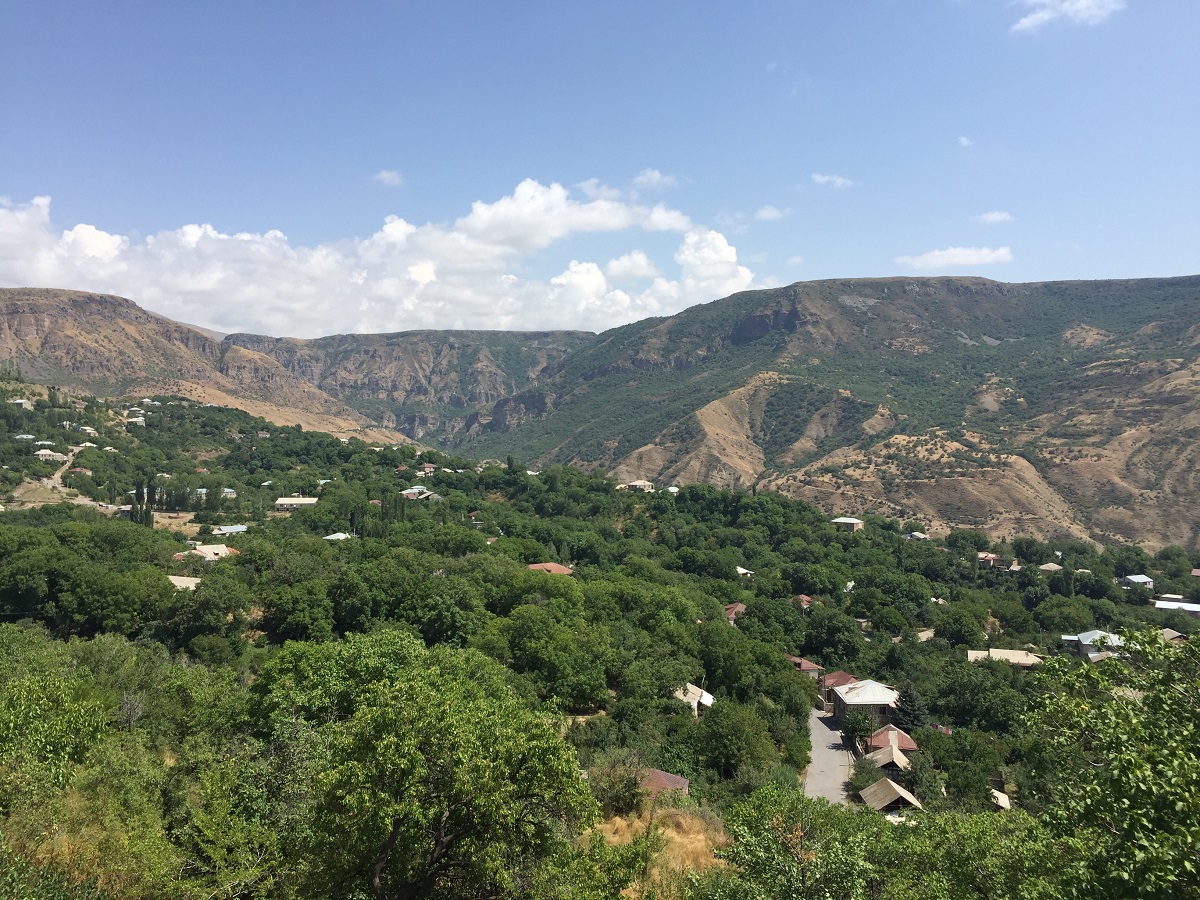 There is a road through the village to Azhdanak Mountain which has a peak of 3,500 metres. It too is a very popular destination for hikers in the country.
Considering all of these aspects, the pair decided to open their guest house called "3G" in 2014.
"We live on the first floor of the house, and on the second floor there are rooms for guests and our B&B. For four years we had four rooms for guests and we could put up a total of eight people. We did not make more rooms, but now we have a campsite as well.
Before the campsite we had many tourists come by bike and motorcycle, and they asked us to stay the night in the courtyard or to use the toilet. As a result, we bought the neighboring plot of land and started to think about making a campsite," Sandra says.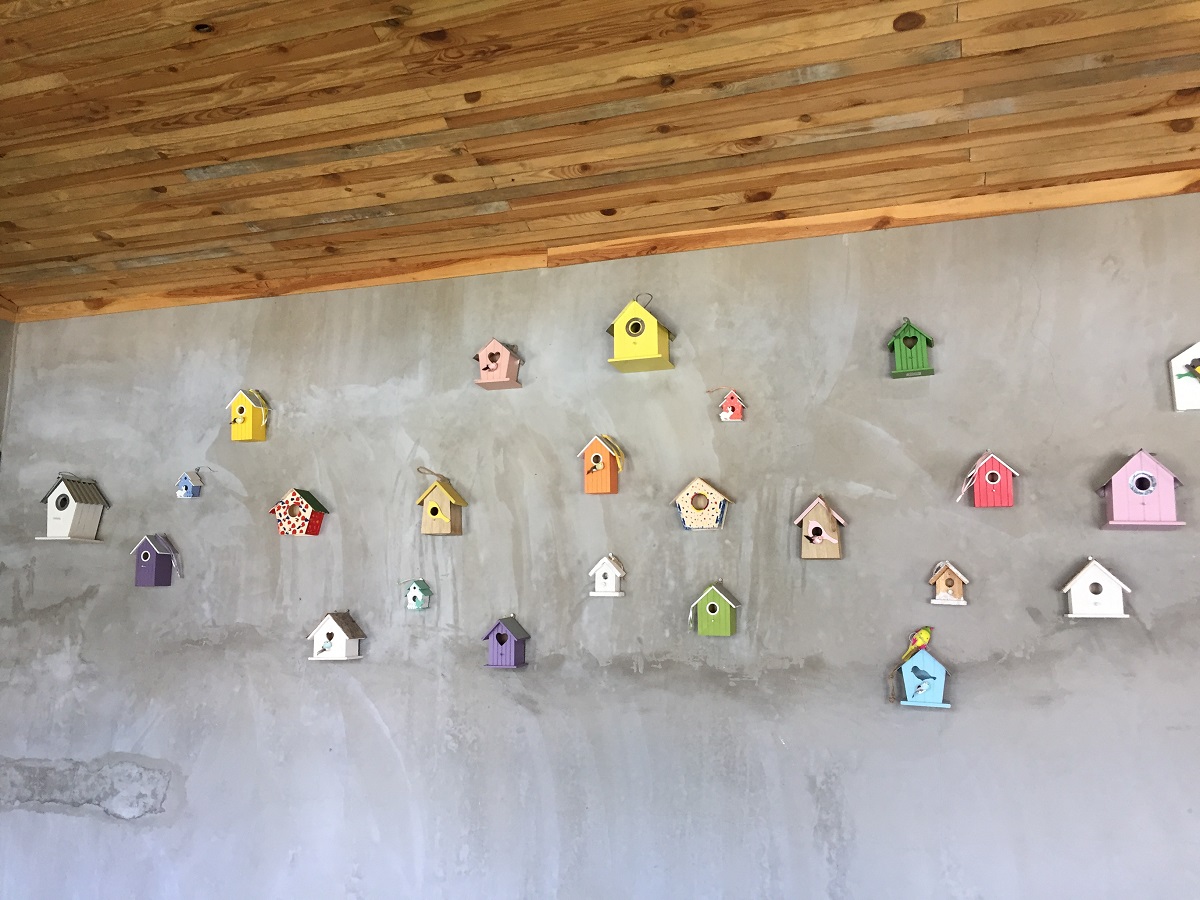 While the camping industry is still new in Armenia, Sandra says that many tourists from Germany, Italy, the Czech Republic, Holland, Switzerland and Russia have shown interest.
"Four years ago we had 170 people. In 2017 we had more than 500. Many tourists come from Germany. They like to go to new countries that they don't know about. The Dutch first ask where Armenia is, but Germans say immediately: we don't know anything about the country, but we want to go there. Some even come back," Sandra says, pouring guests cherry juice that she had made herself.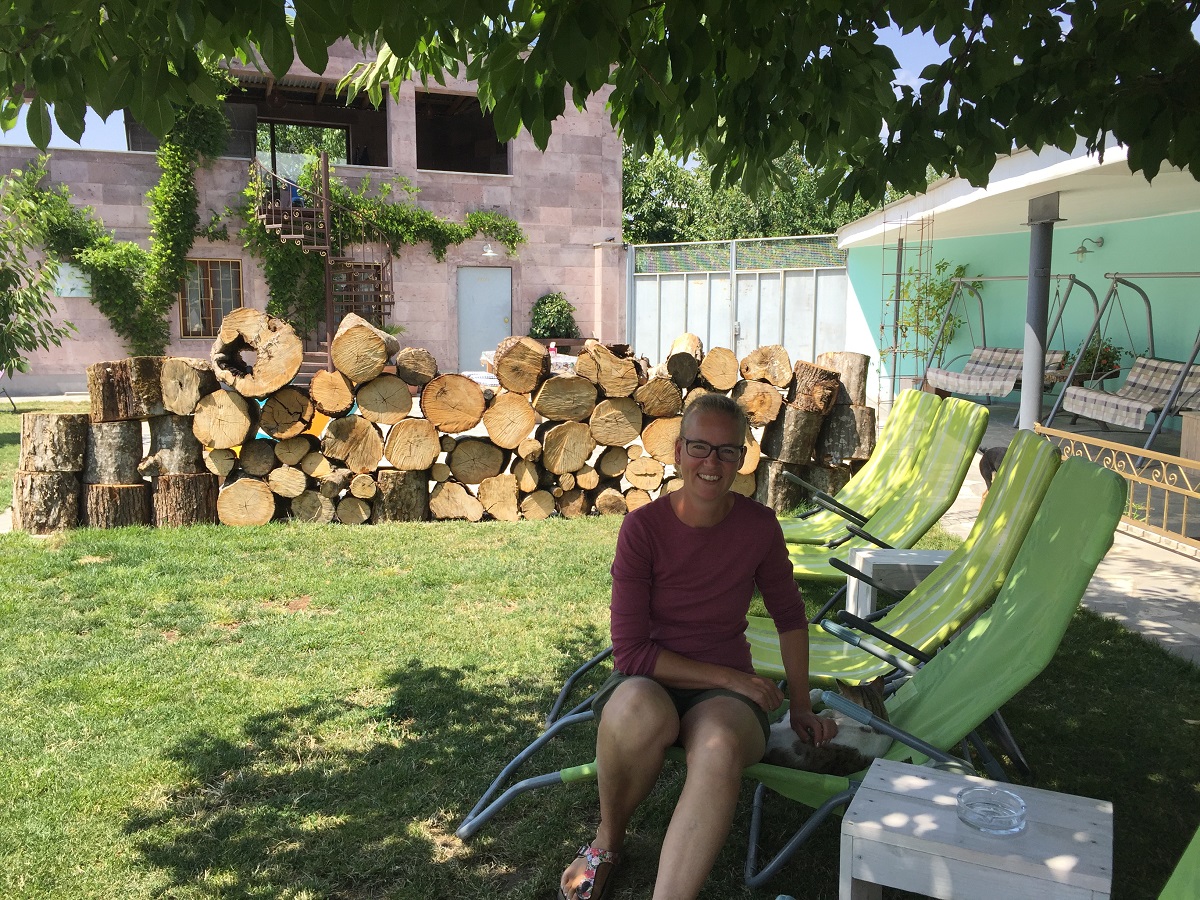 A
ccording to the statistics committee, international tourism in the period from January to March 2019 recorded an increase of 5.2% compared with the same period last year. During this time, 364,489 tourists visited the country.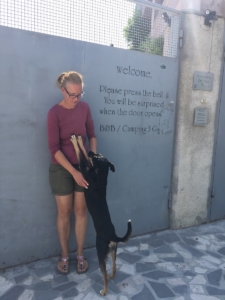 Sandra also notes that there are more tourists. But she believes that there are problems that hinder the development of tourism: bad roads, insufficiently developed infrastructure and expensive air tickets. She adds that in April-May in the days of the Velvet Revolution, roads were blocked and many could not get to Gokht. But after the revolution, the number of tourists increased because many wanted to visit the country in which the revolution had occurred.
The Ministry of Economic Development and Investments confirms that there is an increase in the number of tourists wishing to see the new Armenia. The numbers are expected to increase in autumn. Recently, gastrotourism, ethnotourism and ecotourism have also become popular here.
Sandra and her husband go back to the Netherlands every year for two weeks, during which time they come to miss Armenia, their home, despite the problems and the number of critical issues in tourism and starting a new business.
"We love Gokht in Armenia. It has become our second home. When we leave for the Netherlands, we want to come home pretty soon after. I have worked and lived in various countries, but I always wanted to return to Holland because I knew that those countries were not my own. But I have a different feeling when it comes to Armenia," Sandra says.