Diggers: Underground explorers
My small flashlight produced a dim light in the pitch darkness. I made the way for Vakho and followed him. I was walking by feeling my way around, with my eyes wide open.
There was dead silence around me. It was chilly and there was a musty smell and the smell of moisture. My own shadow stalking me on the rounded brick walls made me feel uneasy. Suddenly I felt as if there was someone following us and I became tense.
"Don't be afraid. This is a normal thing for a deserted place that has not been visited for a long time. People often have hallucinations in these kinds of places," Vakho comforted me.
The 'deserted place", where we were groping our way through the darkness, was the central and most populous area near Rustaveli metro station.
However, neither the midday heat of July nor the urban noise was able to reach us. We were in an underground tunnel. My guides were professional diggers, i.e. people travelling in the underground parallel world-in tunnels, shelters and collectors.
"Have you brought a helmet along with you? Are you wearing sturdy shoes? Have you got a flashlight? Mind that there is no mobile signal in this area. Never come down here alone, it's dangerous. You should warn someone up there, so that if you are late, he/she can call for the rescue service, Vakho gave me these brief warnings. He opened an old door in one of the cortiles in Tbilisi center. Behind the door there was a 1-kilometer long, labyrinth-like tunnel, located inside a 10-15 meter high rock.
We entered it and slowly moved forward.
There were rusty pipes on the hallway walls. They had been apparently painted in green, but the paint scraped off.
I could see the remnants of sinks, toilets and showers. Those household facilities, explored in the damp dark, made this place even more mysterious.
Along the way, my guides shared with me the story of this shelter, which is referred to as 'Zemel bunker':
"It was built by the communists in the beginning of the WWII. It was designed for 1,500 people. People were to be brought here during the bombing."
"Those are ventilation and communication systems. It seems that this shelter was supposed to endure chemical attacks."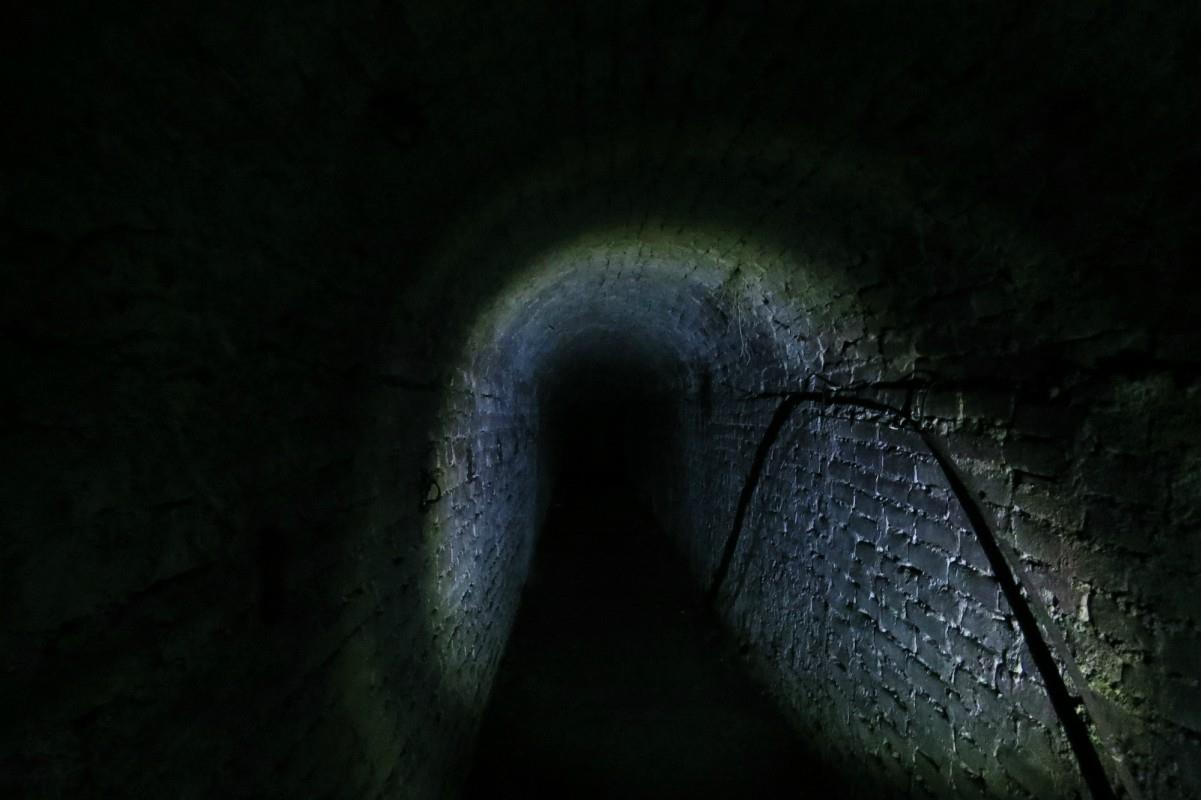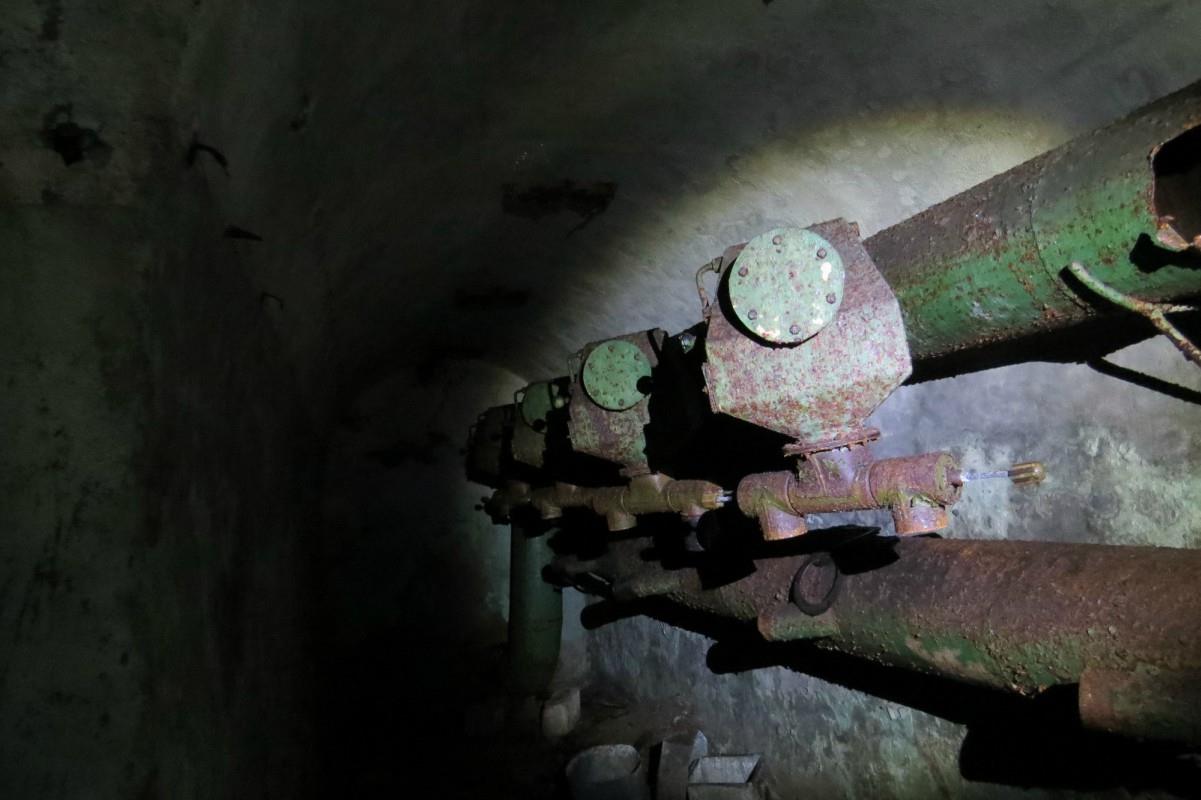 The diggers say, 'Zemel tunnel' is just one small and the most 'primitive' segment of the huge underground world, existing beneath Tbilisi.
The fact that there are over 400 bunkers and air-raid shelters throughout the territory of Old Tbilisi alone, proves that the Soviet government paid much attention to the underground architecture.
Georgian diggers have explored many shelters, though, when asked about a map of Tbilisi underground objects, they give a rather vague answer: There is no precise map and even if there were any, it's not in our interest to make it public.
The underground facilities were built by the communists mainly in the vicinity of schools, residential buildings, factories and hospitals. Their function was to ensure the civilians' security. However, they were never used for their intended purpose, since there were no military actions on the territory of Georgia during the WWII.
The bigger part of the tunnels was plundered in the 90s. The population scrapped iron and copper. Some bunkers have been turned into waste dumps. The 'lemonade' producing plants have been opened in some of thems, whereas others have been turned into private cellars. The are entertainment facilities operating in some of them. For example, a well-known 'Divan' club in Tabidze street, as well as the pool hall near the Philharmonic Hall,  used to be the bunkers.
Earlier, people invented various myths about such shelters. According to one of them, all the tunnels available in Tbilisi are linked to the Parliament building. It was also said that secret underground labs, experimenting with humans and animals, were operating there in the communist times.  
"Of course, most of them are just nonsense, but the fact is that Tbilisi underground really preserves many unique stories and secrets, that gradually disappear and are lost due to the lack of attention, said Vakho.
In his words, such areas are turned into museums abroad and they attract thousands of tourists.
"Georgia has great potential in this regard, believe the diggers, who call themselves 'the underground explorers'.
Although a digger is an English word, but Russia is regarded as the homeland of this popular urban culture. Exploring the soviet underground culture became particularly topical in the early 90s. This wave swept Georgia too.  
The true diggers have their own unwritten rules: first and foremost, everything should remain untouched. They never pick up the item or documents, found in the shelters; they never destroy or damage anything.
"We are not vandals. We just keep the record of those items, take photos and videos, says Vakho Nozadze and all three of his friends–Vakho Kashmadze, Mari Mgebrishvili and Luka Japaridze, agree with him.
These young people got acquainted on the Internet forum and they discovered that what linked them with each other was their love for the emotive power of extreme and the adventures chock-full of adrenaline. 
"Earlier, there were people with such a hobby in Georgia too, but there has never been such a well-organized and tight-knit team like we are, said Vakho.
His team's golden rule is that they should not litter the underground area, should not make fire, should not smoke cigarettes, since there may be the explosive gases accumulated somewhere.
Another unwritten rule is that the diggers never go down to the state-run strategic underground objects, like, for instance, the metro.
"We know, where to go down. So, we have never had any problems with the police. We are not doing anything illegal. We are neither stealing nor damaging anything. The photo and video materials, as well as some unforgettable impressions and memories, are the only thing we bring from the places we explore, says Vakho Kashmadze.
The diggers really have the memories in bulk and some of them are not that good. They have chosen a dangerous hobby and they are well-aware of it. For example, Luka told me how he had escaped the death: "Once a staircase broke at one of the facilities and if it had not been for Vakho, I would have fallen down from 75-meter height".
Before the group members set off on an underground expedition, they are preparing thoroughly – the equipment, ropes, spare batteries for the flashlights.
Having been equipped that way, after the first unforgettable trip we finally reached the second facility.
We went down a small, waste-blocked stairway and opened another rusty door. This time it was in the yard of one of the central hospitals in Tbilisi.
The hospital shelter had two entrances.
A small scrap of the sky could be seen from a thin pipe hanging down from the ceiling.
I felt myself in a movie, when I saw a rusted metal bed, a small fridge and a portable medical instruments' cart.
There were dozens of gasmasks in the corner of one of the small rooms. Such gasmasks are no longer produced nowadays, it's a relic.
My guides carefully examined all the items and took the photos of them.
This shelter was built in 1980 and it was designed for 200 patients. They were supposed to be brought here in case of a military attack.
There were also 7 protective, sealed doors and the traces of ventilation and water supply systems there. The parts of huge diesel-generator, a compressor and other soviet-era technical equipment, created a mystical aura.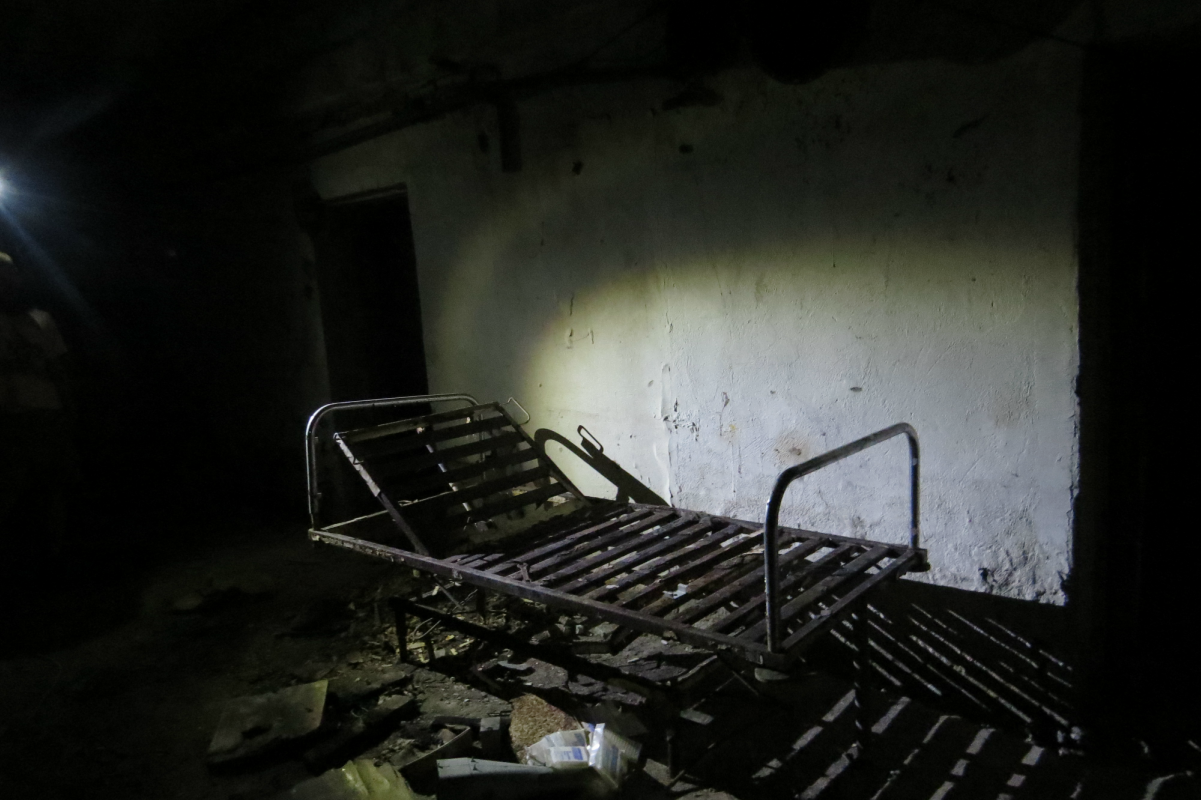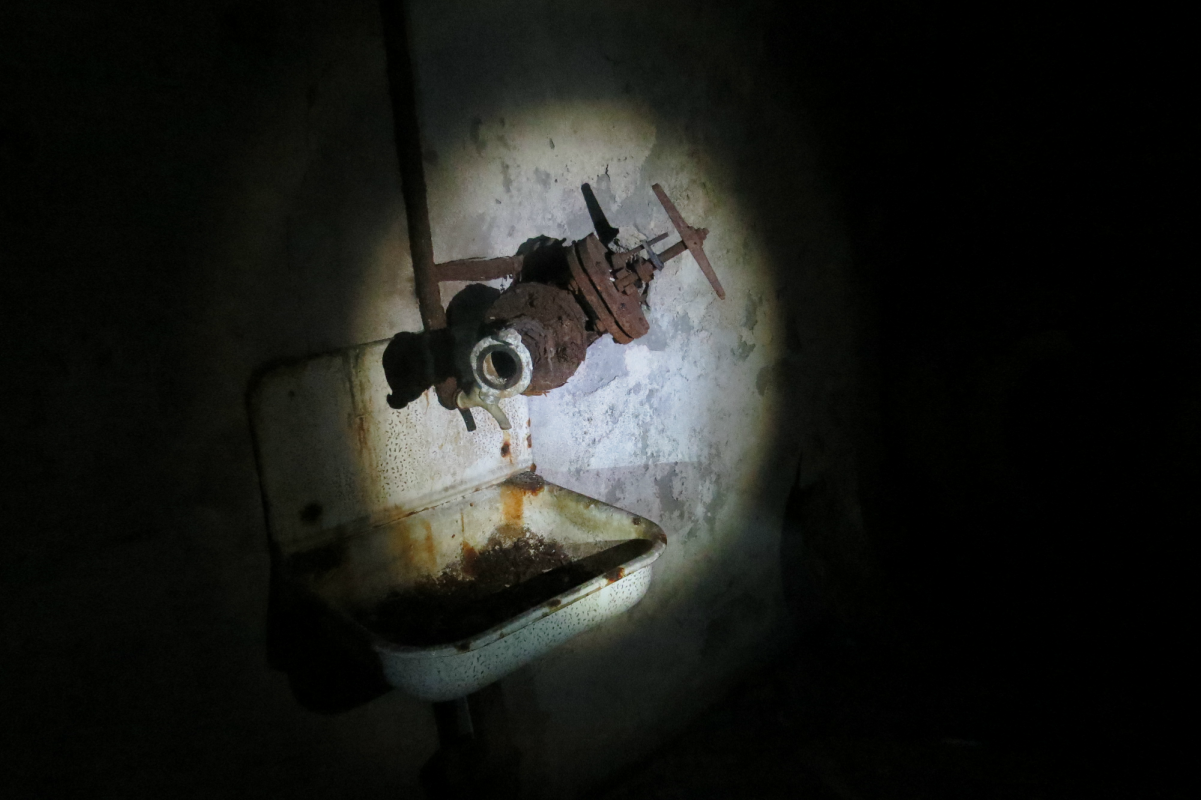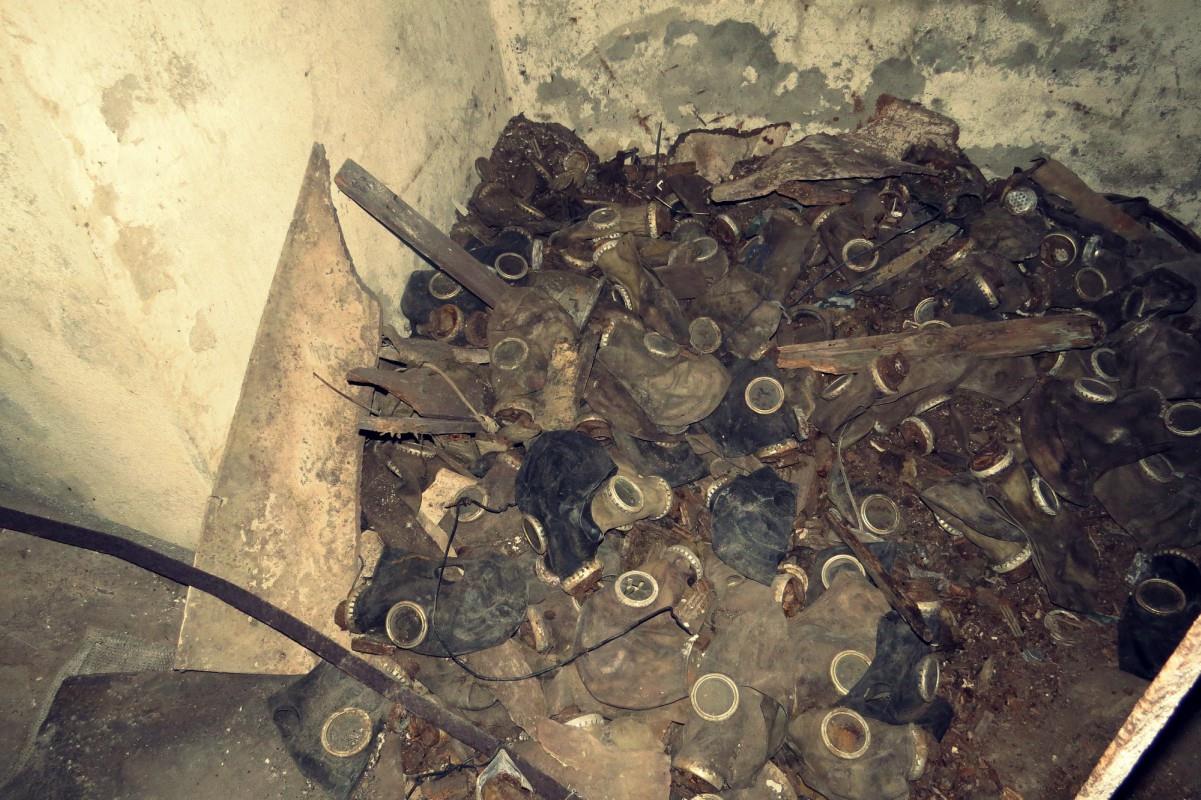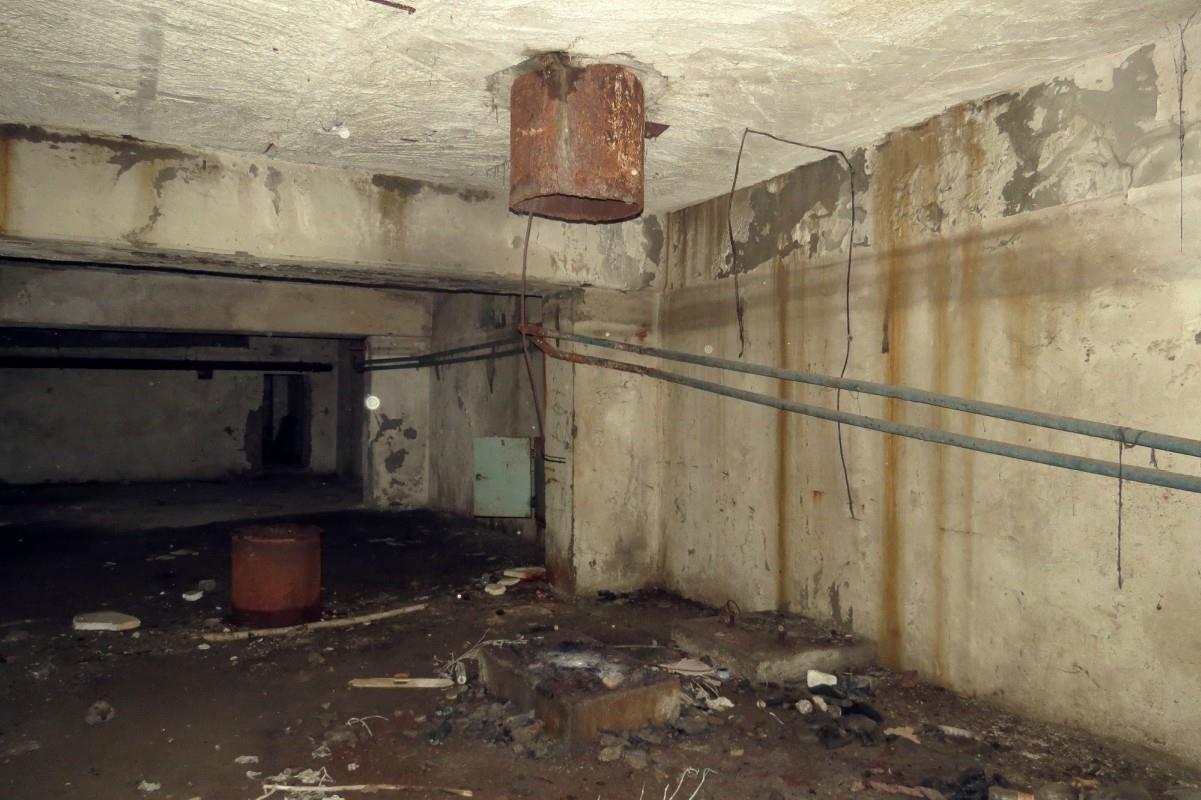 I have had a feeling that I was travelling in time.
I was also thinking that this shelter was not looted completely and that there still was a chance to restore it.
"This area should be put into dead storage before it is plundered completely. The ideal thing would be to open a museum here," Vakho Nozadze shared his idea with me, as if reading my thoughts:
"The majority of the museums in Georgia are state subsidized. However, our idea does not require a lot of money. The museum exhibits are scattered here and there. We can gather them gratuitously. If we were allotted at least one of the endangered facilities by the government, we would arrange a nice museum there. "
Before the diggers' intent is shaped into a project, they are developing friendly ties with the Czech, Dutch, Polish and Ukrainian colleagues.
Their dream is to travel to these countries' underground.
Their cherished dream is to travel to Russia, since the underground was particularly rich and dark there.
"I am often asked, how I find this or that object, says Luka. "And my answer is: you pass them daily. They are everywhere: in school, at the university, in the street … you simply don't notice them, whereas we immediately recognize these doors."