Delegates from 80 states arrive in Armenia for Francophonie summit
The 17th summit of the International Organisation of the Francophonie has commenced in Yerevan. It will continue for two days and is being held under the motto "Living Together", which affirms the following principles: solidarity, humanitarian values and diversity as one of the bases for peace and prosperity in Francophonie states.
The pomegranate, a symbol common in Armenia, was chosen as the summit's logo.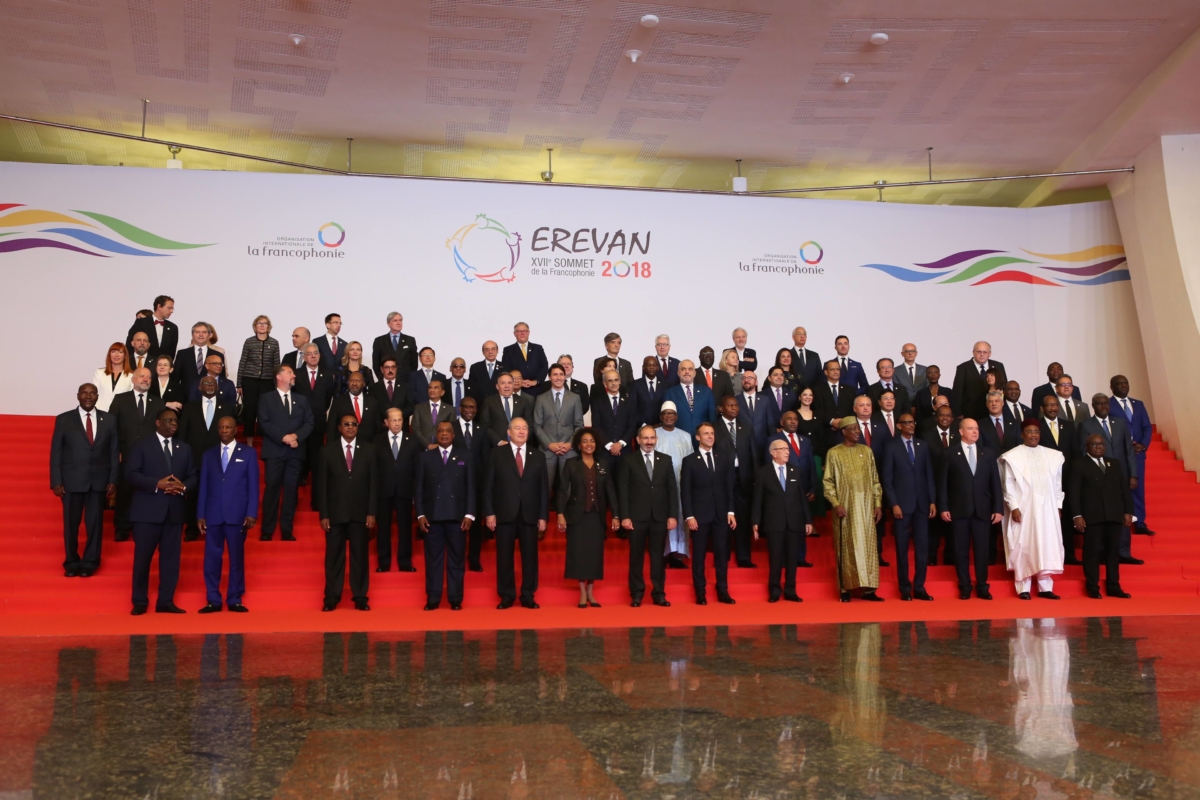 Who is participating in the summit?
Participants were greeted at the opening ceremony by the General-Secretary of the Francophonie, Michaëlle Jean, in addition to Prime Minister Nikol Pashinyan and his wife Anna Hakobyan.
Delegations from over 80 countries have come to Armenia to participate in the summit, 38 of which are represented by heads of state.
French President Emmanuel Macron and Canadian PM Justin Trudeau are also participating in the summit.
What did Nikol Pashinyan say?
At the beginning of his speech, PM Pashinyan mentioned world-famous singer Charles Aznavour who recently passed away. The musician had planned to come to Armenia to participate in the summit. Pashinyan expressed deep regret over his passing:
"[He was] such a large figure, an ambassador of the French language. The '100 per cent Armenian, but also 100 per cent French' – as he himself loved to say – wanted to be with us."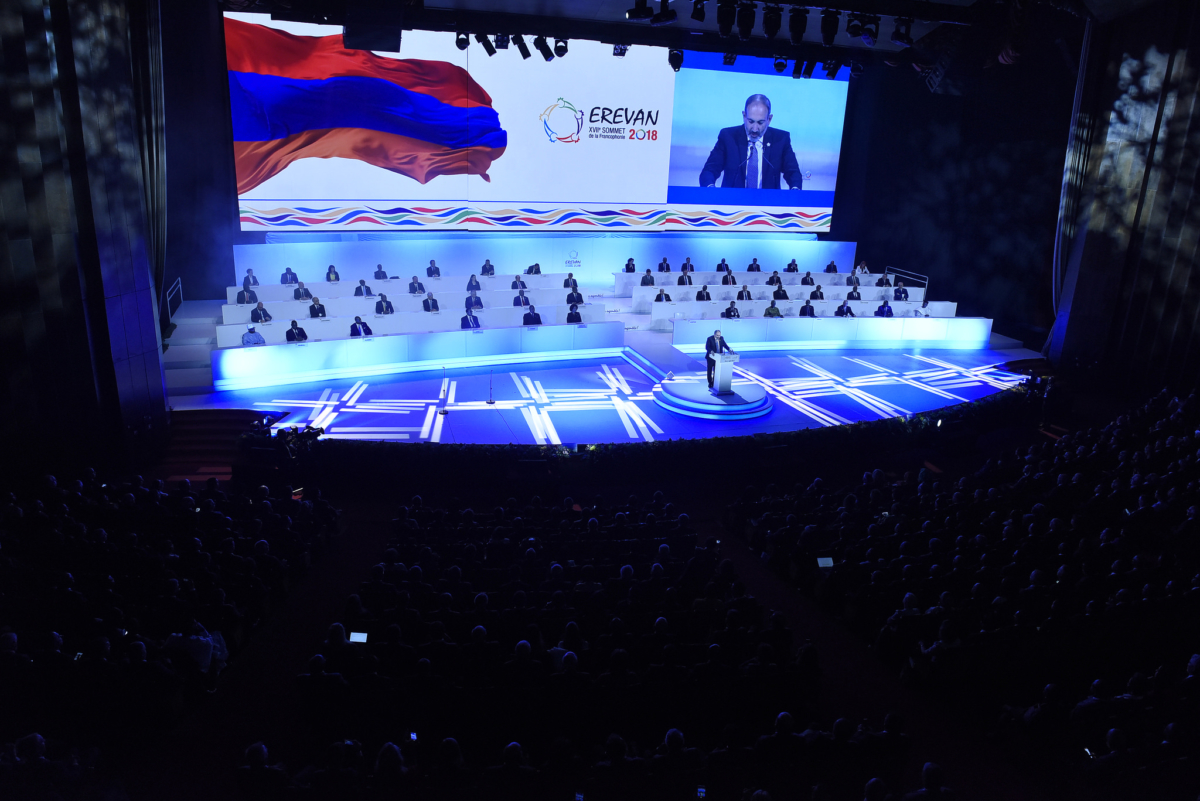 Pashinyan dedicated a significant portion of his address to challenges currently facing humanity, in particular the issue of security. Touching on the Karabakh conflict, he stated that Armenia abides by the principles of a peaceful regulation of the issue. Pashinyan also said that Nagorno-Karabakh itself must take part in the negotiation process:
"We are convinced that Nagorno-Karabakh must have a deciding voice in the negotiation process. And the status of Nagorno-Karabakh must be decided on the basis of the will of the people of Nagorno-Karabakh, which has legal force."
What did Macron say?
French President Emmanuel Macron also mentioned Aznavour:
"I saw him recently. He was getting ready for his trip to Tokyo and was very excited about his upcoming trip to Armenia, which he loved. Aznavour symbolizes everything that connects us.
"The son of a refugee who had nothing – no connections … His native language was Armenian and his second was Georgian. Nowadays there is not a single Frenchman who would not mention Aznavour as one of the great French poets."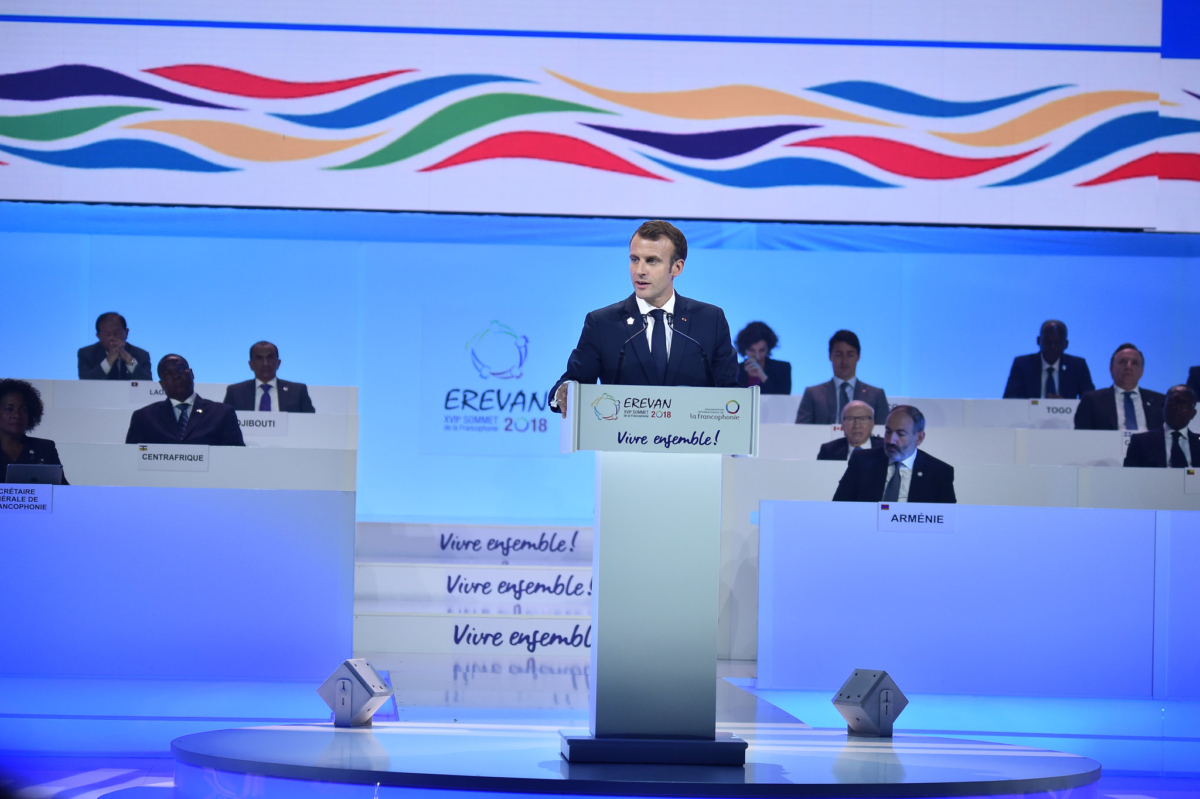 Macron also noted that holding the summit is an important event for Armenia, a country which holds an important position within the Francophonie:
"Thousands of Armenians have made France stronger and defended her as their own country. France answers with reciprocal love. It is enough to say "Armenia" and people in Paris, Lyon, Marseilles and dozens of other cities experience the most positive of feelings. For France, Armenia is not only a centuries-old country with an equally old culture, but it is the thousands of Armenians who have come to France after the tragedy of their nation. They gave France many artists, scientists and athletes."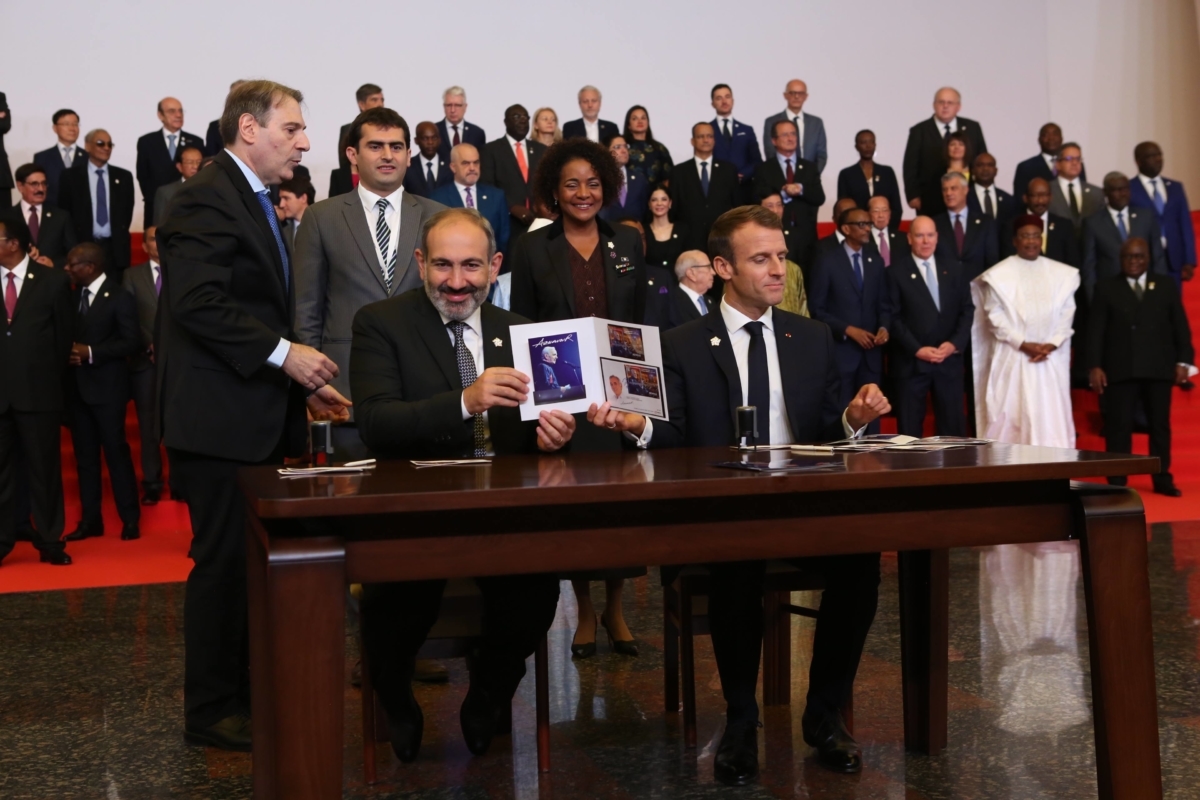 What is the Francophonie?
The Francophonie is a large international organisation which unites French-speaking countries. It has 58 members. Entrance into the organisation is not governed by a country's public knowledge of French, but rather the level of cultural connections and cooperation between the country and France.
The summit will consist of presentations by guests and discussions on important issues for participating countries.
Several documents and resolutions will be adopted at the summit. Chief among them is the Yerevan declaration as well as six other "Living Together" resolutions, one of which concerns the resolution of conflicts and includes Karabakh.