"Canada will support Armenia's democratic reforms" - Ambassador Alison LeClaire
Interview with Canadian Ambassador to Armenia
Canadian Ambassador to Armenia Alison LeClaire visited Yerevan on the thirtieth anniversary of the establishment of diplomatic relations between the two countries. She is part-time Ambassador of Canada to Russia and Uzbekistan with residence in Moscow.
The Government of Canada has decided to open a full embassy in Armenia, the only one in the South Caucasus region.
JAMnews was able to meet with Ms. LeClaire in Yerevan and talk about ways to deepen cooperation with Canada and promote democratic reforms in Armenia.
---
---
Exclusive interview with Canadian Ambassador to Armenia Alison LeClaire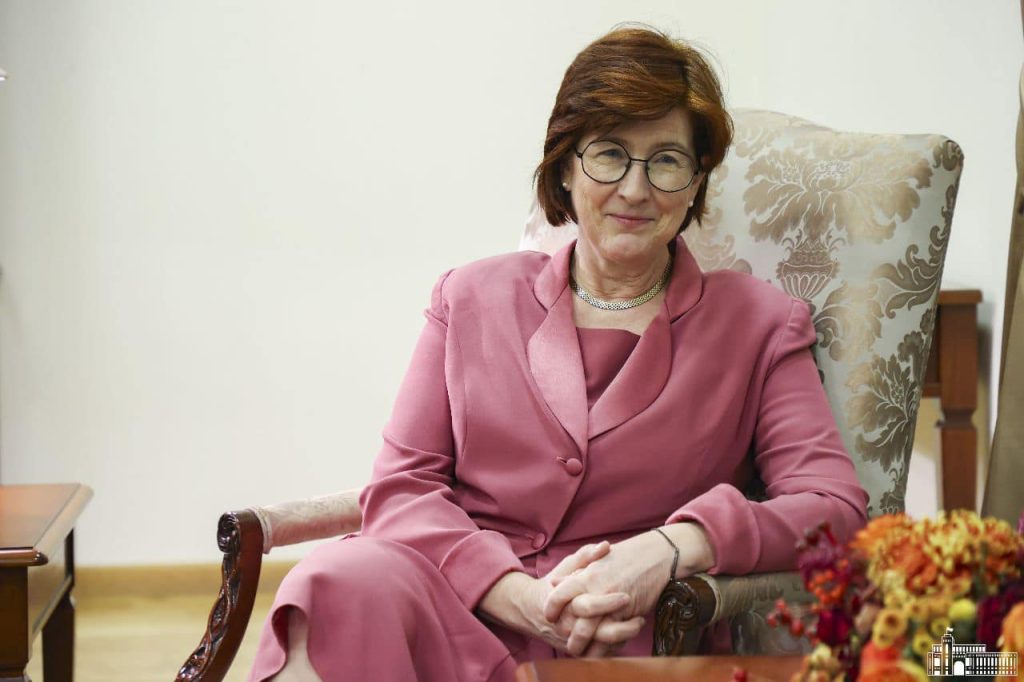 – The Embassy of Canada in Armenia will be the only one in the region so far. It's very pleasant, indeed. So, I would like to know the details it was linked to. Of course, we are interested in the possibilities of closer cooperation between our countries. What is outlined, is there any action plan and in which areas?
– I am happy to start our interview with this question, but first of all, let me thank you for this opportunity. The decision to open an embassy was made this past summer by the Foreign Minister, the Honourable Mélanie Joly. It was rooted in a report that was done by the former Foreign Minister, Stéphane Dion, currently Canada's Ambassador to France, and the Prime Minister's Special Envoy to the EU and Europe․ He was given a mandate about a year and a half ago to explore how Canada can better support Armenian democracy. So his report included 11 recommendations, and there was a lot of analyses and a lot of research behind it. Many people in Armenia contributed to his work. And the opening of an embassy was one of those recommendations. I think it is important to know that Canada has a very strong Canadian-Armenian community. They have long advocated for an embassy here, and I am sure their voices were heard, but I think that the recommendation is what catalyzed the government's decision to open an embassy.
– How does Canada feel about the democratic reforms of the Armenian authorities after the so-called "Velvet Revolution"? Can we expect the assistance of Canada on democratic reforms?
– The short answer is yes, but let me give you more than the short one. I will go back to the report because it was focused very much on that question. How can Canada better support Armenian democracy and democratic reforms? So, in other words, we were ready to support it. We are doing it now by virtue of our engagement from Moscow with our small program support helping community projects here.
We also have a very solid project on parliamentary reform. So our parliaments are cooperating. Parliament, of course, has a political function as a cornerstone for democracy, and the Armenian parliament is working very hard with the Parliamentary Centre in Canada on how to strengthen the democratic processes and functioning of the parliament. I think that is another example that, in multilateral and bilateral forms, our dialogue with Armenia is very much on supporting and encouraging the ambitious agenda that Armenia has set for itself.
– Is cooperation between the two countries possible in the social sector? And if so, how does the Ambassador feel about that?
– We can point to many shared values and priorities between Armenia and Canada. What is certainly in my mind, and maybe in yours, is the issue of gender equality, the economic empowerment of women, supporting diversity and understanding social diversity as a strength. So this is really an underpinning to our foreign policy.
We have talked about having a feminist foreign policy. A feminist foreign policy is a foreign policy that strives to equalize, to create conditions where any individual can exercise their human rights. I had many meetings during my visit with the Government, the Ministry of Education, the Parliament, international organizations, Ministry of Foreign Affairs, and I heard this message again and again. This is what Armenia aspires to. So we were having very good conversations about how Canada can support this.
– As for economic cooperation, will Canadian businessmen have an interest in working in Armenia, or are there areas where joint ventures might be considered? Can we anticipate investment in certain sectors of Armenia's economy?
– Sure, I see potential. IT would be one of these spheres where both Canada and Armenia have good capacity. We have IT firms operating now in Armenia that were founded by Canadians of Armenian background who came back to start those companies. Having said that as positive stories, our trade is way too low and we have agreed that this is something we really need to focus on.
So where are the opportunities? Where is the potential? I think we both see the agriculture sector as one of great potential, and that is one where economically empowered women have a really big role.
Extractive industries are a sensitive subject, but it is one where Canada has, I would say, a very strong value proposition to bring to the table. Our value is not only in technical expertise, but in a lot of social practices that they have developed over time, and it is something we certainly want to explore as a way to investing and contributing to the economic prosperity and democracy of Armenia and also Canada. It is win-win.
So these are the main sectors, but I would add clean technology, another priority is countering climate changes. Education is another one that we really want to build on.
– How would you comment on the consequences of the 2020 war in Karabakh and the hostilities on the Armenian border in September this year? The Armenian authorities believe that the lack of a targeted assessment of the situation has led to the fact that the tension continues.
– Of course, it is a horrible situation. It is one that we have watched with deep concern most notably through the war that broke out in September 2020 and continuing episodic escalations.
Very troubling of course is what happened in May 2021 and September 2022, and what is continuing to happen. We have expressed that concern both publicly and privately and recognized in particular our concern with the damage to Armenian infrastructure, and to the presence of the Azeri military on Armenian territory.
We continue to have high level discussions with Armenian officials, of course, but elsewhere in multiple forms. We very much want, as does Armenia, to find a path to peace and recognize that the two sides are ready to find that path to peace. We hope very much that the conversations that are happening now will continue until a path is found.
– In general, it is interesting to learn how you see the establishment of closer ties with Armenia, and in which areas you believe there are more chances and opportunities for effective cooperation?
– I think the most developed cooperation, institutional cooperation that I see now is in the parliamentary area. And both sides see that the benefits are already large, but they also see there is a lot more.
It is one that we have been investing in for two-three years together and I think continuing with that collaboration is a must. Beyond that, I think that economic empowerment of women is something we have made as a priority. I also would like to mention the sphere you work in: information. The role of independent media in democracy is immeasurable. And we all know that it is under challenge globally. So it is something we are working a lot on, and this is something we should talk more about, in order to find ways to cooperate.
Interview with Canadian Ambassador to Armenia