Beaches in southern Azerbaijan divided by gender
65-year-old Makhluqa is gathering tomatoes in her garden under the blistering sun. Wiping the sweat off her forehead, she says, "How great is it that soon I'll be going to the sea with my daughter and daughter-in-law. She'll spend 3-4 hours at the sea, she'll take a swim and refresh herself and the pains in her back will pass – and her daughter and daughter-in-law will be thankful."
She immediately adds: "We go waaaay over there, to the women's beach."
A few years ago a women's beach was opened in Lankaran (a city in the south of Azerbaijan). By using reeds and black cellophane, they constructed a partition approximately two meters high. On one side of the partition men bathe, and on the other, women. The partition doesn't go far into the sea, and was installed only on the beach.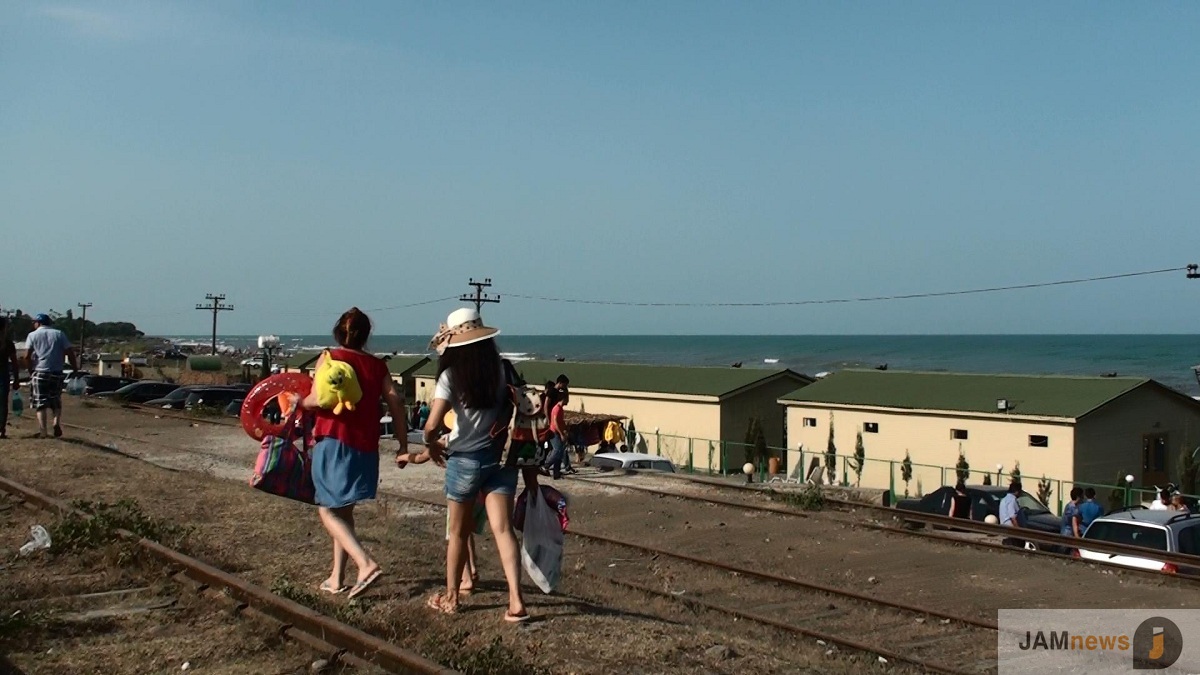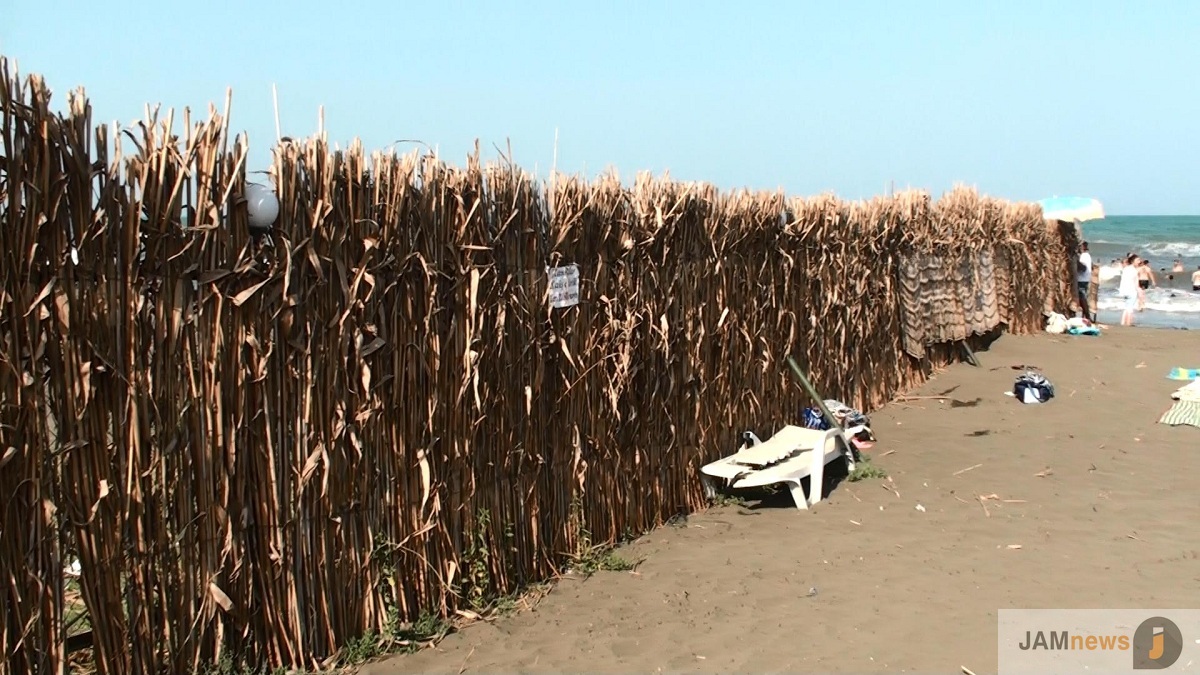 In Azerbaijan, so-called 'women's beaches' exist only in Lankaran. Locals say that every summer hundreds of women from the neighboring regions of Astara, Masalli, Lerik and Yardimli come to Lankaran.
History of the issue
For some foreigners, this may seem strange, but for the patriarchal majority in Azerbaijan, beaches are for men. Women are too shy to put on bathing suits and show themselves off in such a 'shameful' way in a public place. And while in 'progressive' Baku girls in bikinis are a regular sight, there is simply no such thing in the regions.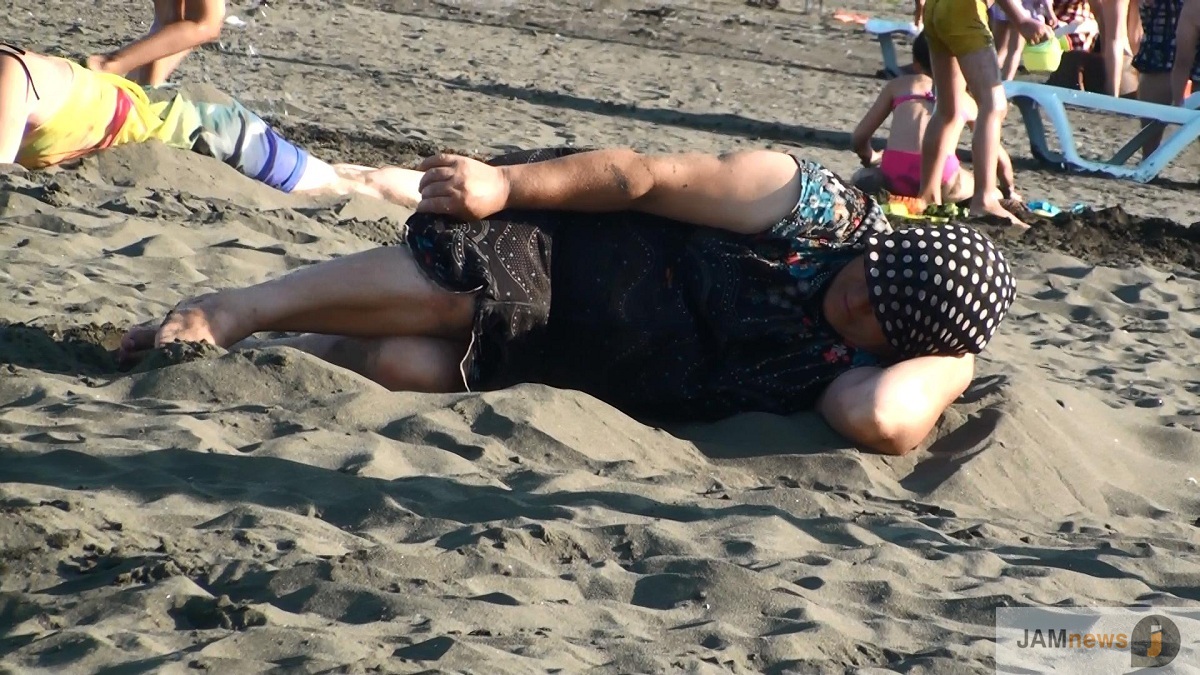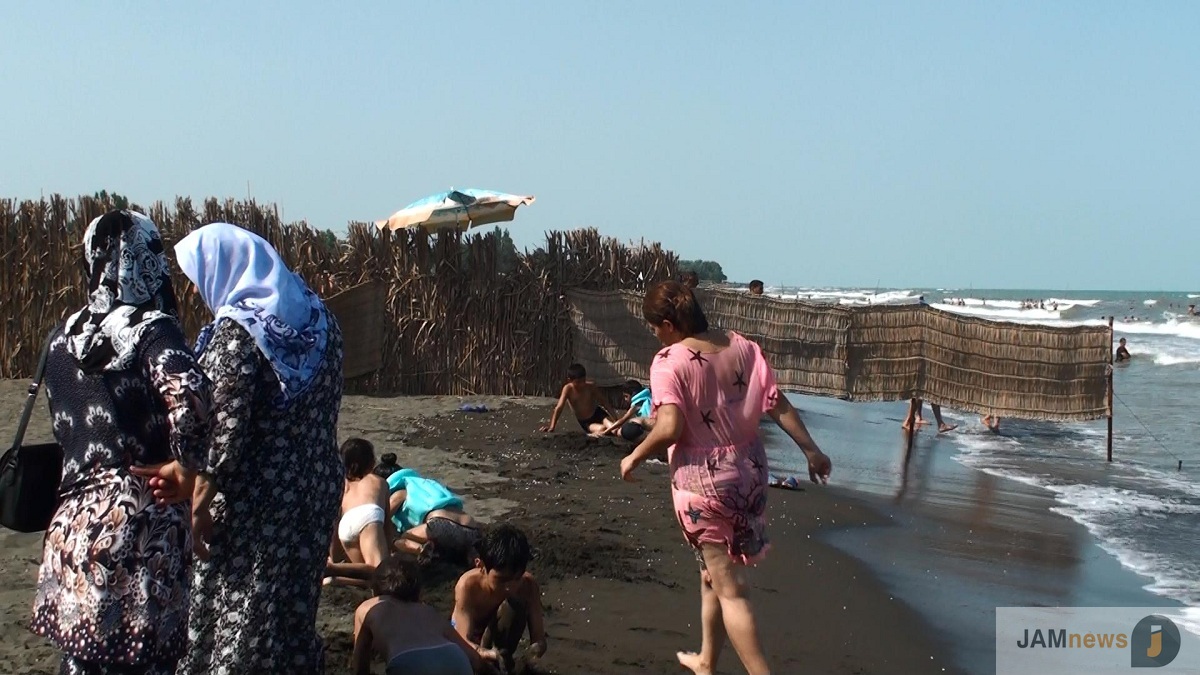 "A woman is also a person, and she also needs to freshen up"
Lankaran has several women's beaches, including one in the village of Ashaghi Nuvedi. When the driver of a 1976 Zhiguli found out that we wanted to go to the 'women's beach', he said, "Women are also people, they also need to freshen up," and rained down blessings on the people who opened the beaches on the coast of the sea.
He also said that once a week he takes his wife to the beach, while he swims and bathes on the other side of the partition. The taxi stops by the railway. On one side of the railway are 2-3 story private homes, and on the other side, the sea. Women, men and children get out of expensive cars, used and worn out Zhigulis and old buses and, with happiness on their faces, skip over the rails and make a beeline for the sea.
Men to the left, women to the right
From the entrance to the area of the beach, men turn to the left and women turn to the right. Women on their side of the beach feel more free. Some lay out their blankets and rugs on the sand, while others dive into the water.
On the women's beach there are more women in clothing than in bathing suits. Nazli, a 70-year-old grandmother explains why: "What's strange is that there are only women here. And women shouldn't flaunt and show off their bodies."
Latifa Babayeva has come to the beach with her three married daughters. While we talk, the older daughter's telephone rings – it's her husband from the other side of the beach asking how they are. "We don't get any peace here either," she says with a dissatisfied tone.
Latifa says that earlier, there was nothing of the sort in Lankaran. There was one beach for both women and men together.
"True, [back] then there were only a few women that would go swim here, and then only in their clothing. It was mostly visitors and local Russians that swam. Once the border with Iran opened, and our people saw that they had such [gender-divided] beaches there, they decided to do the same here."
"Why should another man look at my body?"
Mansura Mamedova says that she likes the women's beach. "What's bad here? You can relax here peacefully. Why should another man look at my body? And why should I see the naked body of another man? That's why it's comfortable to swim here."
At the beach, one can see boards and signs directed exclusively at women. There are several boards with the words, "Ladies, please do not throw your garbage on the ground!" Sometimes men also appear in the sea. Then, women sitting on the beach with their legs in the sand, shame them loudly.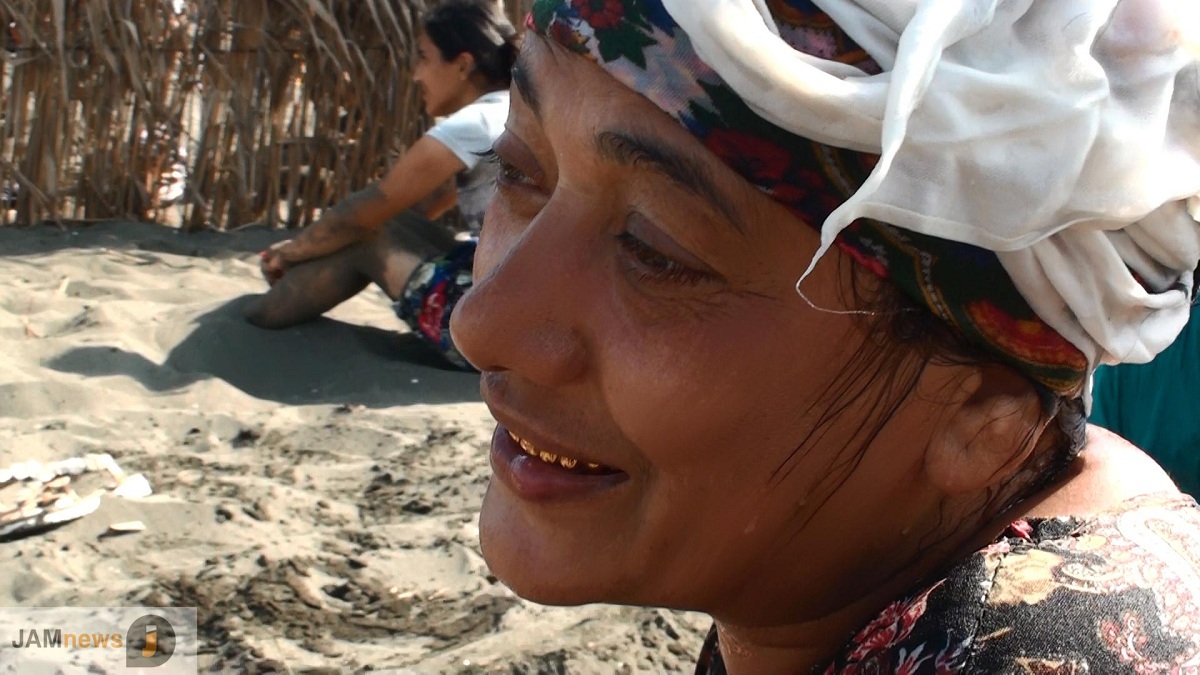 Arifa Mamedova says that she comes here from the village. "What does it matter that we have the sea in Lankaran? We have so many women here who have never once gone in. Maybe they would like to go in the water, but their husbands don't let them." Arifa condemns women who go into the sea with men, be it in Baku or Lankaran. "In Baku, everything has already been ruined, but what about our women? In my opinion, women must swim and bathe only on such beaches."
"If it were up to the men, they'd install partitions along the entire sea."
A middle-aged woman with a hat on her head doesn't agree.
"So what? I myself bathe on the women's beach. But I don't mind if other women go into the water with men. Actually, this is discrimination. They divided the beach, and were it up to men, they'd put up a partition along the entire sea. Here, people are religious, and for that reason the majority of women listen to their husbands. And men often make use of this and open such beaches."
A young man who wished not to be identified, and who was collecting money from women entering the beach – for one manat – unwillingly told the story of the women's beach.
"In Lankaran, such beaches have already been around for about five years. They were opened by men who really love their wives, but don't want them on co-ed beaches."
Regardless, women sit and talk for several hours with one another, have fun, dig their feet in the sand as their laughter echoes everywhere, mixing with the sound of the surf.