Azerbaijani student who disappeared three months ago in Iran accused of espionage
Farid Safarli, missing in Iran
Farid Safarli, an Azerbaijani citizen who left for Iran and disappeared there in February this year, was arrested on charges of espionage. Relatives reported that Farid, then studying in Germany, followed a girl he met in Jena to Iran and then lost touch with him. His parents are asking for help from the country's president and first lady to save him from the Iranian regime.
---
---
What happened?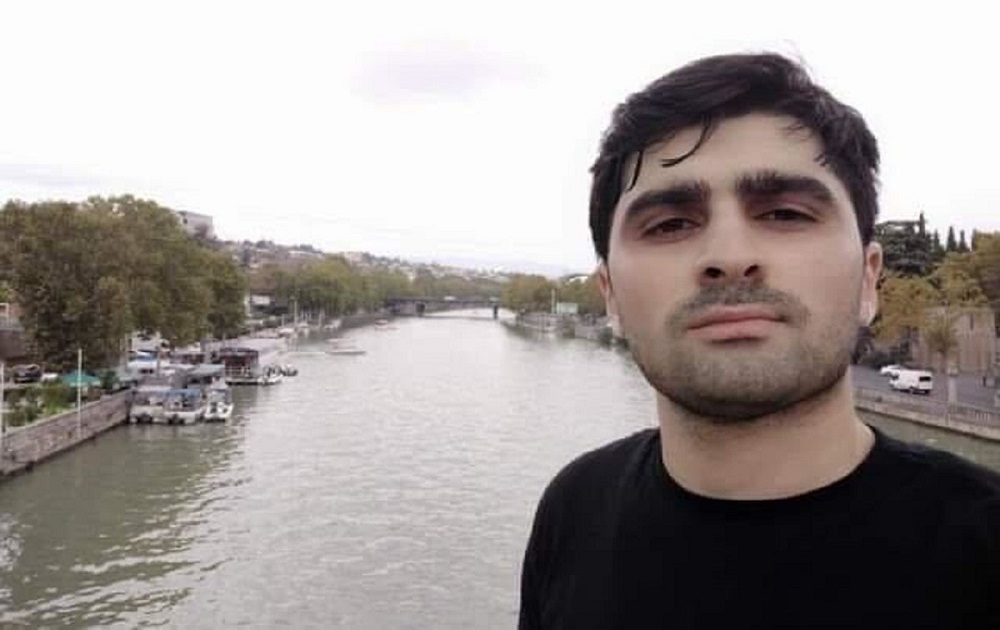 Farid Safarli, born in 1997, graduated from the Faculty of Economics of the Azerbaijan Diplomatic Academy (ADA). He was studying for a master's degree at the University of Jena.
According to his mother, Dilara Askerova, Farid met a girl who is a citizen of the Islamic Republic of Iran, who was in Germany for an internship, and when she returned to her homeland, he went to Iran to meet her.
Farida's mother learned about all this from her son's friends in Germany.
"We believe that Farid left Germany on February 20th. On March 4, he told his housemates in Germany that he was in Iran and asked to buy a ticket for him, because his card did not work. After that, nothing more is known about Farid," she said.
The mother noted that a ticket for the Tehran-Istanbul-Berlin flight was bought for him, but he never arrived in Turkey.
Mother went to Iran but couldn't find her son
Farid Safarli's relatives held a rally in front of the Iranian embassy in Azerbaijan to draw attention to this issue. The Ministry of Foreign Affairs of Azerbaijan took the issue under its control and sent a note to the Iranian government.
In March, Askerova went to Tehran in search of her son. There she turned to law enforcement agencies and hired a lawyer. But she was told that the name of Farid Safarli is not in the system. "They said that if he committed a minor crime, then the name would be found in the system, serious crimes do not appear in the system. I asked what a serious crime was, they said that it was espionage and other crimes."
Returning to Azerbaijan, Askerova maintained contact with the Iranian embassy in Azerbaijan, but no information about the fate of the young man could be obtained.
Alleged espionage
On June 1, the Iranian Foreign Ministry sent a response to the Azerbaijani Foreign Ministry stating that Farid had been arrested on charges of espionage.
"When I heard about the accusation of espionage, I felt both strange and wanted to cry. Farid and espionage is ridiculous. Accusing an innocent person of espionage is very sad. This is a pretty serious accusation. It breaks my heart to imagine what kind of punishment my son might face for this charge," she said.
Having received a letter from the Foreign Ministry, Askerova contacted the Azerbaijani consulate in Tabriz. She was told that they had spoken to Farid on the phone and that he was alive and well.
The student's mother addressed the president and his wife
On June 2, Dilara Askerova posted an open appeal to the head of state and his wife on her Facebook page. The appeal says:
"Dear Mr. Ilham Aliyev and Mrs. Mehriban Aliyeva!
For three months I did not hear from my son Farid Safarli, who went to visit a friend in Iran. In a letter addressed to me yesterday by the Ministry of Foreign Affairs, it was stated that my son was detained in Iran on charges of espionage. I do not accept this accusation. I think Farid is a victim of the conflict between the two countries…
Mrs. Mehriban Aliyeva, Farid is the same age as your son Heydar, and they were classmates at ADA University. You, as a mother, will understand me better.
Farid is well aware of the harsh punishments in Iran for those accused of spying, and I can't imagine what he's thinking right now. I don't even want to think about the state of my son, who wouldn't hurt a fly, in prison on false charges and in complete isolation.
Mr. President, Farid is accused in Iran without protection. I beg you to arrange for Farid to be provided with a lawyer and to make it possible for me to meet with him. I miss him very much, I want to see him, hug him. I want to tell him that he will be protected, that everything will be fine.
I believe that you, as the face of the Azerbaijani state, will protect Farid and help him reunite with his family."
The Ministry of Foreign Affairs keeps the matter under control
Preparations are underway for a meeting with Farid. According to AzərTAc, this was stated by the head of the press service of the Ministry of Foreign Affairs of Azerbaijan Aykhan Hajizade.
"Despite the limited diplomatic representation of Azerbaijan in Iran in connection with the well-known terrorist incident, since the first day of informing about Farid Safarli, both the Ministry of Foreign Affairs and our Consulate General in Tabriz have been negotiating with the relevant Iranian structures.
Along with this, regular contact is maintained with Farid and his family. In the near future, our Consulate General in Tabriz will take measures to hold a meeting with Farid Safarli," the statement says.
It should be noted that relations between Azerbaijan and Iran have been tense since the end of last year. The culmination of this tension can be considered a terrorist attack on the Azerbaijani embassy in Tehran in January of this year. After that, the Azerbaijani government evacuated employees of its embassy in Iran to the country, and the activities of the embassy were suspended. At present, the Consulate General of Azerbaijan continues to function only in Tabriz.
After the embassy was closed, the Azerbaijani Foreign Ministry issued a warning and warned the country's citizens against traveling to Iran. The ministry noted that taking into account the unstable situation in Iran and the terrorist act against the diplomatic mission of Azerbaijan, it is recommended not to visit this country unless absolutely necessary, and those who visit it are advised to exercise a high level of caution.