Azerbaijani 'ReAl' opposition movement denies taking Iranian money
Azerbaijani Republican Alternative opposition movement, commonly known as 'ReAl', has flatly refuted accusations by the Azerbaijani General Prosecutor's Office and denied receipt of any funds from Iran. The movement leaders termed the investigation launched against 'ReAl' as 'а pressure' upon it.
According to 'ReAl' movement, the sequence of developments was as follows:
A meeting with the official from the Iranian Embassy in Azerbaijan was held at the opposition movement's office on January 19.
6 days later, haqqın.az and virtualaz.org internet portals published journalist Eynulla Fatullayev's article, in which 'ReAl' movement was accused of cooperating with the Iranian intelligence services and accepting their financial assistance.
On January 28, the General Prosecutor's Office spokesman, Eldar Sultanov, confirmed a launch of 'serious investigation' into the case to Turan news agency.
Meanwhile, Natik Jafarli, the Executive Secretary of 'ReAl' movement', who commented on the accusations on his Facebook page, termed them as 'absurdity and nonsense.'
"It's yet another attempt to exert pressure upon 'ReAl' using pro-governmental information resources. Our organization is fully transparent. Foreign diplomats from more than 20 counties visited our office earlier. The Iranian diplomat was among them and it was he who initiated the meeting. At the meeting the discussion focused on bilateral relations, the problem of violation of the rights of ethnic Azerbaijanis in Iran, Tehran's efforts to maintain cozy relationship with Armenia," Jafarli's FB post reads.
A report on the visit of the second secretary оf the Embassy of the Islamic Republic of Iran to 'ReAl' movement was publicly available on the movement's website.
The Republican Alternative movement was set up on March 18, 2009, on the eve of the referendum on introduction of amendments to the Constitution of Azerbaijan. Later on, the movement announced about its intention to transform into a political party.
In February 2013, Ilgar Mammadov, the 'ReAl' movement leader, was sentenced to 7 years in prison for organizing civil unrest in Azerbaijani town of Ismayilly.
In May 2014, the European Court of Human Rights (ECHR) recognized the verdict against Mammadov as politically motivated and held that Azerbaijani government was to pay a compensation for non-pecuniary damage amounting to EUR22,000. However, the court ruling has been ignored by the Azerbaijani authorities up to now.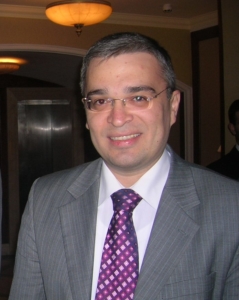 Ilgar Mammadov