Azerbaijani Muslim Unity member claims he was raped by police while in detention
Azerbaijani religious group member claims getting raped by police
During a live broadcast on YouTube, Elgiz Mammadov, member of the Muslim Unity religious movement, stated that he was raped while being detained by police. According to human rights activist Rufat Safarov, the chain of recent events in the country indicates that illegal actions against protesters are carried out on direct orders of the country's leadership.
---
---
What happened?
"Member of the Muslim unity movement Elgiz Mammadov was detained by the police a month ago.
Yesterday, June 19, he was released. Mammadov made horrendous statements. According to him, police took off his trousers and raped him.
Elgiz Bey himself spoke about this.
"This is beyond any limits. As I said at the press conference, soon the same fate awaits our family members. Family members of those who oppose this disgusting regime. Everything is moving towards this", Azerbaijani human rights activist Rufat Safarov wrote on his Facebook page.
The human rights activist noted that Elgiz Mammadov's statement about the rape was broadcast live on the Osmanqızı TV YouTube channel.
Elgiz Mammadov, along with four other members of Muslim Unity, was detained in front of a court building in Baku during a court hearing in the case against Razi Abbasov.
Three more detainees
Last Saturday, June 18, three more members of the Muslim Unity were detained in Baku.
Yasin Akhmedov, Vugar Aliyev and Nijat Aliyev wrote a slogan on a wall in the city of Sumgayit calling for punishment for those who use foul language against Allah.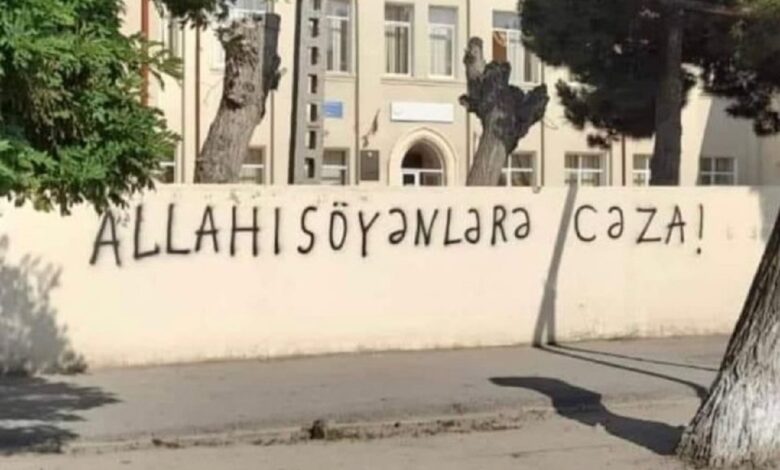 Expert commentary
The state must respect the fundamental freedoms, ethical principles and religious feelings of its citizens, said Rufat Safarov, a human rights activist and one of the leaders of the human rights organization Line of Defense.
"This comes from the political system in our country, and from international conventions to which Azerbaijan is a party.
It is no coincidence that human rights organizations recognize the leader of the Muslim Unity Taleh Bagirzade and other arrested members of this movement as prisoners of conscience.
---
A man claims to have been raped while in police custody. And this happens not in the Middle Ages, not during the feudal system, but in the 21st century in Azerbaijan. Can you imagine it?
---
Elgiz Mammadov said that they put a bag over his head and took him somewhere. Of course, he couldn't see exactly where. But he was detained by the police, only then he was brought before the court and he was sentenced to an administrative arrest. In other words, no one other than law enforcement could do this to him.
What has been happening lately with regard to those who oppose the regime leaves no doubt as to who is behind it all. This rape incident, the way activist Bakhtiyar Hajiyev was kidnapped and humiliated and that a knife was put to the throat of journalist Ayten Mammadova – all this is no coincidence and cannot happen without the knowledge of the country's leadership," Safarov said.
Rape committed by law enforcement agencies is not new, Abulfaz Bunyadov, a member of the Muslim Unity religious movement, noted:
"They know very well that few people admit to being raped. This does not fit into any framework in terms of our morals and customs. You only hear about those who have found the strength to admit it.
Of course, there are no accidents here. We can say that this is already a pattern, no matter how monstrous it may sound.
---
I myself experienced all these abuses in my time. It's just that now people have nothing to lose, they can openly talk about it.
---
Another question is why is this happening? It seems to me that people just want to intimidate, it is the policy of intimidation. For others to be afraid too.