Ilham Aliyev: "We have returned our lands"
Azerbaijani flag in Khankendi
On October 15, the 20th anniversary of his first election as President of Azerbaijan, Ilham Aliyev visited towns and villages in Karabakh that came under the control of the Azerbaijani army as a result of the September 19-20 counter-terrorist operation. He raised the Azerbaijani state flag in the center of Khankendi (Stepanakert).
---
---
In Khankendi, Aliyev addressed the nation.
"Conducting an anti-terrorist operation was inevitable"
In his address, Aliyev touched upon the reasons for holding the counter-terrorist operation on September 19-20, 2023:
"Conducting last month's anti-terrorist operation was inevitable. The Azerbaijani people know well, I am sure the world community knows well, that we wanted to solve the Armenian-Azerbaijani, Daghlig Garabagh conflict peacefully.
For seventeen years I personally participated in numerous senseless and fruitless negotiations. Why? Because I believed that this issue should be resolved peacefully. But gradually my hopes melted away. Having re-analyzed Armenia's occupation policy, I can say today with full confidence that it was not going to return a single inch of land to us.
Unfortunately, the mediators who dealt with this issue actually wanted to freeze the conflict, to make it eternal. They wanted this wound to never heal. But the people and the state of Azerbaijan could never accept this situation. I have repeatedly said that we will never accept this situation, we will never allow the creation of a second Armenian state on our land."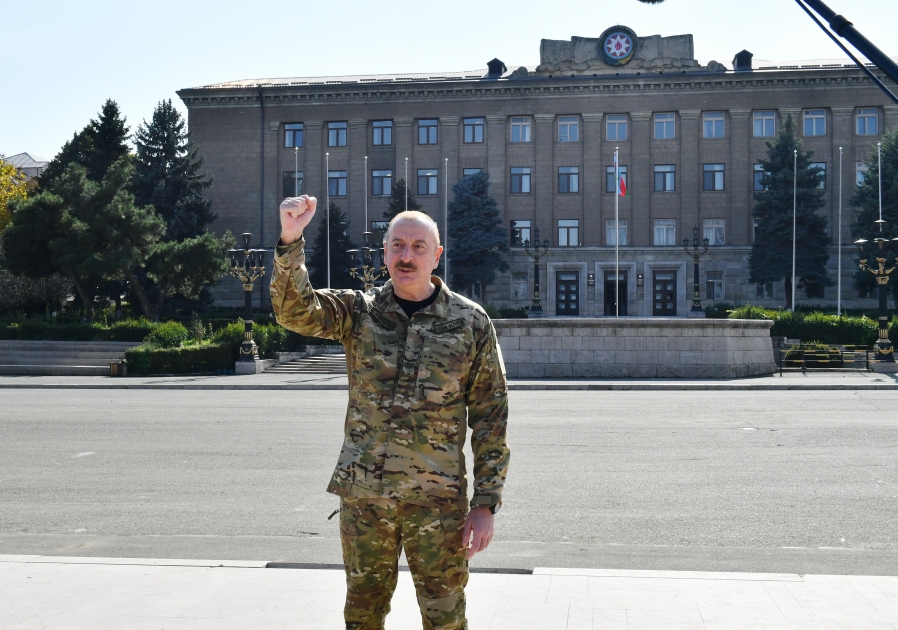 "Why did we agree to stop the war on Nov. 10?"
The President of Azerbaijan talked about ending the second Karabakh war on November 10, 2020:
"The Patriotic War lasted only 44 days. Throughout this period, I repeatedly addressed the people and at the same time called on the enemy to lay down arms, to inform the schedule and date of liberation of our lands, and then we are ready to stop the war. After the liberation of the city of Shusha – our holy hearth, our impregnable fortress – the enemy realized his defeat, raised the white flag, and we stopped the war.
I remember at that time some people asked why we agreed to stop the war on November 10? Today, standing here, I want to reiterate that we had to do everything in time, and we did. Both then, on November 10 and in the following period, the overwhelming majority of the Azerbaijani people understood very well that we would achieve what we wanted. And here it is, the desired thing – the flag of Azerbaijan flying here."
"Azerbaijanis and Armenians lived here under conditions of friendship"
Speaking in front of the administrative building in Khankendi where the leadership of the unrecognized NKR was located for over 30 years, Ilham Aliyev recalled that it was built in the '60s of the last century at the expense of the Azerbaijani budget:
"At that time it was the building of the Party Committee of the Nagorno-Karabakh Autonomous Region. It was called "the building of the party committee". Many people sat in this building.
There was a time when Azerbaijanis and Armenians lived here in conditions of friendship. There was a time when Azerbaijanis and Armenians lived in friendship not only in Khankendi, Karabakh, but also in Baku, Ganja, Iravan, Goycha, Zangezur, Daralayaz, Basarkechar. I remember those years.
I remember this atmosphere. There were contacts here, in the true sense of the word, in a sincere atmosphere, there was joint work. Today we raised the Azerbaijani flag over Sarsang reservoir. Sarsang reservoir and Sugovushan reservoir were built in 1976 on Heydar Aliyev's initiative for development of the region, agriculture. Huge investments were made at that time. A railroad from Aghdam to Khankendi was laid, a higher education institution was established here, and the absolute majority of buildings you see in Khankendi were built in those years. Agriculture was developed. At that time, the former Nagorno-Karabakh Autonomous Region alone harvested more than 100 thousand tons of grapes."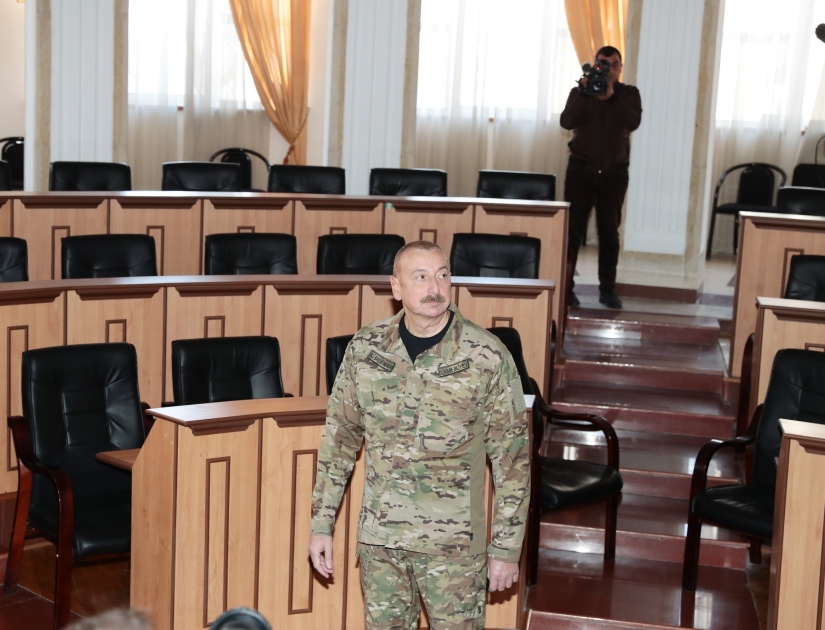 "They said they would come to Baku and drink tea."
"Some of those who held the highest positions in this building are now in Baku. They wanted to come to Baku themselves, threatened us, said that their tanks would be on the streets of Baku. They turned out to be right – their tanks are in the War Trophies Park. They said they would come to Baku and drink tea there. And here they were right too – now they are drinking tea, but in the detention center.
Three clowns who called themselves "presidents" challenged us, threatened us, insulted us. But we approached the matter with the same restraint and patience that we approach everything with restraint. Because we knew we were coming here. I knew it.
Exactly 20 years ago, on October 15, 2003, I made this promise to the Azerbaijani people and myself. Yes, we waited for 20 years, 17 years to be exact. Three years ago our flag was raised in Shusha. However, we have achieved what we wanted, realized the dreams of the Azerbaijani people, which they have lived for decades. We have restored the dignity of the Azerbaijani people. We have regained our lands, restored our territorial integrity and at the same time restored our dignity.
The three clowns sitting here who called themselves "presidents" are today awaiting their deserved punishment. I wonder whether the man who sat in one of these buildings and called himself "prime minister" will dare threaten us today.
At that time, the separatist who called himself "Minister of Foreign Affairs" said with a sneer that if Azerbaijan wanted to raise its flag in Khankendi, it should open an embassy in our country. Now they serve him tea there in the detention center.
And our flag is here. This should be a lesson to them. Unfortunately, they never heeded my words, which I said 20 years ago and then repeated many times. They thought they were just words. No, everything I said, I put into practice.
Everyone knows it, including in Armenia, and let them not forget it. Let them not forget the domestic war! Let them not forget the anti-terrorist activities! If some force in Armenia is still thinking about revenge, let them watch these images carefully."