Azerbaijani athletes protest against delay in salary payment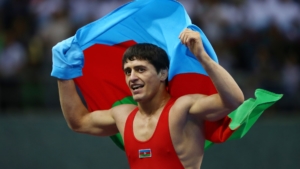 Dozens of Azerbaijan national team wrestlers, including the world champions, held a sporadic protest rally outside the Azerbaijani Wrestling Federation, demanding payment of salary arrears.
The rally participants claimed they hadn't received their salaries for several months. As the athletes told journalists, the Ministry of Youth and Sports was ignoring their demands. According to Rasul Chunayev, the champion in Greco-Roman wrestling, he hasn't received his salary for five months already. Chunayev claims he can't prepare for the tournament due to the lack of necessary conditions, though there is only one month left before the start of the World Championship.
"They expect us to join in. But how are we supposed to win in such conditions? We haven't been paid for almost half a year. I recently sustained an injury and I was waiting for surgery, but I wasn't operated on. So, I traveled to Turkey at my own expense and underwent the surgery there," Chunayev told Turan news agency.
Haji Aliyev, a prominent Azerbaijani freestyle wrestler, supported his teammate. "It has come to the point that some athletes have taken jobs at a car wash because they have to earn their living and provide for their families. Having returned from Rio last year, the guys haven't received their bonuses yet. Athletes have no access to medical examinations, neither are there any normal gyms for training," said Haji Aliyev.
Toghrul Askerov, an Olympic champion, has also joined the protest. He has recently been offered a transfer to the Turkmenistan national team. Given the salary arrears and the sports officials' disregard of the wrestlers' conditions, he will apparently accept the offer.
The athletes claim that if the Federation fails to solve their financial problems, they will boycott the World Championship, scheduled for 21-26 August in Paris.
Some pro-governmental journalists and public figures have condemned the athletes' protest. For example, Etibar Huseynov, former journalist and MP, addressed the outraged athletes in an open letter, accusing them of self-interest and lack of patriotism. "Did you get high salaries before you became champions? Did you enjoy comfortable lives as you do now? And now, as the country has started facing some minor economic problems, you've just wagged your tongues, haven't you? No offence, but like many others, I regard your allegations as an attempt to hedge against future failures," musavat.com website cited Huseynov as saying.
The reporters have failed so far to get any comments from Fazil Mammadov, the President of the Wrestling Federation and the Azerbaijani Tax Minister.