Violations, brawls and ballet stuffing - parliamentary election polls close in Azerbaijan
Polls have closed in Azerbaijan in the snap parliamentary elections.
Independent observers and journalists have reported many violations, such as:
[yes_list]
 Voting arousels;
 Bulk ballot stuffing
 Blackouts at polling stations;
 Obstructed surveillance cameras;
 Obstacles in the work of journalists and observers, pressure on them and the use of force;
 Voting of people registered in other districts and cities.
[/yes_list]
Several fights also took place, ending in a police call and even an interruption in the vote.
Pro-government media are silent about all these incidents.
Azerbaijan is headed to the polls on 9 February to elect a parliament. 1,314 candidates are running for the seats of 125 MPs. The elections are being held n a majoritarian system. These elections were supposed to have been held at the end of 2020, but were slated for February late last year after parliament self-dissolved on the initiative of the ruling New Azerbaijan Party (YAP). The party has held a majority in parliament for five convocations in a row, and the opposition has not made it into parliament for 10 years.
This year, among the candidates there are many opposition figures (they boycotted the last election) and socially active youth, and the election campaign has been the focus of public attention in recent weeks. Many experts consider this moment to be a turning point, and say that the future of the country depends on the willingness of the authorities to hold transparent democratic elections and prevent fraud.
• All about parliamentary elections in Azerbaijan
• Why the parliamentary elections-2020 are remarkable
• Op-ed: What's happening in Azerbaijan – a revolution from above or image correction?
16:00
Information on violations continues to appear on social and independent media.
Fights occurred in some polling stations, while candidates and observers complain of pressure and voting carousels. There were also photos of how several ballots were lowered into ballot boxes at a time.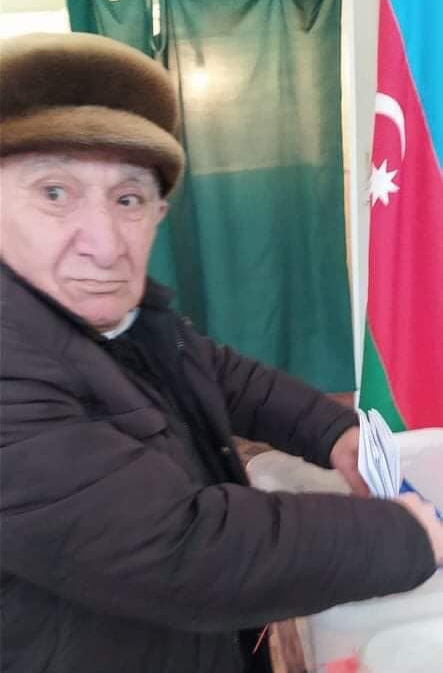 At the same time, according to the official version, from 08.00 to 14.00 four appeals from journalists reporting violations were received on the Press Council Hotline of Azerbaijan.  All four are in the regions.  The Central Election Commission claims that the problems have been fixed.
12:00
At the moment, 27.35% of voters have voted (1,457,776 persons).
Independent observers report a number of violations.
For example: in the south of the country, observer Zhalya Bayramova was dragged by the hair out from a polling station, writes Facebook user Sanay Yagmur.
10.00
Independent observers report that they are not allowed to film, as well as to observe what is happening. In some polling stations, observers are not allowed inside the polling stations, and are instead offered to "observe from the outside and not interfere with the process."
At some polling stations, force was used on observers.
Video from the Facebook page of candidate Rabia Mammadova:
Tanıyın Xəlilova İradə Əmir qızı 10 saylı Binəqədi Seçki Dairəsi 15 saylı məntəqədə müşahidəçilərə tərpənməyə icazə vermir. Müşahidəçilər heç bir prosesi izləyə bilmir. Qutulara, nömrələrə baxmağımıza icazə vermir. Bizim barmağımıza icazə vermir həmin maye vurulsun və yoxlanılsın. Bütün hüquqlarımız pozulmaqdadır. Qutulara əl daxil olacaq genişlikdədir. Müşahidəçilərin əsas hissəsi öz adamlarıdır. Məzahir Pənahovun səsləndirdiyi, konstitusiyada olan ictimai məkanda çəkilişlə bağlı icazə vermir. Seçki 14 dəqiqədir başlayıb.

Posted by Rəbiyyə Məmmədova on შაბათი, 08 თებერვალი, 2020
8.00
Voting has begun in Azerbaijan. Voters are to choose 125 MPs from 1314 candidates for the Milli Majlis (parliament). 5,573 polling stations will be open from 8 a.m. to 7 p.m.
International observers: 883   •   Local observers: 77,790   •   Voters: 5,329,460   •   Candidates – 1,314