Armenia doubtful that Russia will halt arms sales to Azerbaijan
Armenian experts have questioned the allegations by Russian State Duma officials on a possible revision of the arms supply policy with regard to Azerbaijan.
Russian MPs made the aforesaid allegations on two occasions over the past month. First it was Konstantin Kosachev saying Russia would scale down arms supplies to Azerbaijan. Later on, Konstantin Zatulin expressed regret that 'Azerbaijan couldn't find a better way to try out those weapons [procured from Russia-ed.] other than breaching the ceasefire on the contact line'.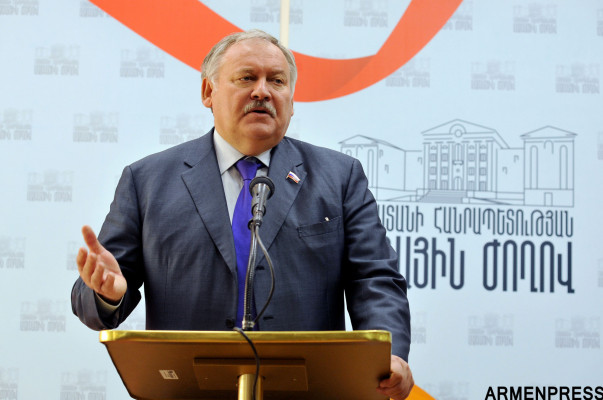 Zatulin said Russia had made conclusions. In this regard, the Armenian media also quoted the following statement made during a visit to Yerevan:
"Within the framework of the CSTO (Collective Security Treaty Organization), any future attack or threat against Armenia will be regarded by Russia as a threat to itself."
Stepan Grigoryan, the Head of the Analytical Center for Globalization and Regional Cooperation believes that by issuing such statements Russia is just trying to calm down the Armenian society. After the developments in April 2016 when the tension on the contact line grew into large-scale hostilities commonly referred to as 'the four-day war', Armenia accused Moscow of selling weapons to Azerbaijan in bulk. There were speculations that it was exactly due to Russia's policy that the Azerbaijani side managed to accumulate arms and launch a military operation.
"I don't think there are anti-Russian sentiments in Armenia. There is discontent with the Russian government's pursued policy: support for Azerbaijan and supplies of ultra-modern weapons. They distract Armenia, and that's very dangerous. I find it far more dangerous than if they had been openly selling weapons to Azerbaijan, as Russia keeps working with Azerbaijan on this arms sale contract," said Stepan Grigoryan.
Edgar Vardanyan, a political analyst, believes that Russia may scale down the arms sales to Azerbaijan. However, it's unlikely to give up on them completely. He noted that the presence of arms in the region increases the likelihood of resumption of hostilities and contributes to further escalation of tension on the contact line, which will result in new casualties.
According to Vardanyan, before the April 2016 developments, the Armenian side continuously expressed discontent over Russia selling weapons to Azerbaijan. Whereas now, this discontent has reached the point where it may lead to anti-Kremlin sentiments, simultaneously triggering such demands as the withdrawal from the Eurasian Economic Union or termination of support for Russia at international platforms.
"In any case, it's the victory of the Armenian society and the outcome of a consistent struggle," he added.
 Armenia was ranked 54th in the world as to the volume of arms imports in 2016/2017, according to a recent report by the Stockholm International Peace Research Institute (SIPRI). In the reporting period Armenia procured arms worth USD 124 million, with 100% of them supplied by Russia. Azerbaijan was ranked 27th in terms of arms imports in 2016/2017, importing arms from Israel, the Czech Republic and Russia which amounted to USD 551 million.