Armenia celebrates 26 years of independence
Photo: Gevork Ghazaryan, JAMnews
Today, Armenia celebrates the 26th anniversary of its independence. On 21 September 1991, Armenia made a historic decision: to take the path of independence.
The decision was based on a referendum that was held with ballot papers containing a single question: 'Do you agree that the Republic of Armenia should be a democratic independent state outside the Soviet Union?' About 99% of the Armenian population voted in favor of the country's independence.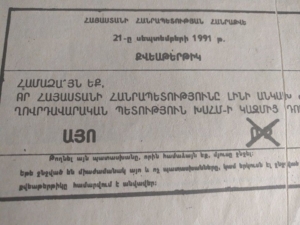 95.5% out of more than 2 million (2 163 967) eligible voters participated in the referendum. The Supreme Council declared the independence of Armenia two days after the referendum. Thereafter, on 5 July 1995,  the first Constitution of Armenia was adopted.
Over the past 26 years of independence, Armenia has recorded numerous achievements, as well as experienced certain losses. This holiday has become an occasion for evaluating the past years.
"Independence is both a necessity and a hard task that we should accomplish together. We expect immediate results, but we forget about our country's location, about our neighbors and our history. There are many problems, but no matter how small our country is, it turns out that we are important for the world," said Gurgen Khanjyan, an author and playwright.
David Muradyan, a writer, playwright and film expert, noted that the generation of independence was the greatest achievement of the past 26 years. "While there is such a generation, Armenia's independence will have a strong foundation. The independence generation will consolidate those foundations through their work, their families and their personal human achievements. This generation is different from the previous ones. They will strengthen the country where they were born," said Muradyan.
A year ago, on the occasion of the 25th anniversary of Armenia's independence, JAMnews introduced the coevals of the country's independence.