Arguments in Armenia over new banknote design
To commemorate the 25th anniversary of Armenia's currency the dram, the Central Bank has decided to introduce new banknotes in 2018. They will be third generation composite banknotes, comprised of paper and polymer (plastic). The new notes will differ from the old ones, not only in quality, but also in design.
The following will be depicted on the new notes:
On the new 1 000 dram note the writer and poet Paruyr Sevak.
On the new 5 000 note the famous American writer of Armenian origin, Silliam Saroyan.
On the 10 000 note the composer Komitas.
On the 20 000 note the artist Aivazovsky.
On the 50 000 note the first Catholicos of the Armenian Church, Gregory the Illuminator.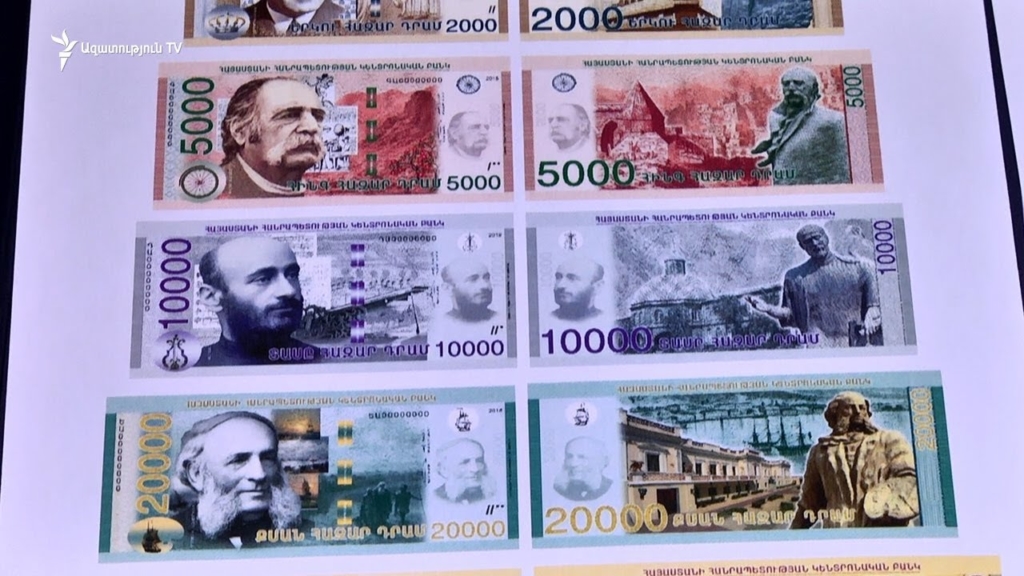 This has caused heated discussions across social media. Some Facebook users even began to offer their own humorous versions of the curency. Many either criticized or welcomed the choice of people whose images will appear on the new banknotes as well as the overall design of the new notes.
Here are a few opinions found on social media:
"The national currency shouldn't resemble a gypsy dress."
"This excitement and nationwide design movement is completely unacceptable. The bright colors should be processed and turn into a more calm, non-contrasting appearance, then everything will fall into place."
"The appearance of the five and ten thousand banknotes will change, bribed by the electorate."
The central bank warned that the introduction of new banknotes into circulation will not create problems for the general population or for businesses. The introduction process will go smoothly though the withdrawal of the old notes has not been planned yet. The notes currently in circulation will be valid indefinitely, and will only cease to exist when they become unsuitable for use. Their denomination value will not change either. The new 1 000 note will have the same value as the old one as only the appearance will change.