About the modest results of a unilateral peace policy
When I agreed to sit in the Reconciliation Minister's post, I certainly had an idea of what should be done for the country, namely, for the population of Abkhazia and South Ossetia. I thought then that if we managed to accomplish at least 80% of those plans, it would be the perfect result.
Whereas today, after four years, having assessed the actual state of affairs, I could see that we have accomplished about 30%. Yet, it could still be regarded as a pretty good achievement.
Outcome 1. There will be no war
The main result is that we have broken a 25-year practice, when the only message Tbilisi passed to Abkhazia and South Ossetia was: "Everything will be as we say it will."
This policy caused what happened in 2008, for when a politician uses military rhetoric often, he often becomes hostage to it, leaving himself almost no chance to negotiate for peace. That's what happened to the National Movement during that time. It was clear to them that they were able to intimidate the opposing party through such rhetoric and achieve success through such threatening, belligerent statements.
Russia made perfect use of the National Movement's adventurous and voluntarist policy and in doing so, caused the outbreak of the 2008 war. What we got, as a result, was occupation of our territories and the recognition of their independence by Russia.
We managed to stop this process which could be compared to a runaway train. Our task was to make this train move to another track, and I think we have succeeded in that.
Our mantra today is as follows: we won't start any military actions and we will not let external forces (no matter who that force is) make Georgia initiate military action on its territory again.
Outcome 2. De-facto authorities not ready for adequate response
The second outcome is the changing of policy on part of the de-facto authorities of Abkhazia and South Ossetia.
Over the past 25 years, the people there have become accustomed to agressive Georgian rhetoric and have got used to responding in a similar manner. Following a change in Georgia's policy, they were unprepared. They no longer have the opportunity to say that Georgia is an aggressor anymore. That's when the propagandist machine has sprung into action, not letting its population know about the 'good' Georgia.
The de-facto authorities of Abkhazia and South Ossetia control the situation, but they depend on Moscow. Their legitimacy is primarily linked to the belief by their population that Russia is the best choice for them. To reinforce this, there is a cut down on the number of checkpoints on the administrative border with Abkhazia; there are serious attacks on the Georgian language in Gali district schools and restriction of the civil rights of the residents of that district. All that is a prospectless response to the Georgian peace policy.
How are we going to act in this situation? Are we going to suspend the peace policy and resort to aggressive rhetoric or proceed with the current peacemaking policy, since there is someone who is obviously scared of it?
Today, Russia's strength in the global arena is equal to the number of missiles and tanks in its possession. We should defeat Russia by using a weapon that it does not have. That's to say, democracy, peace, security and development. In this case, it is powerless. Russia fails wherever there is democracy and peace.
Therefore, we must convince the population residing in Abkhazia and South Ossetia that peace is the Georgian people's choice and that we, ourselves, need it first and foremost.
Outcome 3. Tbilisi becoming attractive to the residents of Abkhazia and South Ossetia
If earlier only few people dared travel to Tbilisi from the territory of Abkhazia and South Ossetia, nowadays the number of visitors from those regions has increased considerably and that's another major achievement of our four-year rule.
They mainly travel for treatment. But businessmen also come, since goods and products in the other parts of Georgia are cheaper than in Sochi and Vladikavkaz, and they can be profitably resold in the territory of Abkhazia and South Ossetia.
This situation may increase the role of the Georgian population in Gali and Akhalgori districts, making them the mediators in the commercial relationships. We are doing our best to ensure that they are no longer treated as a 'fifth column.'
It's very important for us to reach out to the population in the territory of Abkhazia and South Ossetia: Georgians, who are living there, are the proof that Ossetians and Georgians, as well as Abkhazians and Georgians, can leave in peace. It's a unique situation-none of the representatives of the conflicting nations are coexisting in any of the conflict areas either in Europe, Kosovo, Karabakh or Cyprus. It's the case only in our country.
There are a lot of problems in Gali district and they should be talked about, but the fact that Georgians, Abkhazians and Ossetians continue living side-by-side with each other, proves that they have more things in common rather than those, separating them.
Outcome 4. Guaranteed security
People in Abkhazia often note that the most important thing for them is signing a non-use of force treaty. That's the easy part! As the State Minister, I have nothing against signing such a document. However, this should not occur until after a non-use of force treaty is signed between Russia and Georgia, since the Russian occupying forces are deployed there.
This is obvious. Let's say we signed some document with Abkhazia and the Russians advance their tanks deployed there in our direction. Are we going to oppose the Russian tanks with that document?
Several purported treaties on the unification of troops and joint use of military infrastructure have been agreed upon between Abkhazia and Russia, as well as between Russia and South Ossetia. But who are we supposed to sign a document with? Can the party asking us to sign such a document provide us with any guarantees in this situation, since Russia is the one really in control?
Meanwhile, Georgia has done everything it could on its part. Back in 2011, in Strasbourg, the President of Georgia announced that it would make a unilateral commitment to the non-use of force. Then, on March 7, 2013, the Parliament passed a similar resolution. Furthermore, Georgia signed the Association Agreement with 27 EU countries, one with each of them separately. And as it is stated in each of them, Georgia had made a committment to the non-use force.
Outcome 5. Tbilisi offers a real prospect for development
The task on today's agenda is to get Abkhazians and Ossetians interested in the prospect of living in a common state, in a place of peace, without any war.
What's important is federalism. This is my stance. When we came to power, there was no need to mention federalism in our program. However, I view it as the only way out in future.
I believe that federalization is inevitable in Georgia. This country has historically been one with different states in its regions – Kartli, Kakheti, Imereti, etc. This regionalism is instilled in our genes.
In addition to that, we are moving ourselves towards Europe, where national separatism remains one of the most important issues. It's a problem for Belgium and the UK; it's a problem for the Balkans, Spain, Cyprus and others. It's obvious that in the next ten years Europe will have to come up with new policies and this policies will be directed towards decentralization, rather than the centralization of power.
As early as in 2003, my friends and I developed a concept, itemizing all these complex issues. Today, my Abkhazian opponents tell us that it is too late to talk about fulfilling that goal. But I sincerely believe that it's not late, the time has simply not come for that yet. This idea was recorded too early. There is a saying – 'the ship has sailed.' In our case, the ship has not event left the harbour.
The important thing is asymmetric regionalism, with different powers assigned to various regions, for example, in the UK, where the powers and capacities of Scotland, Northern Ireland and Wales, are considerably different. Similar examples can be found in Germany, Spain and other developed countries.
What powers can be delegated to Abkhazia? This may be revealed in the negotiation process. That's what Georgia could theoretically offer the Abkhazian community.
Now, let's look at the model that the incumbent government of Abkhazia offers its populace. Restrictions on minorities to study in their native language; blocked roads; restrictions on the possession of property. Who would like such a state?
My proposal to the Abkhazians would be as follows: let's discuss all your fears face-to-face and draft an action plan together that will be acceptable for both of us. In Gali, there is a phenomenon; Tbilisi cannot control the situation without Sukhumi, but Sukhumi cannot cope with the situation there without Tbilisi either. So, why cause problems for one another? Isn't it better to take into account each other's interests than to constantly compete with one another?
It's in our common interest to work together. For example, let's look at how people study in Switzerland. There are four official languages in Switzerland. How do children start learning in the first grade? How do they switch into other languages? Let's introduce foreign models in the Gali district.
Another issue is freedom of movement. I can tell any resident of Abkhazia: obtaining a Russian passport does not mean you recognise Abkhazia as part of Russia, does it? So, the Georgian passport has just a humanistic meaning for you. We offer you the freedom of movement without any political preconditions.
Outcome 6. No direct contacts with the Abkhazian and Ossetian sides
It's possible to find ways out on many issues, provided that one looks for them. However, during my four-year term in the State Minister's office, none of the Abkhaz officials have ever addressed me with a question directly.
The Geneva format is actually the Georgia-Russia format, where, among others things, the topics of Abkhazia and South Ossetia are discussed with the Russian side. We have our own bone to pick with Russia; the same way as the Abkhazians have their bone to pick with us. So, don't the Abkhazians and Ossetians want to talk to us without Russia or anyone else involved? You have problems with us, don't you? So, why are we not discussing them? For example, I would like to talk to Abkhazians and Ossetians without Russian representatives in the room.
Do people in Abkhazia think, Russia will allow them to be independent? I don't believe that. I strongly suspect that Russia is not going to let the Black Sea coast slip from its fingers, and it is less likely to help Abkhazia secure its independence. Crimea's example should be symbolic for Abkhazia.
Abkhazians stand more of a chance to survive as an ethnic group in Georgia, rather than in Russia. Sorry to say, but that's the actual state of affairs: they won't get independence. Abkhazia's only choice lies between Georgia and Russia. So, they'd better think of their interests and see that with this choice international standards rest on the Georgian side. The choice of Russia is unreal and ephemeral. They will have to either lose precious time with vain expectations or start bargaining with Georgia. This is because bargaining with Russia is impossible.
Therefore, I think that today, the people of Abkhazia are facing a strategic or even, mental challenge. Georgia will become a member of the EU and NATO within the next 10-15 years. Georgia will, in any case, remain a successful democratic state, just as Russia will remain the region's dominant country. But what are the prospects for Abkhazia? Who is interested in Abkhazia's independence?
Elections in Georgia are around the corner. It seems that the Georgian Dream will remain in power and peacekeeping policies are not likely to change. Consequently, the unprecedented four-year peace policy will continue for another four years. And eight years of peace policy is a serious ground for strategic change.
When asked what Georgia is ready for with regard to the Abkhazian and Ossetian communities, my answer is: we are ready for bilateral meetings and detailed discussions on any issue.
Communication through televised statements and publication of unverified texts must be stopped.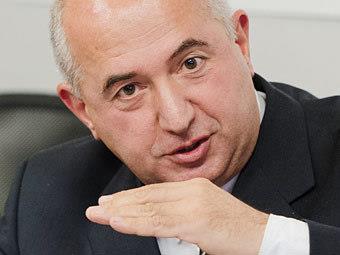 Paata Zakareishvili, photo saqinform.ge
The opinions expressed in this article convey the author's views and terminology do not necessarily reflect the views or opinions of the editorial staff
Published on: 30. 05. 2016