Abkhaz youth in search of hobbies: Hindi, street workouts and photography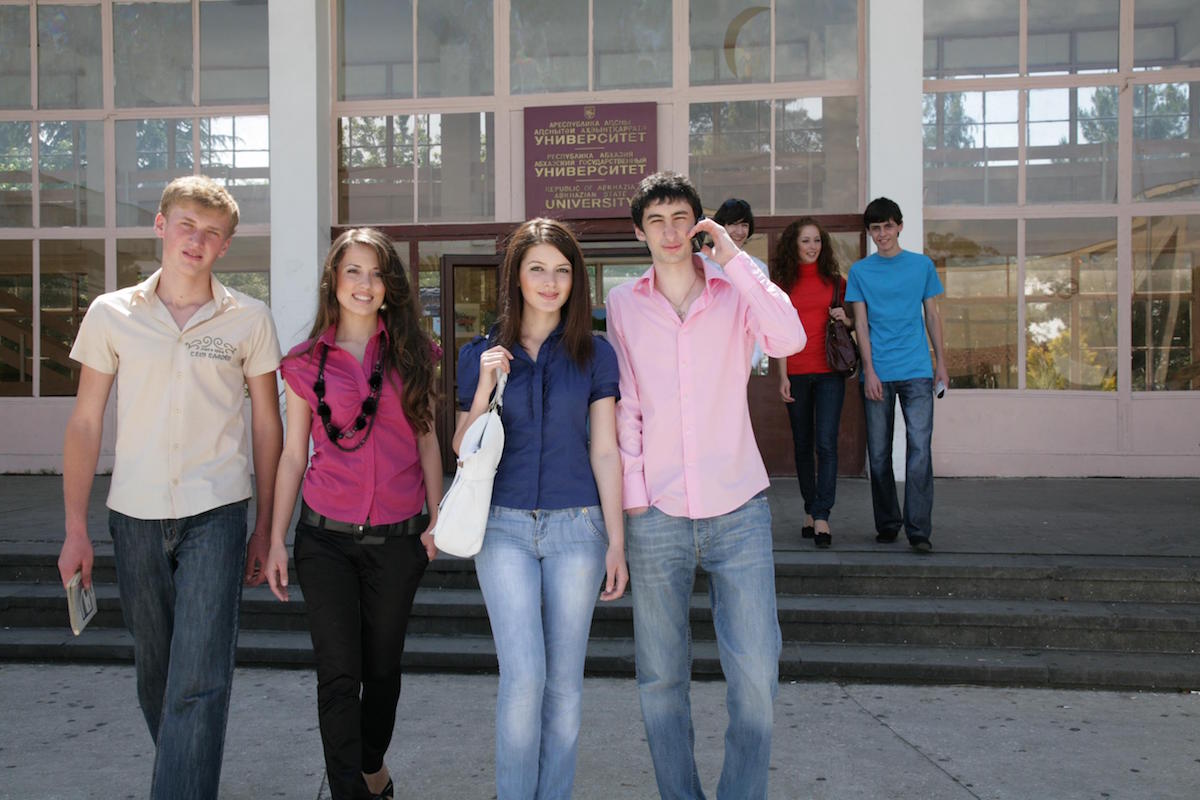 The youth of Abkhazia do not have many opportunities for self-development.
Official state structures are uninterested in developing art and sport clubs, neither are societal groups.
In other words, every person must come up with their own way of pursuing their interests and hobbies. We asked three Abkhaz youth about their hobbies and interests, and came up with three stories.
"I know Hindi better than I do Abkhazian."
Twenty-three-year-old Milana Agrba studies at the Abkhaz State University in the faculty of economics. She is fascinated by foreign languages, and says that learning a foreign language only seems difficult at first:
"When I tell people that I want to learn Chinese and travel around China, they don't take me seriously, and they think that I'm joking. I already speak English and Turkish well and now I'm learning Hindi, the official language of India. Hindi comes to me relatively easily, it's simple to pronounce and in some ways, it's easier for me to speak in Hindi than in Abkhazian."
Milana Agrba studies foreign languages with the help of internet applications:
"I study languages because I want to travel, to find out more about the world, to become inspired by the cultures of others and their way of life. I love India, and I'd love to go there, to spend some time there, and of course to try on a sari. And what else is interesting about India is the number of other languages they speak besides Hindi: English, Bengali, Telugu, Urdu and many, many others."
***
"Street-workouts are better than sitting on your haunches and chewing sunflower seeds."
Anri is a student at the Abkhaz State University's philology faculty. He became interested in street workouts about four years ago.
"I can't say that I used to love sport. But at some point, everything changed. My friends told me that there was a way of working out on the street and not just at the gym. At first I thought this was strange – what kind of sport could there possibly be without trainers by your side? But a street workout isn't just about 'pumping iron', it's also running, biking, cross-fit workouts and a number of other aspects too."
Anri says that for some, sport is just a fad more than it is a real interest.
"It's funny to watch some people as they take selfies of themselves at the gym, and then they post it on social media with hashtags like #healthyLiving. This has become really popular lately."
Anri says that sport has changed his life entirely.
"As a teenager, I was surrounded by a kind of shady group of people, and I could easily have become a drug addict who spent his time stealing people's bags and purses. When you hang out with such people, they quickly warp your view of life, and you start to think that to not smoke and to not steal is somehow silly – not 'manly'."
Street workouts brought him to a series of realisations and helped him to make decisions about how to live his life:
"When you're a teenager, as it was with me, there are periods when you are just 'on the edge' and you understand that if you don't stop yourself, there won't be any going back. And here I realised that in life, there are things that are much more interesting than sitting for entire days on your haunches and chewing sunflower seeds."
***
Wild-life photography
Marianna Achba plans to become an elementary school teacher. She is very interested in photography.
"I study five days a week, and Sukhum is very boring on the weekends. There's nowhere to go, there's not even a movie theatre. I grew bored of this monotony. I always loved photography. I just started taking pictures of the beautiful places I come across."
Marianna loves to take pictures of people. The problem is that people can often react negatively to street photography.
"There was this one case where I wanted to inconspicuously take a picture of people on the boardwalk, but they saw me and they made an enormous scene. This sort of thing happens often, people begin yelling at me or reacting in an inappropriate way. That makes me afraid. For that reason I prefer to take pictures of nature and wildlife. At least they don't get annoyed."
Toponyms and terminology used in the article, as well as views, opinions and strategies expressed in it do not necessarily reflect the views and opinions of JAMnews or any employees thereof. JAMnews reserves the right to delete comments it considers to be offensive, inflammatory, threatening, or otherwise unacceptable