A promising PM
There is an ongoing process of formation of the new government in Armenia, which has been entrusted to Karen Karapetyan, ex-Mayor of Yerevan, former top manager of the Russian Gazprom Company. 
Armenian political forces, even the most radically oppositional ones, haven't objected to Karen Karapetyan's appointment as country's Premier. Only separate statements have been made that he could be Russia's proxy. Yet, everyone has different expectations of the newly appointed Premier and that is conditioned by Armenia's foreign and domestic conjuncture, which is apt to sweeping transformation.
Let's view Karen Karapetyan's functions from several perspectives of the external and internal reality.
First of all, it should be recalled that Armenia is finishing a 10-year cycle of power, characterized by Serzh Sargsyan's presidency, and also, as experts put it, by the power of criminal oligarchy. The power in the country, as well as the right to get income from exploitation of the national weal, are distributed among a number of oligarchic families and individuals, who receive the principal income.
The completion of 'Serzh Sargsyan's cycle' will inevitably lead to redistribution of capital and the right to receive the added value from the national weal. Especially as upon completion of that cycle, under the new Constitution, the super president will no longer exist and the entire power will be concentrated in parliament.
Someone has to facilitate the redistribution process and Karen Karapetyan has turned out to be the best candidate to do that. He doesn't belong to the internal Armenian oligarchic groups and it's much easier for him to be an 'arbitrator' in course of redistribution of capital and quotas.
Moreover, the act of 'national consent' has been recently formalized in Armenia. That is, the key political forces have signed a memorandum on the mechanism to control the election process. It has been the first such act in 25 years of Armenia's history and it has been regarded by some experts as an accomplished fact of early separation of powers and creation of the so-called 'network structure'.
Foreign policy is another perspective in which Karapetyan has an important role. Armenia is at the crossroads: membership in the Eurasian Union and too close ties with Russia have deprived Armenia of the opportunity to develop mutually beneficial relations with neighboring Iran. Meanwhile, possible procurement of the Iranian natural gas by Armenia, as well as its further transit to Georgia and then to Europe's Black Sea coast, has been actively discussed nowadays.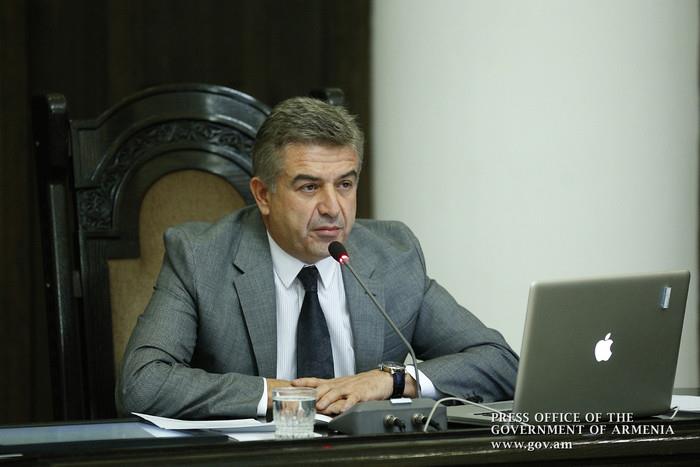 Although everyone admits the benefits of Armenia-Iran cooperation, it can't get off the ground. Many analysts attribute it to Russia's fears, which is afraid of losing not only the Armenian market, but also the overall control over the regional communications.
It is believed that having persuaded Russia to overcome its fears, Karen Karapetyan probably aims at establishing closer relationship with Iran. It's no coincidence that Karapetyan's first instruction was to revise the gas tariffs. Armenia gets most of its natural gas from Russia. However, experts don't rule out that amidst increasing gas supplies from Iran, Armenia, Russia and Iran may agree on a swap scheme gas supply [supplies under a substitution scheme]. And this, in turn, may influence the entire regional setup.
Another perspective is the fight against corruption, put forwards by the international structures as a precondition for provision of loans to Armenia and stimulation of the investments. Even the Armenian oligarchs refer to Karen Karapetyan as an affluent person. For instance, Manvel Grigoryan, an odious MP-general-oligarch, claims, Karapetyan doesn't need to be the Premier to earn money. In his words, he has come to work rather than to earn. It means that a fight against corruption and monopolies could be launched at least formally in Armenia.
This may create a favorable background for attraction of foreign investments to Armenia. In particular, an investment conference for Armenia is due to be held in the USA in mid-October. Armenian President, Serzh Sargsyan and the newly appointed Premier, Karen Karapetyan, are expected to attend the conference. Before that, the new PM will have to convince the Western and Asian investors that his thievish forerunners' vicious practice will not continue.
Karen Karapetyan certainly has some other functions that will be displayed before and after the parliamentary elections in Armenia, scheduled for April 2017. However, his best asset is that he stands far above those constantly squabbling oligarchic clans in Armenia and he's got a 'carte blanche' for distribution of the state property ownership rights.
If he manages to perform three major functions, that is 'arbitration' in course of transfer of power, development of relations with Iran and attraction of foreign investments, only then it will be possible to talk about Armenia's good choice.
Published: 20.09.2016