A balcony on Leon Avenue: Trotsky in Abkhazia
I had been to Abkhazia many times, before someone mentioned the name Trotsky. In Abkhazia you expect to hear about Stalin, who came here dozens of times, beginning in 1906 when he landed here as a pirate, robbing a ship to grab funds for the Bolsheviks, right up until the 1950s when he spent months at a time at his Kholodnaya Rechka dacha near Lake Ritsa as an elderly dictator. But not his arch-enemy Trotsky.
The Trotsky connection was always made with the beautiful white neo-classical confection built in 1914 as the Hotel San Remo, now the Hotel Ritsa. It stands right on the sea-front overlooking the little café known as Brekhalovka, where Abkhazia's elderly elite gather to drink coffee, play dominos and talk politics.
The fiery revolutionary, I was told, had made a funeral speech for Lenin from the balcony of the second floor room on the corner of the hotel.
I never checked the details. But in October this year I got to stay in that room and stand on its white-metal balcony, marveling at the view over the palm trees, the café and the broad promenade stretching along by the Black Sea.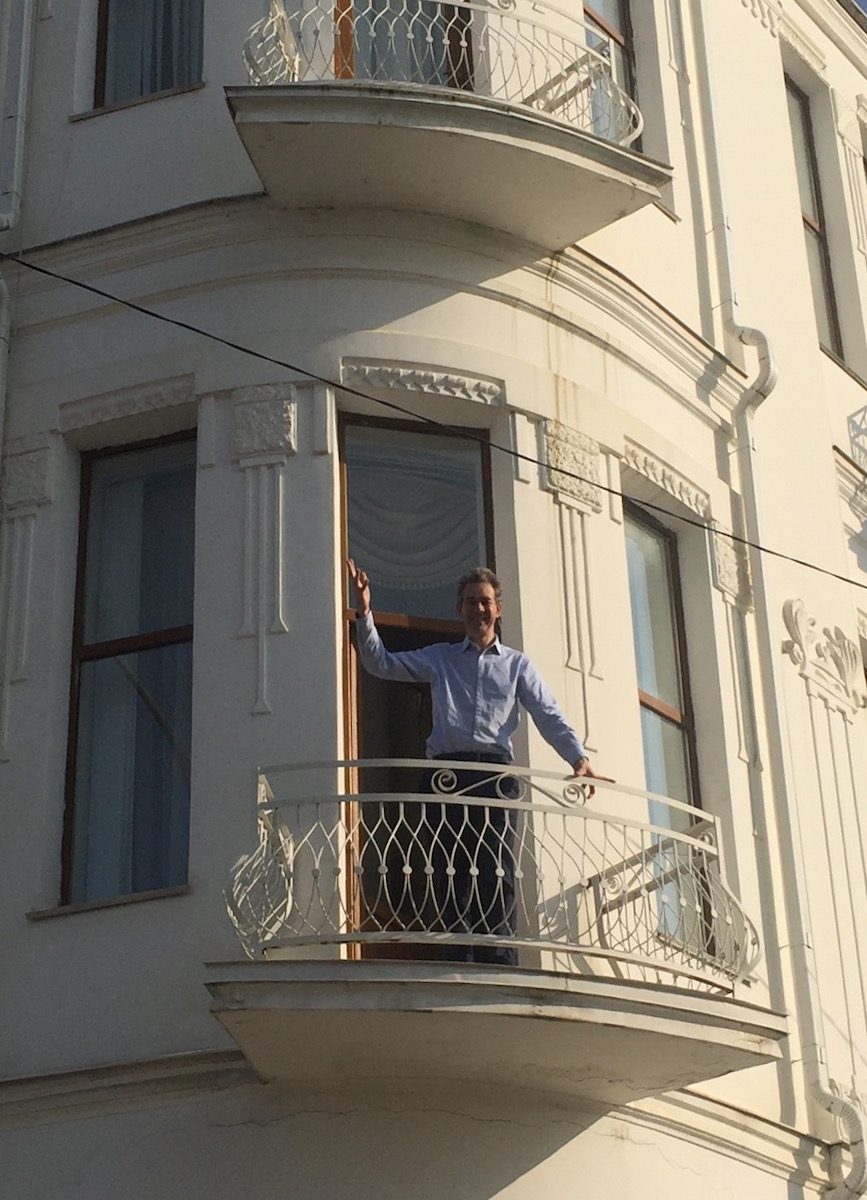 I finally got the full Trotsky story from Abkhazia's best historian, Stanislav Lakoba–who also has a family interest in the tale. The story of the speech was mostly but not entirely, true.
I learned (somewhat to my disappointment) that my balcony did not have such a starring role in Soviet history as I had thought. Trotsky did make a funeral speech from that spot, but in 1925. His oration for Lenin a year earlier was in the city's main square.
Yes, Trotsky made two extended stays in Abkhazia in successive years—and thereby sealed his political fate.
In the New Year of 1924 Lenin was seriously ill, but few knew how close he was to death. Trotsky meanwhile was still looked on favorably by Lenin but had fallen out with most of the Politburo. He was sick with a persistent high fever and was recommended a health cure in the warm subtropical climate of Abkhazia.
In those dates the railway route to the South Caucasus went via Dagestan and Baku, a journey of several days. Trotsky arrived at Tbilisi railway station on January 22 to receive a secret telegram informing him Lenin had died the day before.
He telegraphed Moscow that he was returning to Moscow. The reply came, "The funeral will be held on Saturday [January 26], you won't manage to arrive in time. The Politburo believes that on grounds of health you need to travel to Sukhum. Stalin."
When Trotsky reached Abkhazia, by ship from Batumi, he learned that he had been deceived. The funeral was actually held on Sunday, January 27, and he could have made it. Stalin of course was the chief mourner.
On that day Trotsky lay on the balcony of the State Dacha and heard a salute of cannons over the Black Sea timed to coincide with the funeral in Moscow. It was surely the moment when he lost his power struggle with Stalin.
Some have questioned Trotsky's version of events. But Stanislav Lakoba said he had confirmed them from the archives. Moreover, in his new authoritative three-volume book, The Great Terror in Abkhazia, 1937-1938, he publishes a letter from January 6, 1924 by Abram Belenky, a guard of Lenin and friend of Stalin, to Nestor Lakoba, earnestly requesting him to keep Trotsky "under close observation" [pod opekoi] and insisting, "You will understand that there is no need to organize any meetings or parades" in Abkhazia.
Trotsky eventually made a passionate memorial speech for Lenin in the central square of Sukhum on April 8, dressed in an overcoat and wearing his thick Red Army budenovka hat adorned with a star. He had recovered his health. Stanislav Lakoba met an old lady who had been a typist at the State Dacha and recalled how Trotsky had marched up down a room, dictating two different articles to two different typists.
Trotsky returned to Abkhazia in January 1925, when he was already strongly out of favor – but still had many loyal supporters in the Caucasus (I am told that many of the Georgian Bolsheviks backed Trotsky because they hated Stalin so much).
He appears to have kept up his good relationship with Nestor Lakoba and offered his help in drafting the constitution for Abkhazia as a "treaty republic." (It was this status that was abolished in 1931 and which the Abkhaz sought to revive in 1992 shortly before the war). Maybe by doing this he was seeking to undermine Beria and Stalin.
Trotsky was to be joined by three comrades, Alexander Myasnikov, Solomon Mogilevsky and Georgy Atarbekov. But on March 22, the plane carrying them from Tbilisi crashed. Some suspected foul play and Trotsky was heard to call their deaths a "triple murder."
So it was on March 23, 1925 that Trotsky made a funeral oration from "my balcony" in the Hotel San Remo. He recalled Lenin but was mourning three other men.
"It is the biggest blow since the death of Ilyich, which has struck the toiling masses of the Soviet Union and our Communist Party," Trotsky told the crowd below.
Within three years, Trotsky was on his way into exile, eventual assassination and forgetting. There is no memorial recording his visits to Abkhazia.
But by a stroke of coincidence, the street where the Hotel Ritsa stands is named "Leon Avenue." (Outside of Russia, the revolutionary is known as Leon, rather than Lev, Trotsky). The street-name refers to a medieval King of Abkhazia, but it could also refer to the revolutionary who stood on a balcony there, mourning his comrades, and also perhaps the chance he missed to succeed Lenin as the leader of the Soviet Union.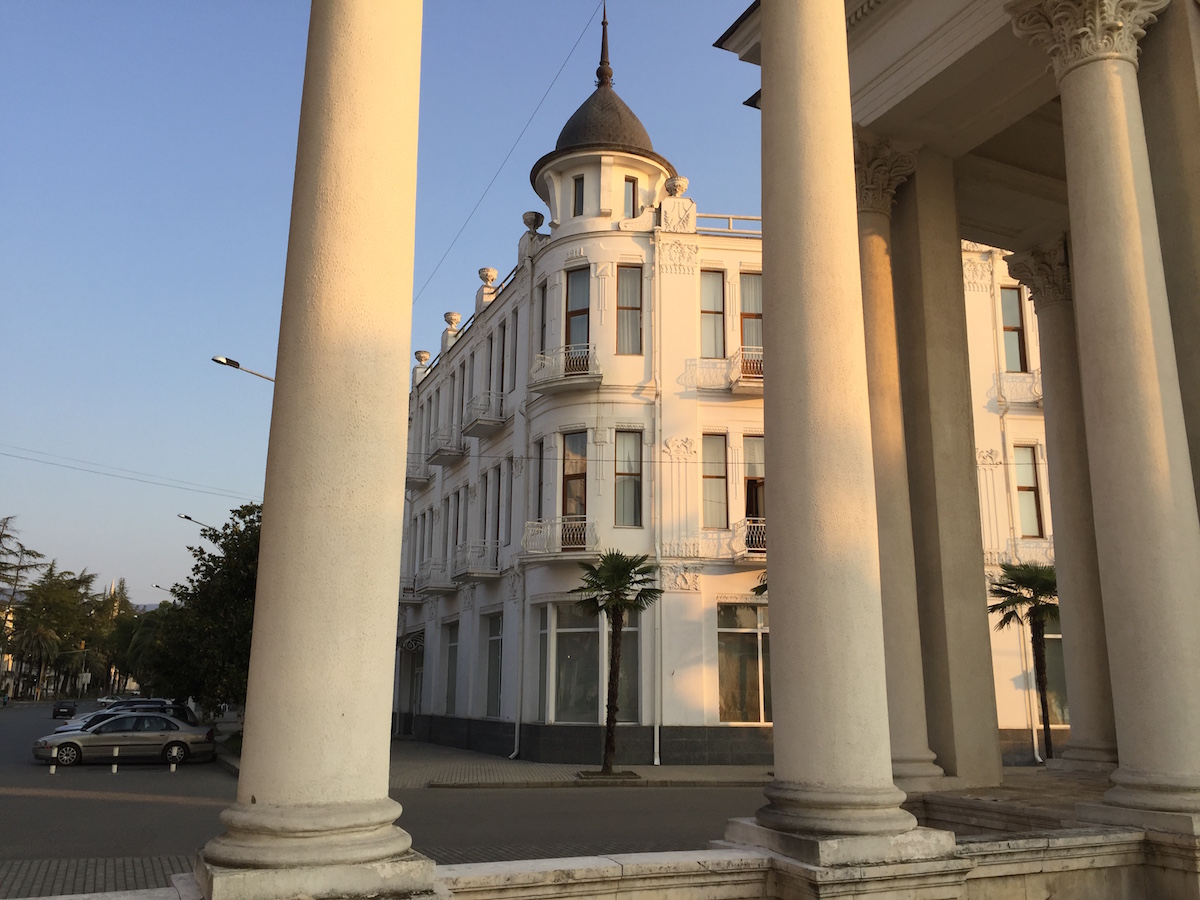 Toponyms and terminology used by the author, as well as views, opinions and strategies expressed by them are theirs alone and do not necessarily reflect the views and opinions of JAMnews or any employees thereof. JAMnews reserves the right to delete comments it considers to be offensive, inflammatory, threatening or otherwise unacceptable