14th 'Golden Apricot' International Film Festival commences in Yerevan
The 14th International Film Festival 'Golden Apricot', a long-awaited cultural event, has commenced in Armenia. Throughout the week, Yerevan will live and breathe films from various countries around the globe, which will be screened as part of the festival.
This year the organizers received 1 100 submissions from 96 countries, and only 47 of them have been selected for screening. Films will be classified into three categories: features, documentaries and international films. Films will also be screened as part of the Armenian Panorama National Competition. Film screenings will be organized not only in Yerevan-based cinemas, but also in city parks.
A traditional apricot blessing ceremony, which is regarded as a symbolic, non-official start of the festival, was held.
Stars in honor of film directors Frunze Dovlatyan and Yuri Yerznkyan, as well as cinematoghapher Sergey Israyelyan, were placed at the Charles Aznavour square among the stars of other prolific masters of Armenian Cinema.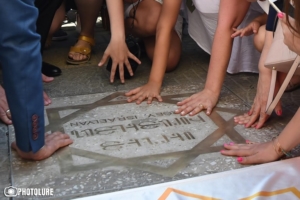 While the festival guests, nominees and participants in the non-competition program were walking down the red carpet, two protest rallies were held simultaneously in the same square. Two films about sexual minorities were removed from the festival program, which caused indignation among the LGBT-community and activists advocating their rights, who hit the streets in protest. Meanwhile, those who demanded to stop LGBT-propaganda also gathered in the square.
Hugh Hudson, the British film director known for his feature 'Chariots of Fire' (the 1981 Oscar-winner in the 'Best Picture' nomination), will be heading the international jury board this year. On a side note, the festival will feature a retrospective of Hudson's films. The board also includes Hudson's wife, Maryam d'Abo, an actress, as well as Ildiko Enyedi, a film director (Hungary), who has recently received the Golden Bear award at the Berlin Film Festival.
The organizers promised to screen meaningful and though-provoking films, representing cultures of different countries. They stated that the films included in the non-competition program (which are actually as many as the competition nominees) also deserve moviegoers' attention.