11 killed in Batumi hotel fire
Eleven people have died and several others have been injured in a fire in the Leogrand Hotel in Batumi, a city on Georgia's Black Sea coast.
While the flames are reported to have mostly been contained, the lingering smoke impeded the rescue effort.
The Interpressnews Agency, citing representatives of Batumi's Emergency Medical Care Centre, reported that all the people have been moved to safety now. The injured, including one firefighter, had been taken to different hospitals in the city.
Emergency services received the first report of the fire at 20:01.
Up to 100 firefighters and 12 recovery crews were deployed to the scene.
The interior minister and deputy healthcare minister are on their way to Batumi.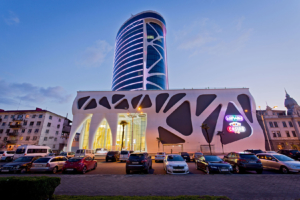 Leogrand is a five-star hotel with 180 rooms. Forty million dollars had been invested in it.