Russian 'Night Wolves' may arrive in Georgia on 9 May
The members of the Russian 'Night Wolves' biker group may arrive in Georgia on 9 May, according to Irakli Kipiani, the head of the pro-Russian 'Russia-Georgia Youth Association' NGO.
Meanwhile, people in Georgia have started collecting signatures against the Russian bikers' visit to the country. More than 2,000 people have already signed an online manifest entitled 'Don't let the Kremlin motorcyclists enter Georgia'. The signature collection procedure is underway.
There is no information with regard to the Night Wolves motocross to Georgia on the biker group's website. However, according to Irakli Kipiani, the bikers' visit to Georgia largely depends on the extent to which the country can ensure their safety upon their arrival. The matter concerns about 30-35 bikers. In his words, the National Movement's allied organizations may pose a risk to the bikers. Kipiani particularly emphasized the 'Free Zone' organization, whose members had opposed the Russian bikers back in 2015.
Shalva Khutsishvili, the Deputy Interior Minister of Georgia, stated that Georgian law-enforcers would oversee the Night Wolves' visit to Georgia. If they violate Georgia's sovereign interests, the police would resort to adequate measures.
Who are the 'Night Wolves'?
The Russian Night Wolves biker group is actively supported by the Kremlin. At the same time, the biker group leader, Alexander Zaldastanov, aka 'Surgeon', frequently makes public appearances together with the Russian leader, Vladimir Putin.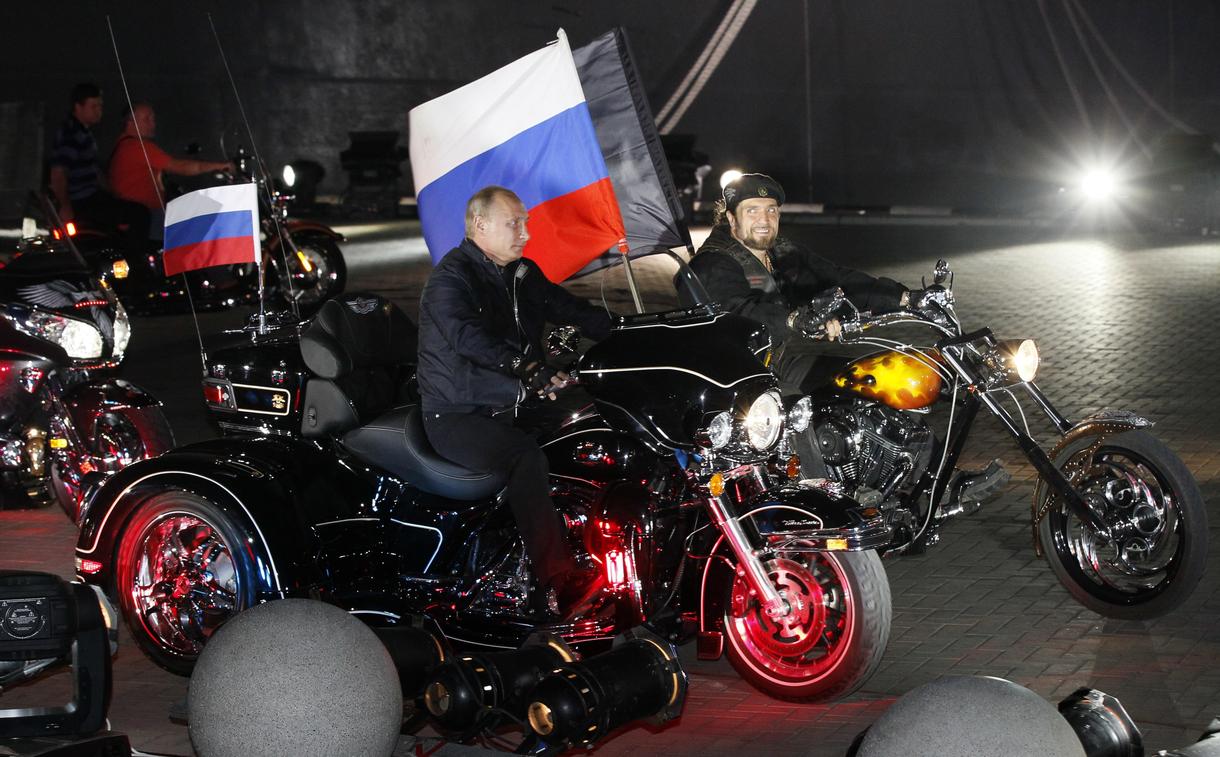 The 5,000-member group regularly organizes overseas trips on 9 May, on the Day of Victory in the Great Patriotic War, as well as participates in various events dedicated to this date. Their trips often end up in conflicts. They travel with the so-called 'Georgiyevskaya Lenta' (St. George Ribbon), which is a symbol of Imperial Russia. Post-Soviet countries associate it with the Soviet occupation. A campaign aimed at dissemination of the St. George Ribbon has been financed from the Russian state budget since 2005.
This year, the 'Night Wolves' started their tour from Slovakia, though they encountered some problems in Poland. On 1 May 2017, the group members who participated in the Moscow-Berlin ride to mark the end of WWII, were prevented from entering into Poland. According to the Russian media reports, only the members holding EU passports were allowed to cross the Polish border. The Night Wolves were facing similar problems in 2015 and 2016. In particular, in 2015, Germany annulled Schengen visas of the group members, who were traveling in transit through Berlin to Poland.