Rising cost of bread in Abkhazia: what is happening?
Rising cost of bread in Abkhazia
In Abkhazia, the price of bread is regulated by the government. Since February 2023, the Guild of Bakers has been urging authorities to increase the cost of bread, citing an overall rise in prices. As a result, the price of bread in Abkhazia has risen by 2 rubles [$0.02]. White bread made from premium flour now costs 30 rubles [$0.31], and dark bread is priced at 28 rubles [$0.29]. Producers predict that prices will continue to climb.
A taste of childhood
Everyone in Abkhazia knows what "drandsky" bread is – enormous round loaves with a crispy crust. Residents of Sukhumi, where this bread isn't imported, nostalgically refer to the taste of drandsky bread as "a taste of childhood." This flavor is preserved through the observance of a special technique. Certain factors matter, such as the temperature during the dough fermentation period – it is kneaded, placed in specially greased forms, and put into an oven where a specific temperature must be maintained. If there's an electricity outage, diesel generators are used in the bakery. And electricity is sometimes cut off several times a day for an hour or even longer.
---
---
Deputy Director of "Achababa" LLC, Kiasu Chachkhaliya, explains that with the increase in fuel prices, the bakery's expenses have significantly risen. However, the most impactful factor on profitability is the cost of flour. As a member of the Guild of Bakers of Abkhazia, "Achababa" LLC also insisted that the government allow producers to raise the price of their products.
According to Chachkhaliya, Abkhaz bakers are currently struggling to survive. The rising cost of flour, sunflower oil, electricity, and fuel means they are left with minimal profit.
"We pay significant taxes and contribute to off-budget funds. We need assistance, not to be driven to bankruptcy."
There is another request from bread producers to the government – to cease imposing maximum prices on bread. Chachkhaliya asserts that this outdated measure is senseless:
"I don't understand what they're afraid of. That we'll hike up prices? But competition won't allow us to do that anyway."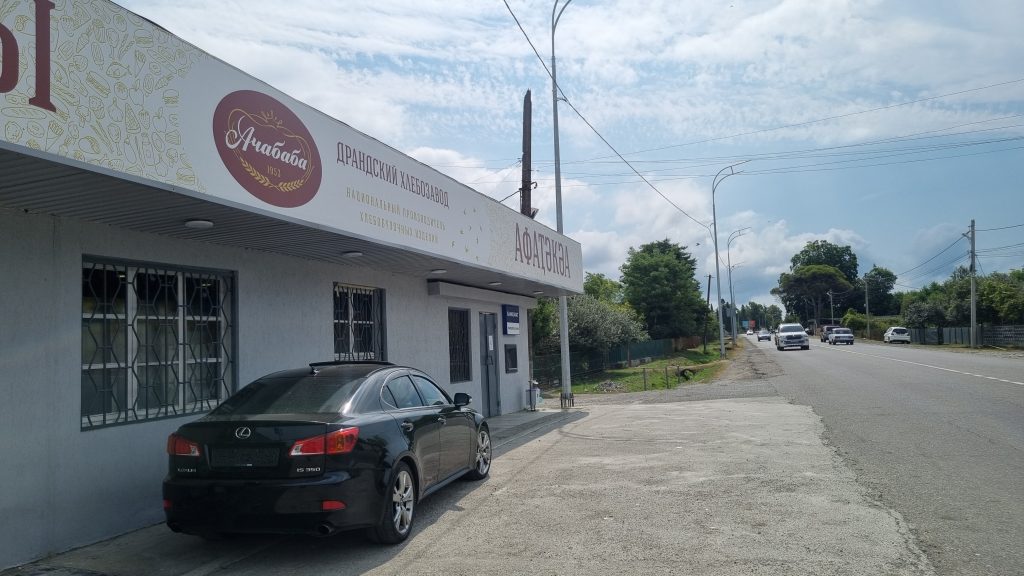 Well-intentioned efforts
During the 2010s, there was active construction of state-owned bakeries in Abkhazia. Bakeries were built in every city of the republic using budget funds. At that time, the rationale behind such construction was explained by the notion that having a state enterprise producing a strategically important product would contribute to food security. However, the hopes pinned on these factories have not materialized.
"A producer should be motivated to understand the market, its trends. Enormous sums with six zeroes were invested in state-owned bakeries, but we have a market economy."
Chachkhaliya himself closely monitors the market:
"I never thought I'd be deciphering stock market data, but my mornings start with checking grain prices. I look and estimate what awaits us in the near future."
According to Chachkhaliya, Abkhazia can expect an average increase of 2-3 rubles in the price of bread. Otherwise, bakers won't be able to sustain their business.
Local bread vs. imports
However, Abkhazian bread isn't the sole option on local shelves. Sochi and Moscow bread, with a total value of around half a million rubles per month (approximately $5,000), are also imported. The price of this imported bread is significantly higher than that of Abkhazian bread – on average, it costs 60-80 rubles per loaf ($0.60-0.80).
According to vendors, there are buyers for all types of bread, including the expensive Russian variety.
"People with diabetes buy our non-yeast Moscow bread, no matter its cost," one vendor explains.
Bakers, on the other hand, believe that the government should prioritize local producers. They argue that tax and legislative hurdles should be placed on importers, not them.
"Just read the list of ingredients in imported bread, and see what preservatives are in there. If bread doesn't spoil for two days, my immediate question is: what else did they add besides flour, yeast, and salt?" Kyasou Chachkhali expresses his concern.
In his view, local bakers are responsible for bread quality, and consumers should support them with their rubles and understanding.
"Not the most expensive product"
When it comes to shoppers, some of them haven't even noticed the price increase. For instance, 26-year-old Amina Kvitsinia from Sukhumi.
"I don't really pay attention to prices, honestly," the young woman admits.
Elderly residents of Sukhumi hold a different perspective. Svetlana Tsimtsba is convinced that the increase in bread prices is just the beginning:
"Today bread got more expensive, gasoline got more expensive, electricity, and tomorrow everything else will follow suit. Although, you know, prices always rise, and that's not surprising at all. We, the old folks, don't need much. But I feel sorry for the younger generation."
Harry Vladimirovich is a working pensioner. He chuckles in response to the question about the rise in bread prices: "Well, if only there was decent bread, instead of all this junk they sell. Russian bread is especially unbearable. My wife bakes at home herself. She noticed that the flour has gotten pricier. Probably that's why bread got more expensive."
---
Terms, place names, opinions and ideas suggested by the author of the publication are her / his own and do not necessarily coincide with the opinions and ideas of JAMnews or its individual employees. JAMnews reserves the right to remove comments on posts that are deemed offensive, threatening, violent or otherwise ethically unacceptable.