The 'Russian world' tracing: where Ukraine's anti-pedophile movements come from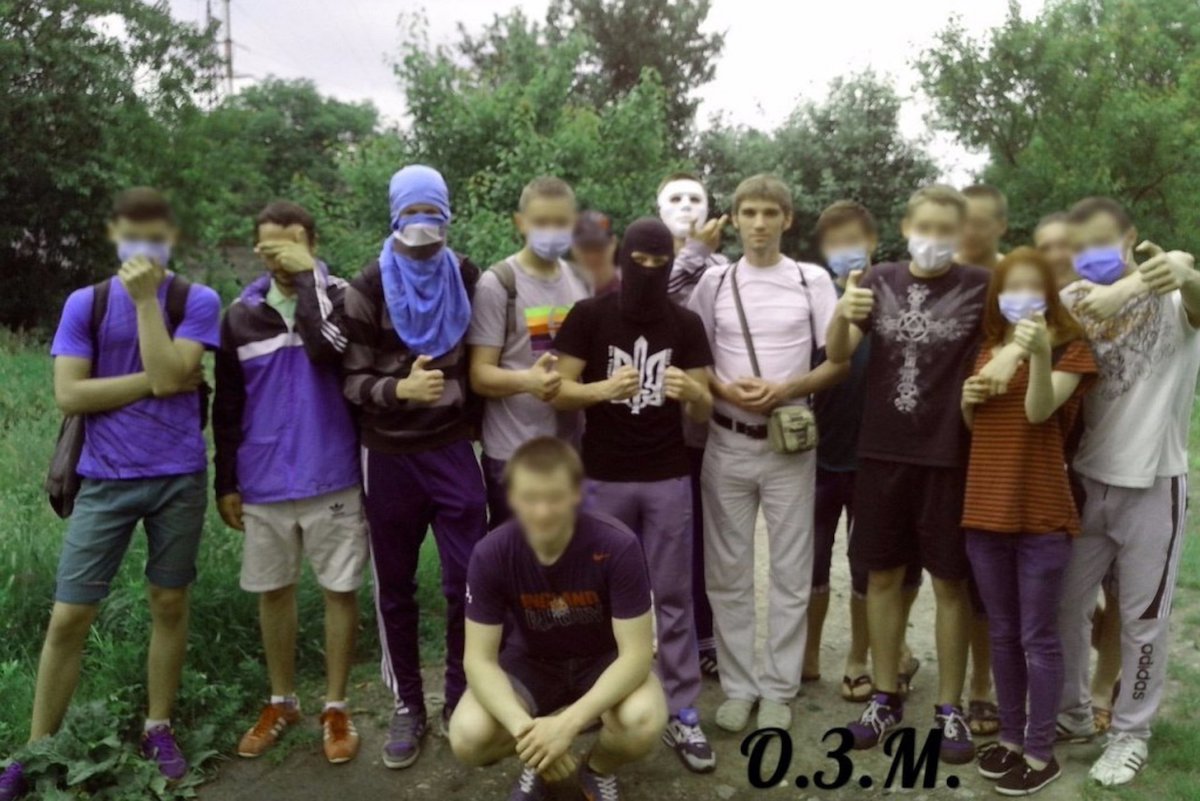 "White Lions' and 'Heritage'
According to the Kirovograd regional prosecutor's office, the detained members of the 'White Lions' group attacked alleged pedophiles, filmed their victims being assaulted on video, and then extorted money from them, threatening to share the video on social media.
Artem Artemyev is a leader of the 'Heritage' movement. This group is engaged in a 'pedophile hunt' in Ukraine's cities, explains Artem. He offers his own explanation for the arrest of his colleagues from the 'White Lions' group:
"The 'White Lions' acted harshly. They resorted to violent actions and were allegedly extorting money from people," he says.
The 'Heritage' movement doesn't have any problems with law-enforcement agencies, because Artemyev once 'learned enough' from a conversation at the Zaporozhye region MoI Department: "I was explained how I should behave. I was told as follows: never take away tangible assets, so that no one has claims against you over physical abuse."
The 'Heritage' movement holds itself out as 'a public movement', aimed at exposing those who encroach on children's dignity. The organization operates under the following scheme: the movement activists provoke men through fake VK accounts to meet with minors. And when they come, they find some athletes instead of adolescents.
Afterwards, the 'Heritage' movement activists record on video their victim's apologies and a pledge never to date minors again. The video is uploaded on Artemyev's VK page, and then shared with their groups.
Artemyav claims that the 'Heritage' movement's activity is a non-profit hobby.
"I do it to ensure that children grow up in a safer society, where no one would ruin their psyche," he explained. "They are the future of our country, nation, race, I mean the white race, which is a priority. I'm not a racist, I just like my people more."
Alongside pedophile exposure, the 'Heritage' movement has also organized some informal classes for kids. According to Artemyev, the classes are designed to teach children how to fend off adults' violence. The project is entitled 'The School of Children's Vigilance'.
The 'School' offers classes for two age groups: children aged 4-7 and those aged 10-15. Artemyev plans to deliver similar classes in public school, and not only in Zaporozhye, but also in other regions across Ukraine. Up to now, about 100 children have already taken 'vigilance' classes.
'Russian trace'
Artemyev's VK friends list includes some renowned figures in the Russian nationalist circles, for example, Roman Zheleznov, aka Zukhel, who joined the Ukrainian 'Azov' battalion in 2014. In this regard, a criminal case against him has been launched in his homeland.
Zukhel is a key ally to Maxim Martsinkevich, better known as 'Tesak' (Hatchet). The latter is a founder of the 'Restrukt!' and 'Occupy Pedophilia' organizations. Until 2015, the organization had been exposing pedophiles and publishing videos featuring acts of harassment against them throughout Russia. 'Occupy Pedophilia' proved to be a rather profitable venture from an economic point of view: Martsinkevich and his fellow team members raised funds from YouTube views, as well as from the sales of 'safari' tickets, i.e. tickets for those willing to watch first-hand the activists harassing alleged pedophiles.
In 2013, Martsinkevich made the 'Occupy Pedophilia' tour around Ukraine. Martsinkevich, accompanied by his fellow team-members, visited Kharkov, Kherson, Odessa, Kyiv and some other regions, and filmed videos everywhere. Later on, those video clips gave grounds to the Russian law-enforcers for instituting criminal proceedings over 'instigation of hatred or enmity and abasement of human dignity through violence.'
Some other members of the 'Restrukt!' and 'Occupy Pedophilia' movement were arrested along with Martsinkevich. Many of the group members fled from prosecution and found shelter in the homeland, moved to Ukraine, and some of them joined the 'Azov' battalion.
That's how Michael Oreshnikov, a leader of the Chuvash cell of the 'Occupy Pedophilia' movement, moved from Cheboksary to Kyiv. He was facing charges in Russia for an attack on police officers during one of his campaigns in support of Ukraine. In July 2014, he crossed the Russian-Ukrainian state border and asked for political asylum. He was denied refugee status, but he managed to obtain a residence permit, and then Ukrainian citizenship, as he put it, thanks to the support of the 'Azov' battalion, which he joined. Having moved to Ukraine, Oreshnikov proceeded with the 'pedophile hunt'. As far as his methods are concerned, he said as follows:
"We didn't resort to violence at all, I strictly banned it. Certain moral pressure is required to make a pedophile behave correctly, to make sure that he doesn't become insolent, and, at the same time, make him confess his deeds. When you pick up the phone and say: 'Now, I'm going to call your mom and ask her to come and take you."
To be continued
Numerous 'clone' movements have emerged in Ukraine on a roll of the 'Occupy Pedophilia' movement's glory.
Thus, the 'Heritage', 'White Lions' and 'Fashion Verdict' organizations were set up in the image and semblance of the Russian 'Occupy Pedophilia', and oftentimes, with the 'assistance' of its former leaders. They declared a manhunt not only for alleged pedophiles, but also gays.
The latest movement was set up by Nikolai Dulskiy, a nationalist and anti-Semite, a leader of the 'Nazhdak' (Abrasive) party.
Human rights advocates and the LGBT-community activists have repeatedly complained about violence on part of the 'Fashion Verdict' members. According to Tymur Levchuk, an executive director of the 'Fulcrum' LGBT-organization, in 2015, the organization's staff filed as many as 15 appeals to the public defender, with subsequent transfer to the police, with regard to video records featuring violence against the individuals whom the group members referred to as 'pedophiles and gays'. However, in his words, the cases either were not launched at all, or were closed due to lack of evidence.
The court usually qualifies such cases as hooliganism, rather than prejudice-motivated criminal offences. In this case, a person facing charges will get a suspended sentence, at best.
'Pedophile hunt' is a convenient disguise for physical and psychological violence against vulnerable groups, like, for example, gays, who cannot report criminal offences against them due to wide-spread homophobia," says Anna Gritsenko, a researcher, dealing with right-wing radical groups.
""This neo-Nazi-tainted systematic and demonstrative terror is very dangerous, no matter who the victim is. If someone knows about real cases of pedophilia, he shouldn't engage in lynching, but would better report it to law-enforcement agencies and monitor the case progress," Anna Gritsenko summarized.