Georgia's response to taxi regulations - the "Schmaxi"
A new type of transportation has cropped up in Georgia – the schmaxi. It is basically just a taxi with a new name.
Schmaxi was conceived by the political party Girchi. This was prompted by a new regulation set down by Tbilisi City Hall which dictates that from October 1st, all taxis operating in the city should be white. Otherwise, they are prohibited from carrying passengers that hail them from the street.
The initiative to introduce the new rules was undertaken by Tbilisi Mayor Kakhi Kaladze personally. He says that the measure was taken to improve the appearance of the city. Kaladze cites other European cities with a one-color taxi system as examples.
In a country, however, where the unemployment rate, according to official data, is at 20% (and according to other statistics, even higher), many people make ends meet by driving taxis. The new laws have created problems for thousands of taxi drivers.
•White taxis against the rest – Tbilisi starts second round of taxi reforms
This is why Girchi officially registered their company Schmaxi, founded personally by party leader Zurab Japaridze, in the public business registry.
Girchi is handing out yellow top light signs with "schmaxi" written in place of "taxi." This way, taxi drivers who don't drive white cars can still conduct their business without breaking the law.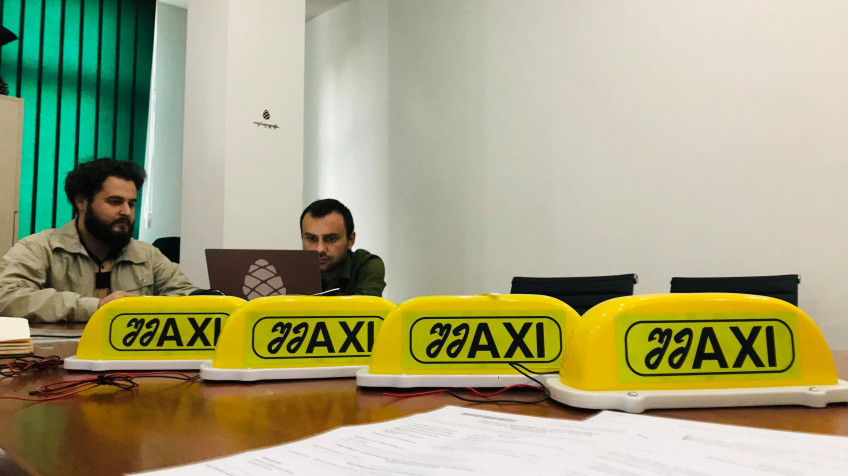 The first cars operating under the "schmaxi" label hit the streets on October 2nd. As of now, they are being operated by Girchi party members. The police have pulled them over, but were unable to fine them, since simply driving around with a sign that says "Schmaxi" is not prohibited.
According to the charter, the purpose of Shmaksi is not only to transport passengers, but also to spread "common sense and educational ideas," as was written in the public registry.
During his presentation on Schmaxi, Japaridze announced that it was an educational project which was designed to spread common sense among the population, and while so doing, deliver passengers to their destination.
"The company will hire driver/educators who will convey ideas about freedom to passengers and talk to them about right and wrong. If the drivers lack the necessary knowledge, we will conduct training sessions and provide video materials that the passengers can listen to," said Japaridze.
He says that the fare will depend not on distance, but on how much educational material the passenger has time to listen to.
The party says that they already have a line of people who want to sign up as a driver/teacher and get a "Shmaksi" sign.
This is not the first idea of this kind from the ultra-liberal party Girchi, which in Georgian means "Pine cone".
The party was established in 2015 by a group of politicians who left the ranks of the former ruling party, the United National Movement [Saakashvili's party].
The leaders of Girchi are active on social media and occasionally hold unconventional protests.
For example, on New Year's Eve in 2016, Girchi activists defiantly planted hemp in their offices. A few months ago, they held a costumed marijuana festival in Tbilisi.
Girchi voters are mostly young people who support ultra-liberal views.
Girchi's main goals are legalizing narcotics, transitioning to a contract-based military service system, and abolishing obligatory military service. The organization also supports getting rid of state benefits and subsidies, minimal government intervention in economic affairs, and so on.
Thanks to the lawsuit filed by Girchi's representatives in July 2018, the Georgian Constitutional Court virtually legalized marijuana consumption in the country, abolishing the administrative fine. In response, the Georgian Ministry of the Interior drafted a bill enumerating several restrictions on the use of marijuana.
In April 2017, Girchi registered a religious organization, "The Christian Evangelical Protestant Church of Georgia – Biblical Freedom." As the then leaders of the party explained, they used the church as a way to legally free young people from compulsory military service.The scheme is as follows: a conscripted soldier comes to the organization, he is given a certificate that he is a clergyman, and the state exempts him from service, since, according to Georgian law, military service may be deferred if a person is a clergyman or is studying in a theological seminary.
The idea worked; in fact, many who do not wish to go to the army come to them instead. Girchi claims that they already have more than three thousand "priests".
Girchi leader Zurab Japaridze participated in the 2018 presidential elections and in the first round took 2.26% of the votes — that's 36,034 votes.