"I was not destined to become an adult, this was stolen from me." Stories of children killed by Russia
Children killed by Russia in Ukraine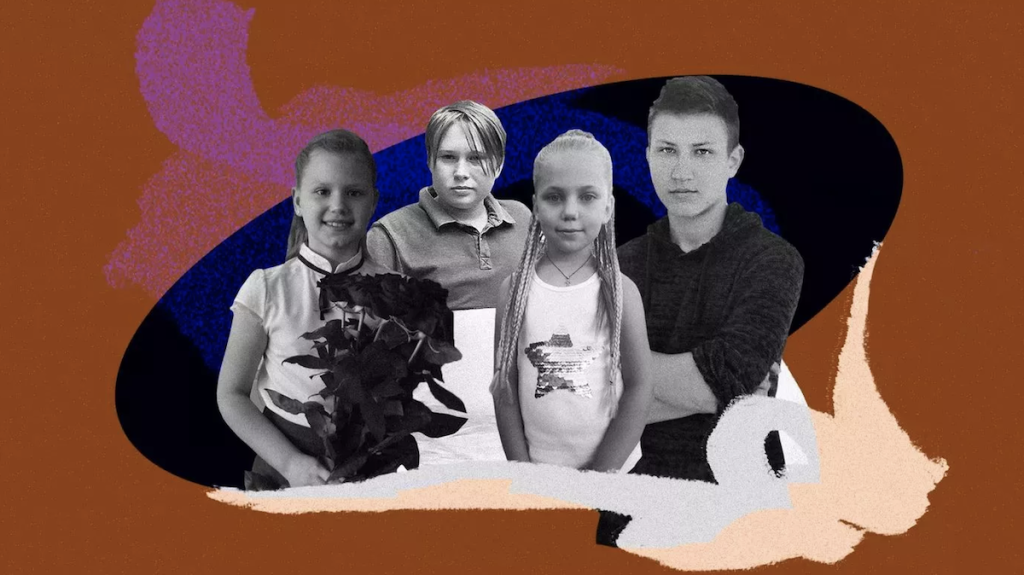 Only according to confirmed data from the UN Children's Fund UNICEF, since the beginning of Russia's full-scale invasion of Ukraine, about one and a half thousand children have suffered. A third of them died. What would they say about themselves and the day they died, if they could? The stories were compiled with the help of the victims' families.
According to hromadske
---
"I don't even have a name. My life is over before it even began."

Unborn child of the Zamchenko family

Kyiv

10/17/2022
Hello! In this photo you see not me, but my mom and dad. See how they smile and are happy on their wedding day. Mom became pregnant with me, a planned child, only a few years later. But my parents did not have time to rejoice at my birth: on October 17, an enemy drone hit the building where they lived.
During a search of the rubble, rescuers found them in each other's arms. And my life froze in my stomach. That day, five people died from the attack, the sixth was me …
My parents were very responsible, they treated me the same way. They planned this pregnancy. And when my mother finally found out that she was carrying a child under her heart, it became good news in the family. My future grandmother had never seen her son and daughter-in-law as happy as they were in those days of pregnancy.
The first weeks, when my life gradually sprouted in my mother's body, she was tormented by toxicosis. But then it passed. Dad was always with us – he bought everything we needed, took care of us, stroked my mother's tummy – and me in it. They were planning to find out if I was a boy or a girl. But my heart stopped beating at four and a half months, which is exactly how pregnant mom was when the drone hit the building.
My mother Vika never knew the joy of motherhood, she did not press me to her chest immediately after birth … And dad Bogdan, who so often imagined himself to be my proud father, did not have a day to enjoy this status. Never once did I feel how pleasant the hugs and kisses of parents are to the touch. I don't even have a name. My life ended before it even began.
"After my death, dad turned gray in a matter of days"

Margarita Gaponenko, 8 years old

Bezruki (Kharkiv region)

06/21/2022
Eight-year-old Margarita Gaponenko from the Kharkiv region, who was killed by Russia

Hi all! My name is Margarita, I am from Kharkov region. On the day of my death I was only eight years old – I just recently celebrated my birthday. It was the last one for me. Enemy shells flew right into our yard.
After dinner I sat on the doorstep of the house reading a book aloud to my mother while she washed the dishes inside the house. It was quiet all around. At that moment, more than 10 cluster munitions arrived. One of the debris went through my heart, I died quickly, suddenly. My own aunt was also injured, she died 10 days later. Mom was lucky – she remained unharmed.
I grew up a copy of my father – both in character and in appearance. Yes, he gave me my name. But I was also very close with my mother – we could talk on any topic. I grew up as an obedient daughter, my parents had no problems with me. I was engaged in dancing and singing, went to performances. In my free time, I made paintings from beads – I liked such painstaking work. We had always had a lot of animals at home: parrots, guinea pigs, chinchillas. In the future, I dreamed of becoming a veterinarian to treat everyone, everyone.
I had many friends with whom I used to hang out in my spare time. Together with my parents we went to Kharkov, where I really liked going to the central park. It looked very big and pretty. With mom and dad, we wanted to go somewhere to relax, but we didn't have time.
Now my parents have moved to another village, because our house was destroyed after the bombing. Mom says that after my death, dad turned gray in a matter of days. Relatives cannot describe how hard it is for them without me, because it is impossible to comprehend the pain of their loss. Every weekend they go to visit me – at my grave. This is their only chance to see their daughter.
"My body lay in the basement of a bombed-out house for about two months"

Anna Sokolova, 9 years old

Mariupol

03/20/2022
Hi all! I am nine-year-old Anna Sokolova from Mariupol. All the time the Russians were shelling my city, I hid in our house with my mother Yana. We tried to leave Mariupol twice, but the enemy stopped us. After one of the arrivals, windows and doors were torn out in our apartment, and for the first time we went down to the basement for the night. My mother counted the shells that hit our house and nearby, there were at least 17 of them in a day.
At about four in the morning, the house could not stand it – the slabs above the basement fell right on the people, among whom we were. My legs were pinched, my mother tried to save me, but in vain. She got out of the basement and carried out one living girl, and I stayed to wait for help. But in vain. The men my mother called couldn't get me out. And soon the whole entrance collapsed. I and five other people remained buried in that shelter.
I grew up as the only daughter of my mother and father, so they put all their strength into their child. At the age of four, they gave me to draw, because they saw my ability to do this. I could sit for hours and create something on paper, I took images from my head. I went to the dance section, and in the first grade I myself enrolled in a modeling school.
I liked working with a computer, improving my skills. Mom promised that when I celebrate my 10th birthday, she will enroll me in a computer class. I loved to study, school was easy. And between solving problems in mathematics, she drew comics. Maybe I should have become an outstanding artist?
My body lay for about two months in the basement of a bombed-out house. Only later they managed to bury me – but not in the cemetery, but in our family plot … Mom sometimes recalls that I didn't want to grow up so much, I liked being a child – I myself told her about it. I was not destined to become an adult, this opportunity was stolen from me.
"I just wanted to help, but they killed me…"

Vyacheslav Elyshev, 14 years old

Odessa

05/02/2022
Hello! I am 14 years old, I am Vyacheslav from the city on the Black Sea – Odessa. The enemy killed me in early May 2022. Then my mother, a soldier, warned that rockets were flying at us, so we had to hide. Grandma and grandpa went down to the shelter, and I went to warn the elderly neighbors of the danger. When I ran out of the entrance, a Russian rocket hit the house, I was covered by a huge boulder. I just wanted to help, but they killed me.
I come from the town of Kramatorsk in the Donetsk region. Since childhood, I loved the railway and everything connected with it. Together with my grandfather, I loved to ride trams, he chose only trains for travel. And at home you could find dozens of wagons. Mom joked that we could open our own railway line.
I studied responsibly, teachers remember me as a calm and well-mannered student, always ready to help. I did not ignore the requests of adults – I always wanted to be useful.
I liked watching movies. My mom and I had a tradition of buying goodies, getting comfortable and watching horror movies. The love of cinema has grown into shooting my own videos with friends. It was I who organized the shooting, thought out the scripts and distributed the roles among my friends.
In mid-February 2022, I celebrated my last birthday. I was so happy: my mother cooked homemade pizza, we decorated the apartment, invited my friends. On that day we laughed and danced a lot together … Who knew that in a few days a full-scale offensive by Russia would begin, which would take my life – as well as other Ukrainian children and teenagers. Now I am left with my mother, father and older brother. All of them are military – they stand to protect the Ukrainian sky. I, too, am now somewhere in it among the stars.
"I was buried in the yard of our dacha"

Ivan Ivanov, 15 years old

Kyiv region (near the village of Mirocke)

03/04/2022
Greetings! I am 15-year-old Ivan, originally from the Kyiv region. I died in early March, when mother Irina tried to take me and my younger sister Dasha out of the occupied village. My father was already at war. Those terrible moments when we were rushing in the car, enemy bullets were flying in the cabin, and Dasha curled up on the floor, were the last in my life.
When we got out of the car to continue on foot, it turned out that one of those bullets hit me near the heart. It felt like my left arm had been torn off because I couldn't control it. I tried to follow my relatives, but constantly fell. So I remained in that field, a kilometer from our dacha …
Mom and dad really wanted a son. They put all their love and inspiration into me. When my sister Dasha was born a few years later, I also participated in her upbringing. I was always worried that the little one would have everything. The child was often left with me when the parents had to go on business.
Mom remembers that I grew up very good. I would give my comrades everything I had. I understood the phone and the computer, loved to play games for hours. I had golden hands, as my mother used to say. When I was 10 years old, I loved to make different weapons out of paper: rifles, machine guns, pistols.
I wasn't very interested in studying. At that time, I had not even decided what I would like to become when I grow up. But this opportunity was taken away from me by the enemy when he shot at our car. It was then that I realized that, as the only man in the car, I was obliged to protect my relatives, so I did not take cover, but sat upright in the back seat.
After the execution, my body lay on the field for several days until my mother took it away. First they buried me in the yard of our dacha, where I grew up. Together with the neighbors, they dug a grave and made a coffin, and when the enemy was driven out of the Kiev region, they were reburied me at the Buchansky cemetery.
I am survived by my mother, father and younger sister. Often they think about me and what would happen if I took cover below from enemy bullets, like Dasha? Maybe it would save me? And then on January 23 we would celebrate my 16th birthday …