Abkhaz authorities drops criminal case against killer of Georgian citizen
Tbilisi condemns the Abkhaz authorities' decision to drop the criminal case as 'extremely alarming and utterly cynical'. In Abkhazia, they say Georgia is to blame.
Sukhumi dismissed criminal charges against Rashid Kanji-Ogly, who was tried in absentia in Tbilisi and sentenced to 14 years in prison for killing Gigi Otkhozoria, a Georgian citizen one year ago – a spokesperson for the Georgian state security service said after a meeting between representatives of the Georgian and Abkhaz sides which was held on 31 May as part of the Incident Prevention and Response Mechanism (IPRM).
The Abkhaz side has confirmed that the case against Kanji-ogly has been dropped. The Abkhaz prosecutor's office put the decision down to "the Georgian side's reluctance to share documents related to the Otkhozoria killing."
"Indeed, the Otkhozoria killing case was closed on 21 April 2017, due to a lack of evidence," Abkhazia's military prosecutor Adgur Agrba told Abkhaz journalists on 1 June. "We had launched a preliminary investigation into the case; however, we had to close it after the Georgian side failed to provide all the necessary investigation-related materials to us."
Giga Otkhozoria died after being shot point-blank on 19 May 2016 in Khurcha, a village on the Georgia-controlled side of the administrative Georgian-Abkhaz border. The incident was captured on surveillance video. The footage showed Rashid Kanji-Ogly of the Abkhaz border guard service and Otkhozoria having a heated argument after the latter had attempted to get a foodstuffs package shipped across the border to the Gali district. Kanji-Ogly crossed from the Abkhaz side of the border checkpoint over to the Georgian-controlled village and shot repeatedly at Otkhozoria who was unarmed.
Tbilisi has repeatedly demanded that Kanji-Ogly be turned over to the Georgian justice system. First he was declared wanted by national law enforcement, before being put on the Interpol's list in March, 2017. However, the Georgian side says that Sukhumi responded only by claiming Kanji-Ogly had been dismissed from his job and placed under house arrest.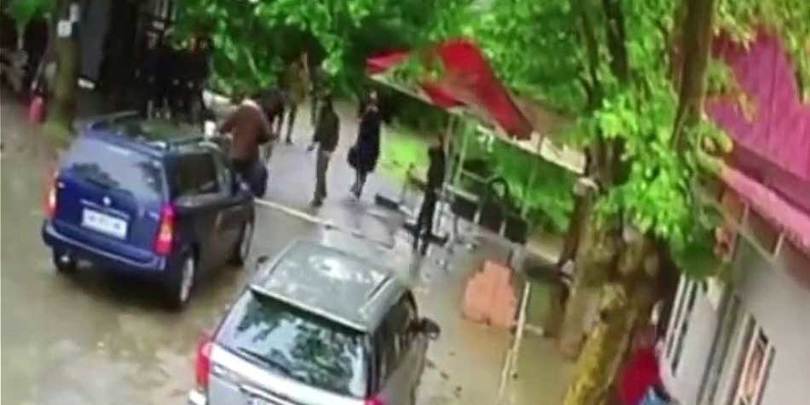 "As if things weren't bad enough," said deputy head of the information and analysis department at the Georgian state security service, Kakhaber Kemoklidze, "the IPRM meeting in Gali now revealed the case had been dropped altogether." He said the decision was 'extremely alarming and utterly cynical'.
"The state security service and the central government apparatus as a whole will continue working towards having Kanji-Ogly arrested and brought before the Georgian court," Kemoklidze said.
Meeting in Gali
Fences that have been built near the Khurcha village by the Russian militariy were another issue discussed at the meeting in Gali, according to Kemoklidze.
"The Russian occupation forces have seized two hectares of local farmlands," he said. "Our government will be flagging the issue at all international platforms."
The Abkhaz side's decision to seal border crossings on the Inguri River was looked into as well.
"The process endangers the security of the local population and violates their basic rights and freedoms," Kemoklidze said. "It has already yielded its first negative results. A resident of the Gali District drowned earlier in May while trying to swim across the river. Also, the practice of detaining Georgian citizens trying to cross over into Abkhazia has returned. They have all been kept in custody in the town of Gali."
The opinions expressed in the article do not necessarily reflect the position of the editorial staff