08.08.08 – that's how this day is referred to in South Ossetia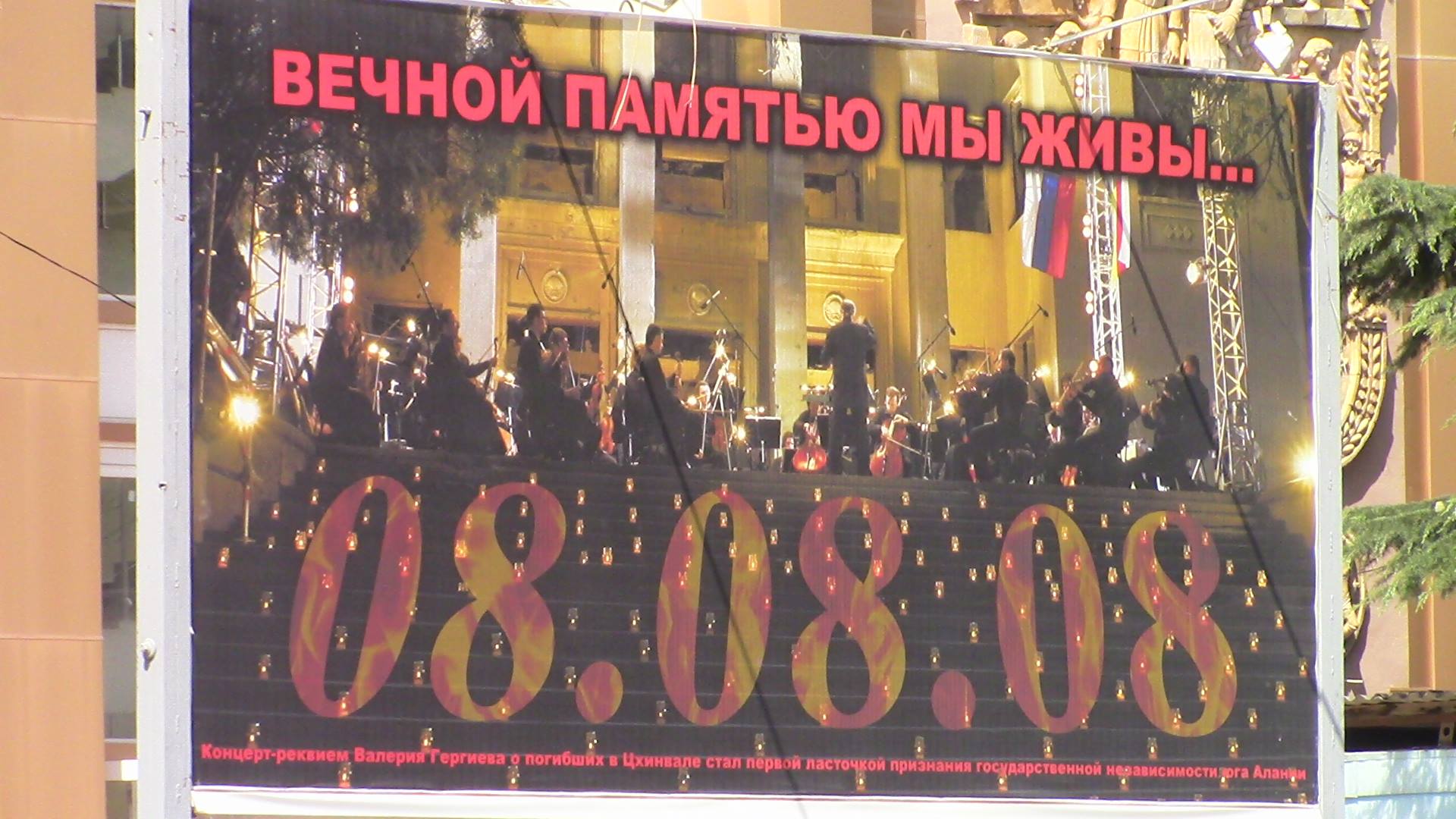 A photo taken in downtown Tskhinval
Commemorative events dedicated to the 9th anniversary of the August war in 2008 are underway in South Ossetia.
The republican government officials and public figures laid wreaths at the memorial to Russian peacekeepers in Tskhinval. Afterwards, the participants in the commemorative event visited he Museum of the Burned Souls, located near the turn to the Zar bypass road, set up in commemoration of the Tskhinval residents, who tried to flee the town in the heat of battle in August 2008, but who got caught in shelling. A memorial service for the South Ossetian civilians who couldn't survive, has been held here. A requiem service for the dead, both the warriors and the civilians, has been performed in the Tskhinval cathedral. The commemorative events are being held in Leningor town for the first time since the conflict 9 years ago.
Dina Alborova, a political analyst, wrote on her Facebook page as follows:
"The path to war is very short, while the way to peace is a lengthy and painful process. Blessed is the memory of those who fell on the field of battle in South Ossetia, for the sake of its freedom, so that Ossetian speech could be heard in South Ossetia, so that the residents of this country could proudly say: 'I'm from the Republic of South Ossetia.' And I wish that all of us, who have survived, would start thinking about a present and wonderful tomorrow for us and our children here, rather than about a wonderful tomorrow for us and our children there!"
Vyacheslav Gobozov, a leader of the Fidibasta party, told 'Echo of the Caucasus': "For example, in our childhood we enjoyed playing wars, fascists, etc. I can't recall a single case of children playing wars nowadays. You can't play what you've seen and gone through, can you? Maybe those games will become popular in the course of time, among the generation that is growing up now? This war hasn't ended and will never end either for us or for those children. That's the fact of our life."
Today marks 9 years since the Russian-Georgian war around South Ossetia in August 2008. Throughout the day JAMnews has provided detailed coverage of how this date was marked on both sides of the conflict. Here's a photo-report from Tbilisi.
Toponyms and terminology used in the article, as well as views, opinions and strategies they contain, do not necessarily reflect the opinions of JAMnews or any of employees thereof. JAMnews reserves the right to delete comments it considers to be offensive, inflammatory, threatening or otherwise ethically unacceptable.