Russian bikers refused entry into Georgia
About 50 Russian bikers have been refused entry into Georgia. Georgian border guards have turned them away.
The members of the Russian 'Night Wolves' biker group attempted to cross into Georgia through the Upper Lars checkpoint on the evening of 3 May. They received a 'cancelled' stamp on their passports instead.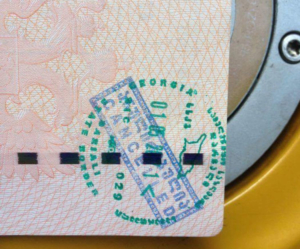 According to Shalva Khutsishvili, Deputy Minister of Interior of Georgia, the border guards are entitled either to allow or refuse entry for foreign citizens crossing into Georgia.
"Border guards have full discretion to inquire into a person's identity, the purpose of his/her visit and other information, and make a decision based on this information," Khutsishvili noted.
The bikers also confirmed the aforesaid reports. Irakli Kipiani, the head of the Russian-Georgian Youth Association, has published a photo of one of the bikers' passport that read: 'Cancelled' . As some bikers wrote on social media, there were reports that the Russian bikers were banned from crossing into Georgia until the end of May.
"Those of you who are staying on the border, had better return to Vladikavkaz," reads a post by Dmitry Khripkov, one of the bikers.
Meanwhile, signatures have been collected in Georgia for a few days already under an online petition entitled: 'Don't let the Kremlin motorcyclists enter Georgia'.
The Russian 'Night Wolves' biker group is actively supported by the Kremlin. Also, the biker group leader, Alexander Zaldastanov, aka 'Surgeon', frequently makes public appearances together with the Russian leader, Vladimir Putin.
The bikers were planning to visit Georgia on 9 May to participate in celebrations on the occasion of the 'Victory over Fascism'.
Their trips often end up in conflicts. They travel with the so-called 'Georgiyevskaya Lenta' (St. George Ribbon), which is a symbol of Imperial Russia, while for post-Soviet countries it is associated with the Soviet occupation.