The Godforsaken Paradise
Khinalig is located 2100-2200 meters above sea level. No one say for sure, whether it's a fog which has set on the village or whether it's a cloud. There are about 2,000 residents in the village and they are mostly busy with breeding livestock. In the warm seasons they herd sheep on the hillsides, whereas when the snow falls, they descend to the 'winter pastures', where it is warmer. It's dangerous to go to Khinalig, but this inaccessibility is the "tourist trap schtick' of the village. There is a beautiful landscape there. However, it's not the landscape, but rather its ancientry, untouched by civilization, that has always brought people there.
From olden times, Khinalig residents called themselves Ketshes, and the village was referred to as Ketsh. They spoke the Ketsh language which, as they put it, has been preserved from Noah's time. As for renowned Khinalig architecture, people used to live here in windowless houses, built from home-made bricks. The houses were carpeted inside and there was always a fireplace, the smoke of which went up through an opening in the ceiling. The house roofs served as 'streets' to the neighbors residing up the hill. Khinalig, itself, resembled numerous swallows' nests, spread across the hilltop.
Now the houses are gradually taking a more 'civilized' shape and the widely promoted village is turning into another ordinary Azerbaijani village. However, its reputation still attracts tourists.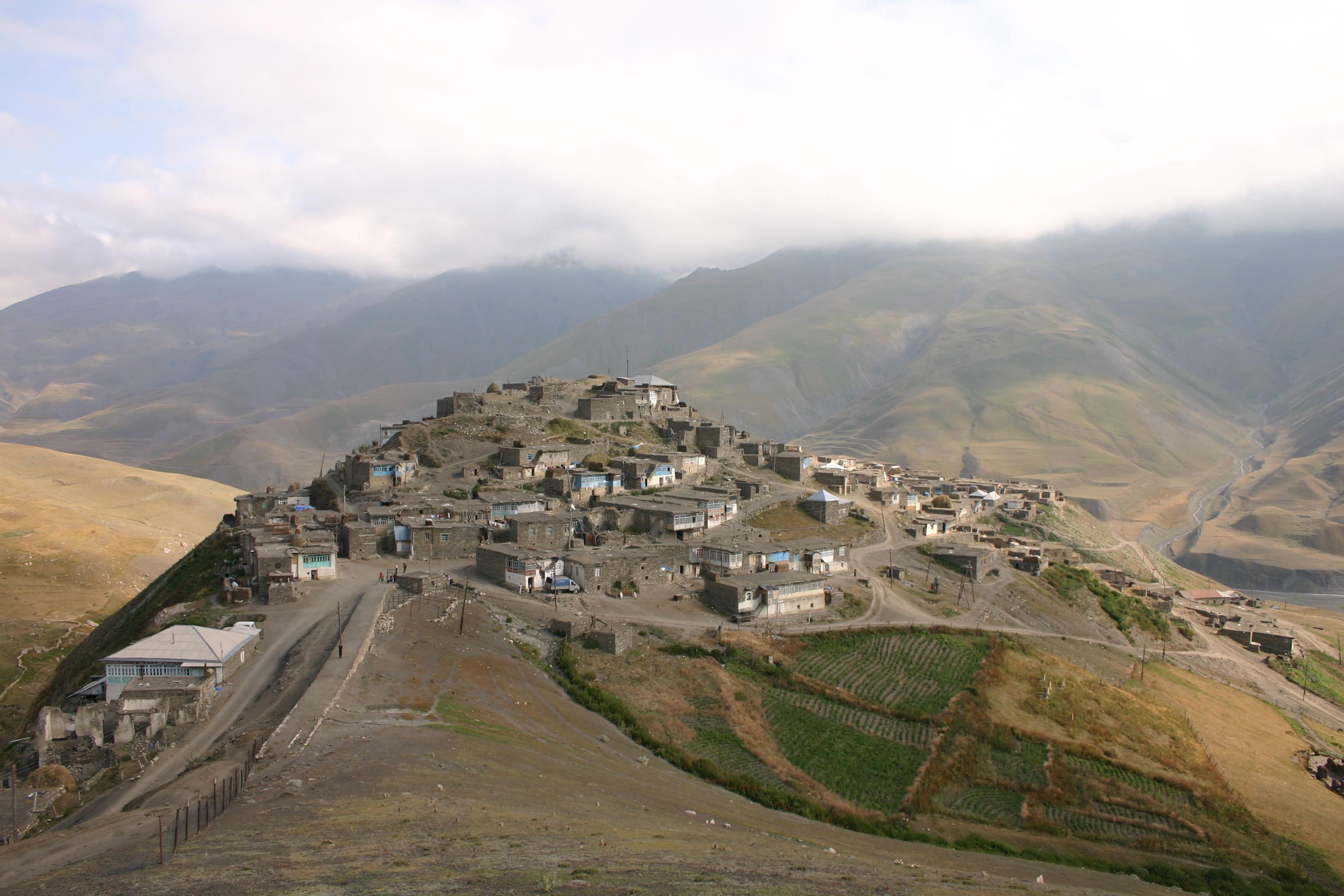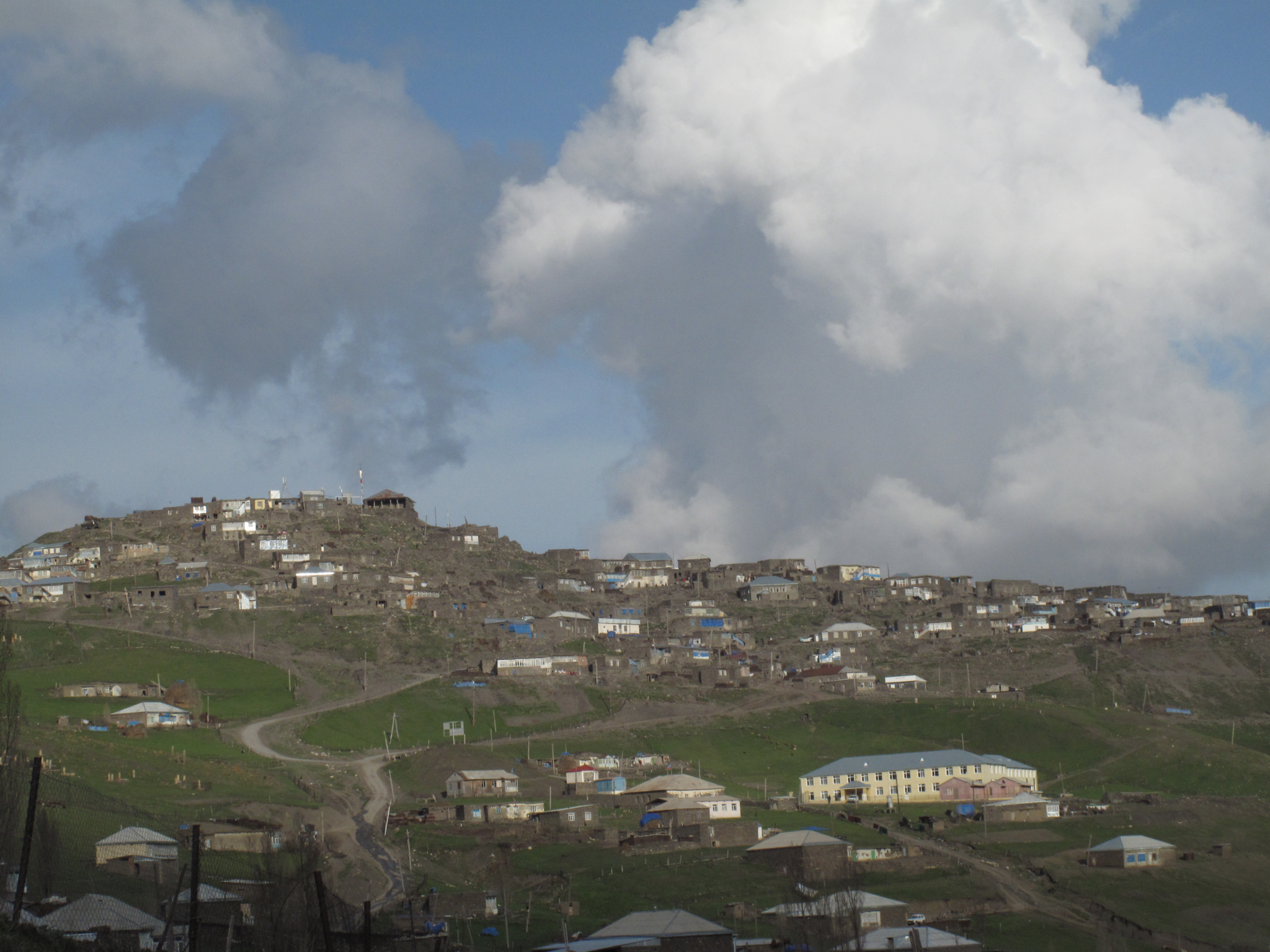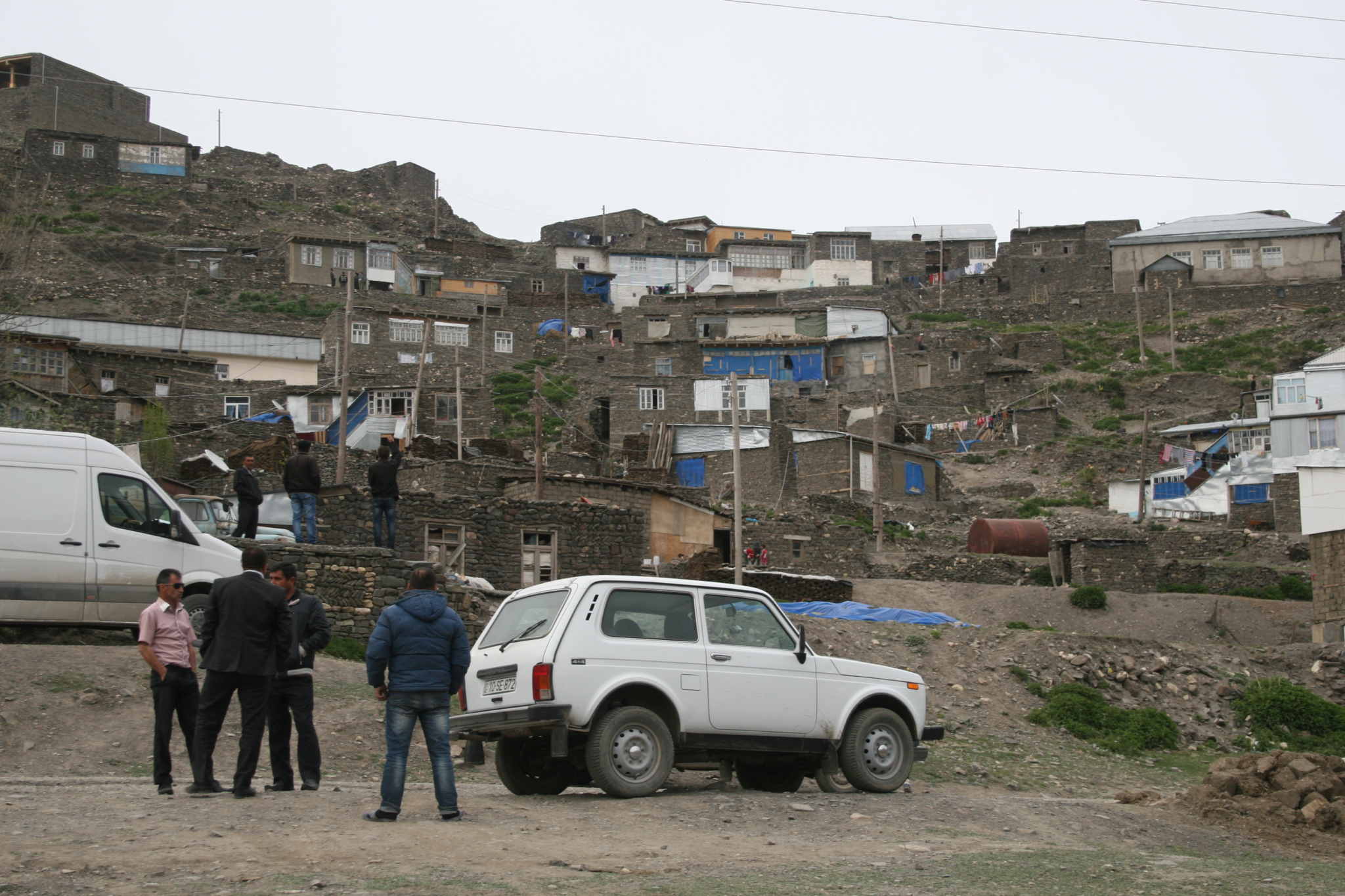 The tourists go into raptures about the landscape; they could breath the wonderful mountainous air, and Khinalig seems to be a corner of pastoral paradise to them.
And what do the locals think in this regard?
The first people who met us at the village entrance were two boys – Rashad and Murad. They had a high complexion on their dark faces and hands with rough, dry skin. As I was told later, it was because of the local climate – winters are very severe here.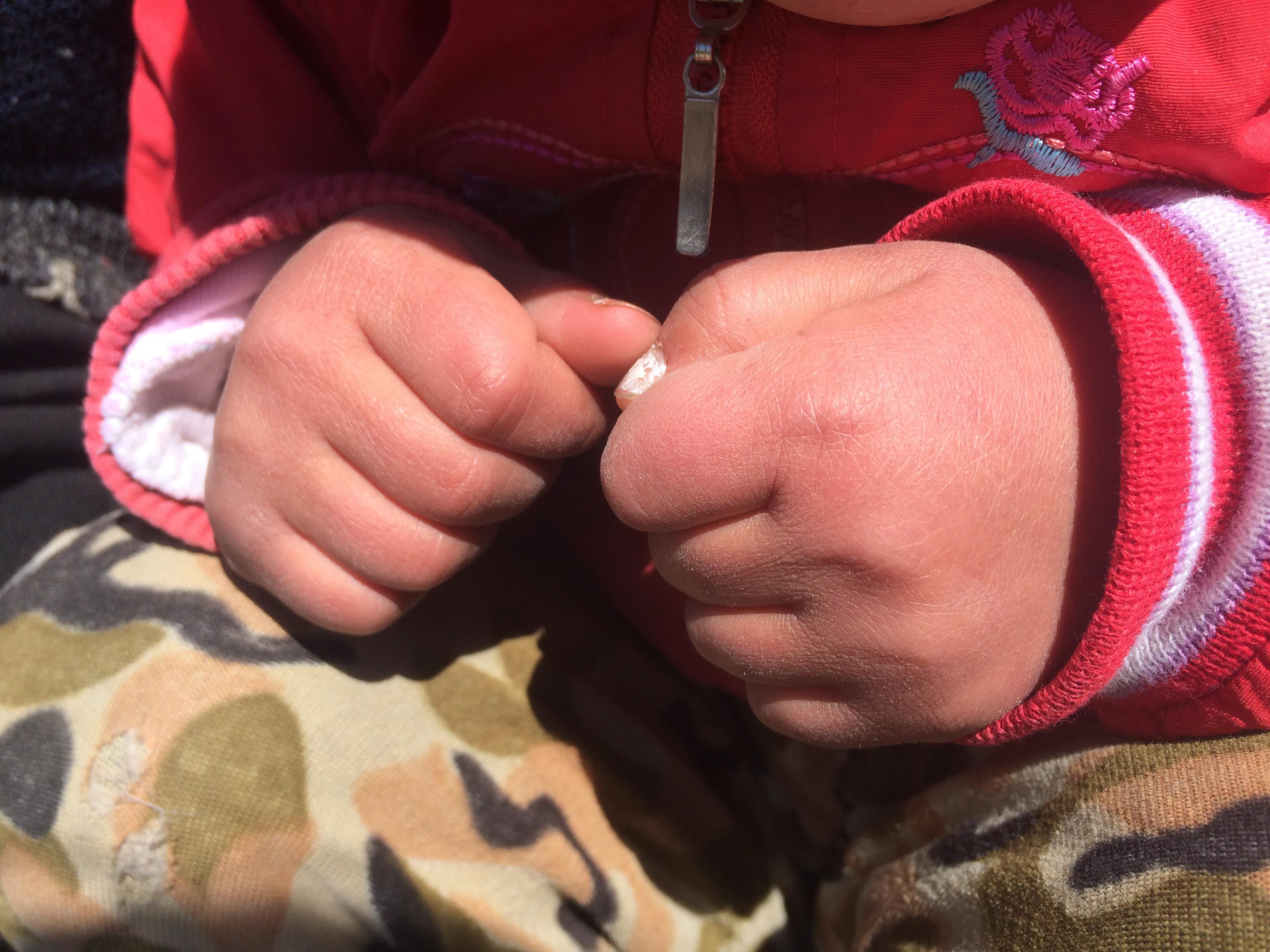 An elderly woman, surrounded by three pretty girls, her granddaughters, was washing clothes in the yard. Having greeted me, Aunt Dilyafruz asked me to come up to her and offered to sit down on a rock. We became engaged in a long dialogue about their lives in 'paradise'.
The conversation started with her long and hopeless 'heh…'
"They always show on TV that everything is perfect in our country. And where is this perfect place, daughter? We can barely survive here. Thank God, at least the winter is behind us."
According to Aunt Dilyafruz, about 5 years ago, the government allocated funds for social aid to the Khinalig village residents to cover the repair costs of buildings and other needs. However, they haven't received any aid so far.
"The social assistance funds have been allocated, but who has received it? We are ignorant people. We were told : 'sign here' and all of us signed. We were promised that new windows would be brought soon and we would be assisted in carrying out the repairs. And where are they now? There's no news from them. They are using our money and are just cheating us.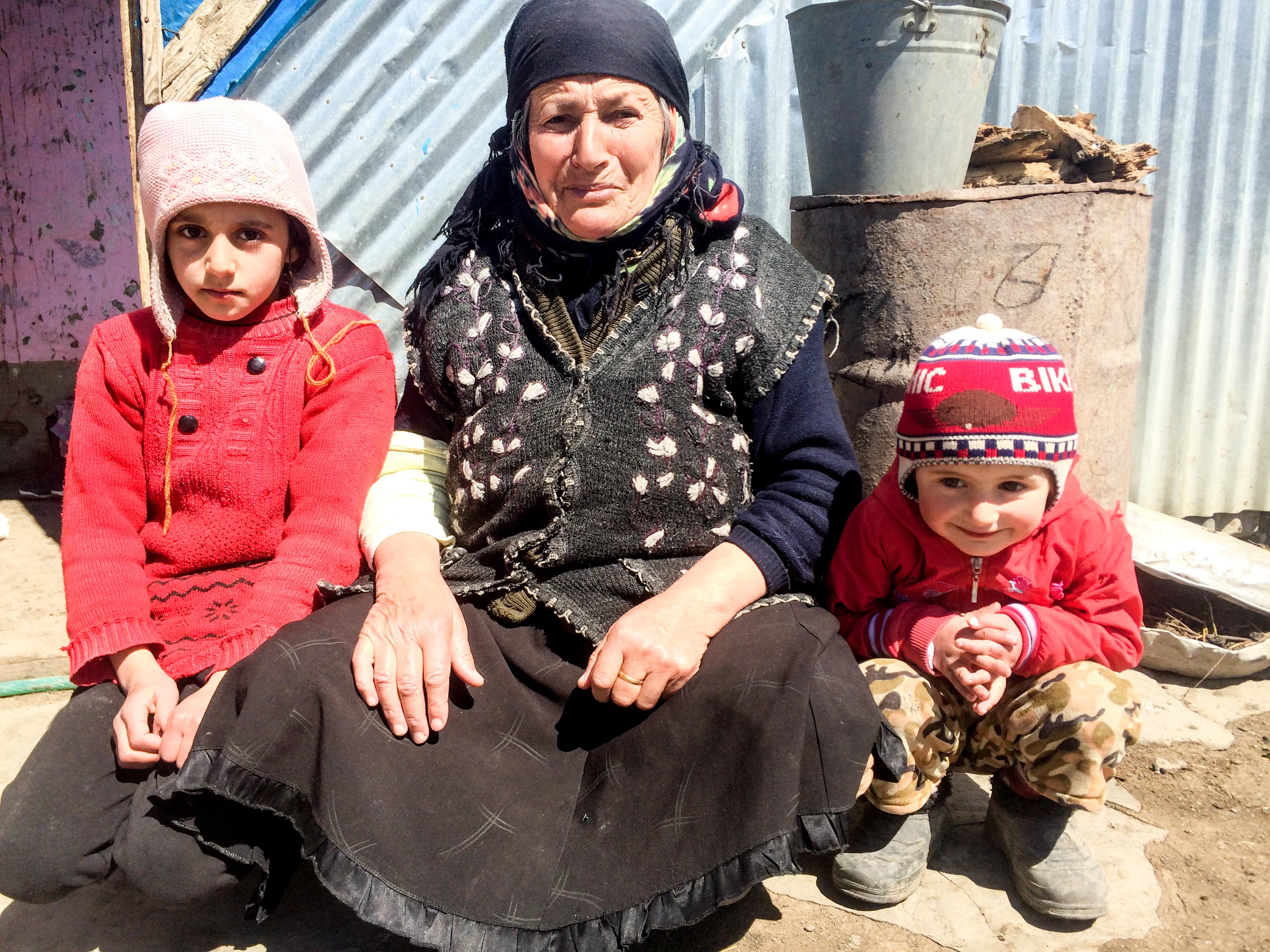 Indeed, as part of President Ilham Aliyev's decree, the historical area of Khinalig village was declared the state historical-architectural and ethnographic sanctuary 'Khinalig.
The AZERTAC news agency reported that the head of state visited the village in 2006.
"I am not lying, am I? my interlocutress repeated several times. "The country collapsing. Don't we here deserve to be pitied? If we had the chance, we would move to Baku.
According to the villagers, there is practically no professional medical service in the village. Women deliver babies at home and when caesarian sections are necessary, the woman in labor is taken to the Quba town hospital. It is 50 kilometers away, including the first 5 kilometers on a narrow mountain road, where two cars can hardly fit.
There are a few nurses, who, if necessary, can come to examine a patient, assist in labor, etc.
"I pity the children. What are they supposed to do all day long? There are no parks, no entertainment, no extracurricular activities at school, says Aunt Dilyafruz.
Many children begin school at the age of 8-9. The reason for this is usually a lack of income in the family.
"In September, children were allocated money to help them begin school. They were presented two copybooks and a drawing-book, she smiled sarcastically and repeated: "Two copybooks and a drawing-book. We should thank them for that, right!
My interlocutress's pension amounts to 60 AZN (approximately 40 AZN).
Aunt Dilyafruz interrupted her story from time to time, looking somewhere in the distance, whispering in a low voice:
"Everyone come here: journalists, photographers, writers or tourists. They write about us, take photos and say that it's a paradise here…
However, if the guests were in the local residents' shoes, would Khinalig be the same paradise for them? Living without medical assistance and safe roads is very romantic, but should the people experience the same tribulations of a shepherd's life several centuries ago?