How Georgian wine has survived
First published: 18.11.2016

It's late autumn. The weather is usually warm and velvety in Kakheti at this time of the year. However,  October 2016, has turned out to be unusually cold and rainy.
There are water puddles everywhere on the rural roads. The yellowed leaves haven't dropped from the trees yet, imparting their orangy warmth to the autumn's sunless scenery.
Grape crops have been already harvested and put into storage. There are churchkhelas and dried fruit garlands waving in the wind on the balconies. However, there are more things that need to be done before winter comes.
According to the Georgian Agriculture  Ministry, 114,000 tons of grapes were processed in Georgia in 2016, including 113, 500 tons in Kakheti and 513 tons – in Racha-Lechkhumi region. This figure is almost by 30,000 tons less as compared with 2015.
People in Kakheti, in this region of eastern Georgia, where grapes and wine are the main source of income, attach particular importance to each grape cluster.
Kakhetian farmers complain that significant part of this year's crop has been destroyed by powdery mildew, a grapevine disease. Despite the chemical treatment, the disease couldn't be suppressed, because of the poor-quality medications – say the farmers, who are already thinking about the next year, demanding from the government to import high-quality medications.
Kakheti is the region of Georgia, where wine production has never stopped at any stage of country's history. Therefore, the farmers say, grape powdery mildew is no threat to the locals.
Winemaking isn't just a leading field of agriculture for Georgia, which is one of the world's most ancient vine centers.
When in Kakheti, you will often hear that Georgia is the world's cradle of wine, that there are only two methods of winemaking in the world – the European and the Kakhetian. The latter implies storing wine in a clay vessel-qvevri.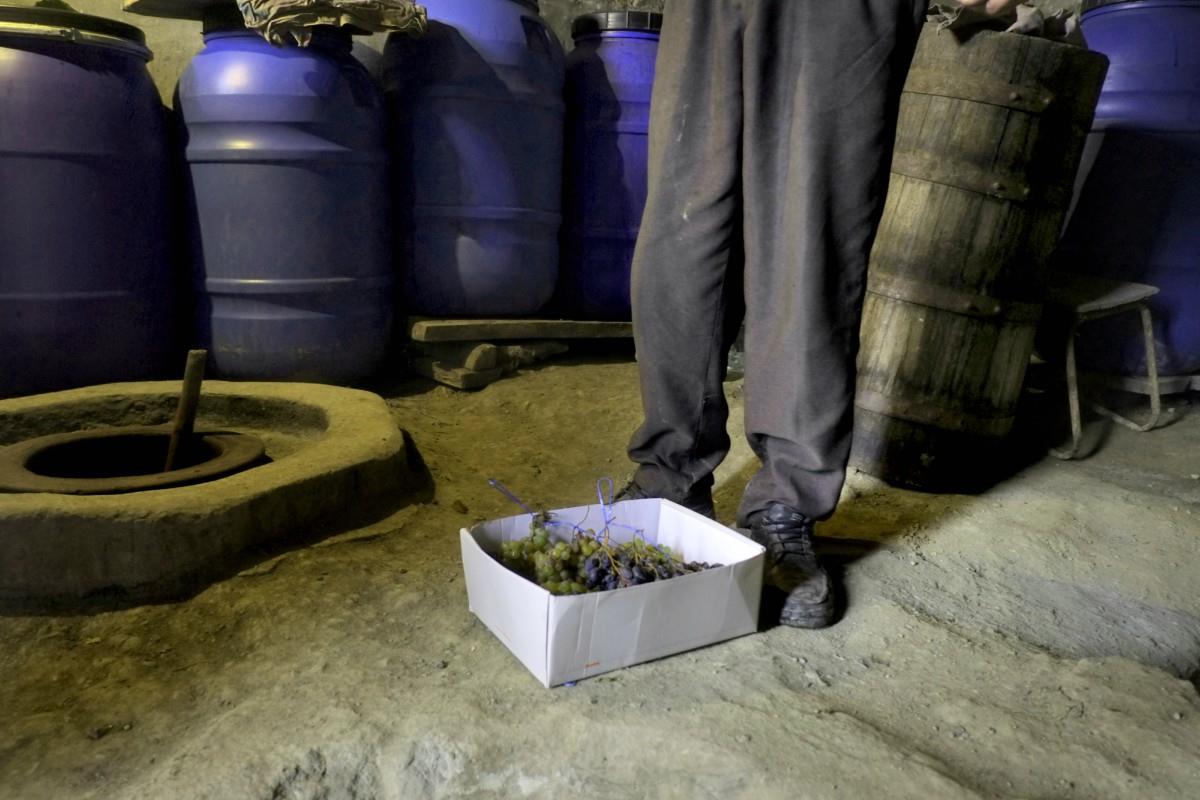 The development of winemaking in Georgia comprises several stages.
19th century is regarded as one of the most important periods in Georgian wine history. It was then that Georgian wine first started 'reforming' and getting closer to the European wines. Alexandre Chavchavadze, a Georgian poet, greatly contributed to this matter, adding a touch of European elegance to the wine produced in his estate, in Tsinandali. Many sorts of wine, that are well-known nowadays, were created in the 19th century.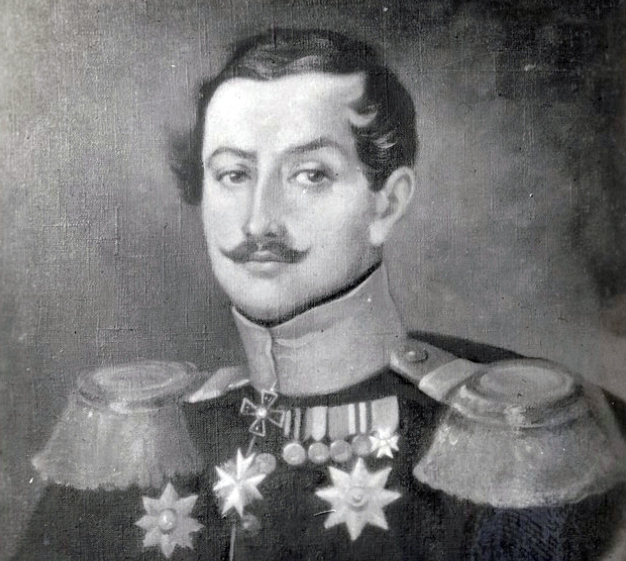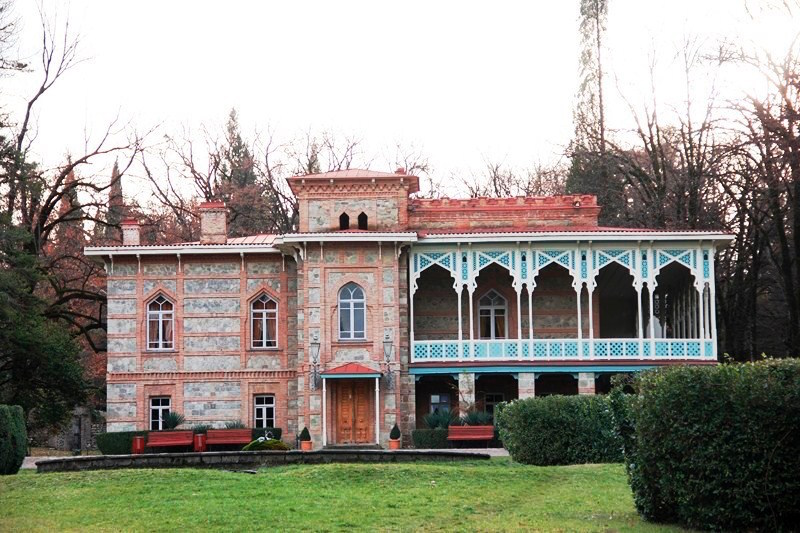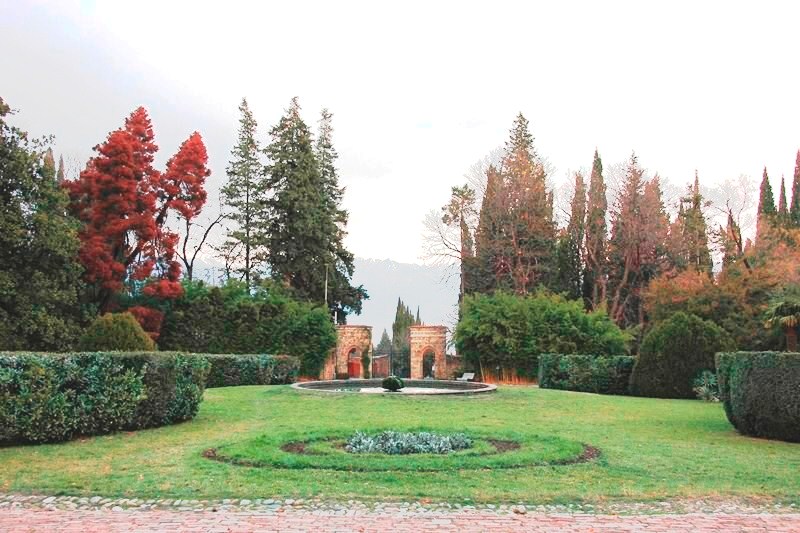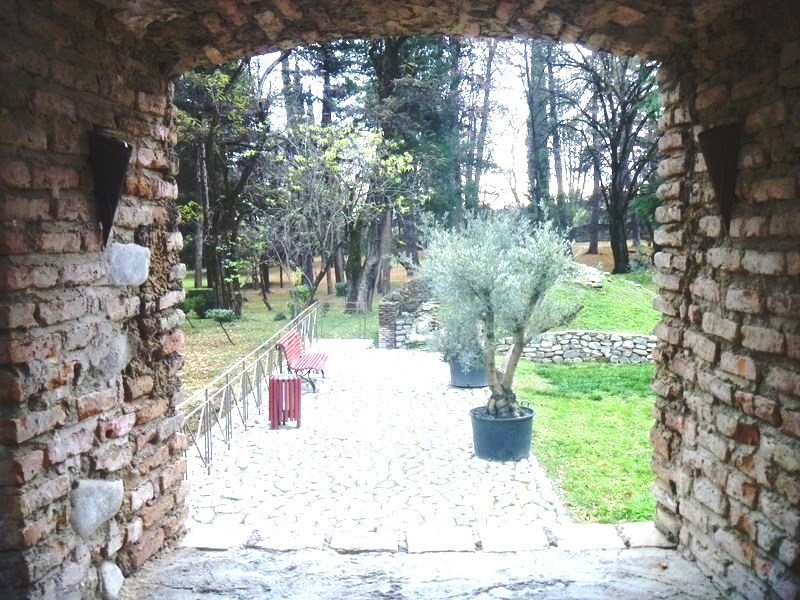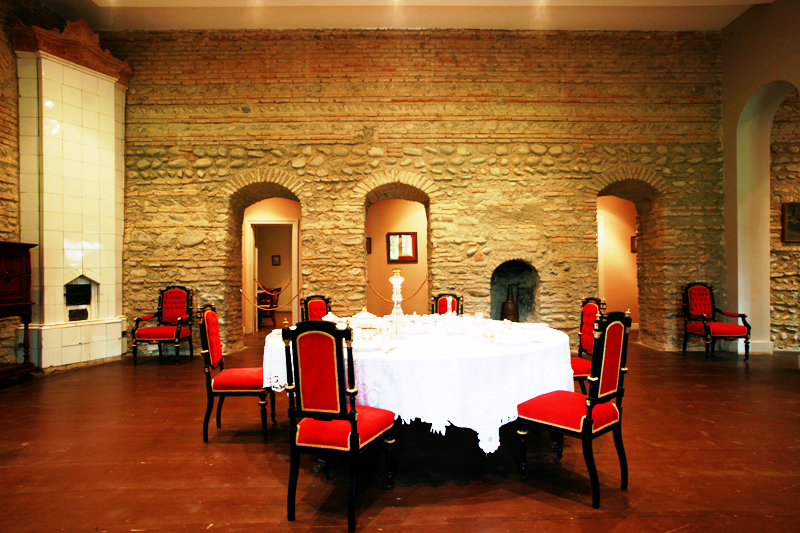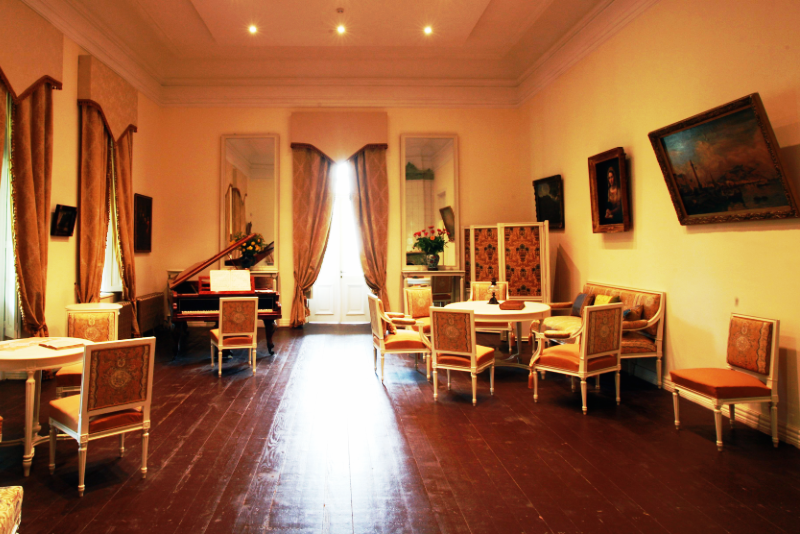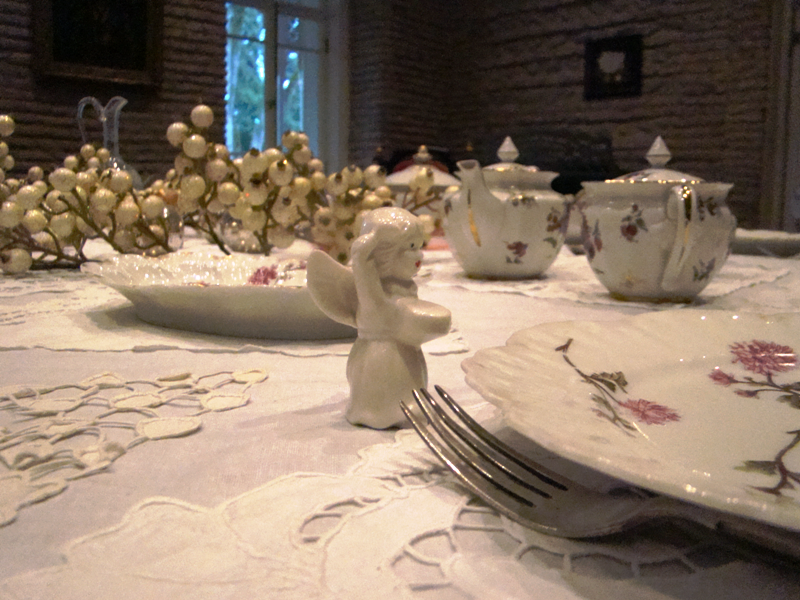 photos: www.tsinandali.com 
The Europeanization process stopped after Georgia had become part of the Soviet Union. No one cared for European quality of production in the country with the 'planned economy' and 'five-year plans'.
In Soviet Georgia, the state-owned vineyards occupied huge areas and thousands of hectares of land; dozens of wine-producing factories were built, supplying alcoholic drinks to the entire Soviet Union, be it Yerevan or Vladivostok.
Implementation of the center's set plan became the Georgian viticulturists' key objective. And for this purpose the high-yielding varieties of grapes were required, which, in turn, led to gradual extinction of the unique Georgian grapevine varieties.
Having been locked within the Soviet Union, the Georgian wine industry finally distanced from the Western world, it was cut off from the global wine market trends and became just an 'alcoholic fluid' bottling conveyor.
The elderly recall that it was a shame at that time in Georgia to treat a guest with store-bought wine. At the same time, each family always kept a stash of high-quality Kakhetian wine.
A lack of knowledge of mass production of high-quality goods, the problem that the present-day Georgian winemakers have to deal with, was originated back in Soviet times.  
Georgian wine producers, who had been pampered by the Soviet Union's vast market, were seriously affected by the collapse of the USSR.
Deeply plunged into the chaos of the 90s', the country was struggling for survival. Winemaking, that was inexperienced in independent existence, was left without state subsidies and assistance.
In addition, the borders were opened and the Soviet people tasted the French, Spanish, Italian, Argentinian and other wines.
Georgian winemakers didn't even try then to keep up with the new times and compete with quality wines, since they didn't possess either money or the necessary skills for that. Instead, falsification of Georgian wine reached an unprecedented scale in that period.
The majority of Georgian wines, available on the Russian market, have had nothing to do with Kakheti and were often bottled in Russia. 
Some smaller oases, the enterprises that bottled high-quality wine, though in relatively small volumes, emerged in Kakheti in late 90s'. The first major innovator wine companies, such as GWS, 'Tbilgvino', 'Telavi Wine Cellar', realized that they would hardly exist long solely at the expense of myths and traditions. Therefore, not only did they give up on wine fraud practice, but also saved Georgia from getting into the low-price segment. For example, Moldovan and Ukrainian wine producers failed to do the same.
However, that could hardly change the general background.
Then came the day that turned things upside-down.
The majority of Georgian wine experts regard March 27, 2006, as a starting point and a birthday of the modern Georgian winemaking. On that day, Russia's chief sanitary inspector, Gennady Onishchenko, completely banned the export of Georgian wine to Russia. Pesticides found in Georgian wine, as well as its low quality, were named as the reasons behind the decision.
Just imagine, what a shock it was for the country, whose wine trade with Russia made over 80% of its total wine export.
In view of the political context of that time, no one argued that the aforesaid decision was politically motivated.
Neither did anyone question the fact that larger part of Onischenko's rejected Georgian wine was produced in the territory of Russia. However, the embargo clearly demonstrated great problems that the Georgian wine industry was facing.
Georgia, that hang upon the Russian market and that was ousted from it, had to discover that, apart from the Russian market, there were other markets in the world, where wine could be sold.
Those were very hard and dramatic years, that many couldn't cope with. There were media reports from the regions, showing farmers cutting down with their own hands the vineyards that they had treated with care for so long. (The vineyard area and grape production volumes dropped by 26% in Georgia in 2006-2010).
High quality was needed to enter the European market, which, in turn, required harder work, more knowledge and financial resources. In addition, unlike the post-Soviet area, where Georgian wine was already a brand, Europe knew nothing about Georgia wine, which made the task even more complicated.
However, despite the problems, during those 7 years of the Russian embargo in effect, Georgian wine not only managed to survive, but also moved onto a qualitatively new stage of development. In 2012, Georgia's wine export revenues were already equal to those, the country gained from exports to Russia in 2005.
According to the Georgian Wine Agency, Georgia wine is now sold in 50 countries. 32,421, 418 bottles (0.75 l) of wine were exported from Georgia in January-September 2016, which is by 35% more than last year.
Alongside the European market, in this period Georgia also managed to gain access to such an important market as China. Today, China is ranked 2nd among the top 5 wine exporting countries (having replaced Ukraine on this position), whereas 10 years ago, this country wasn't even included in this list.
According to January-September 2016 data, the list of top 5 exporting countries is as follows: Russia (17,056,936 bottles), China (3,852,245 bottles), Ukraine (3,457,028 bottles), Kazakhstan (2,535,163 bottles), Poland (1,633,514 bottles).
Yes, Russia, which opened its market for Georgian wine in 2013, is still the leader among the top 5 exporters. Meanwhile, Georgia is again at the crossroads, thinking which one to choose: a familiar, easy-to-reach, but, at the same time, politically and economically risky Russian market, or the new, unknown and challenging heights?
Georgian experts share the opinion that clinging to the Russian market again will be detrimental to the Georgian wine industry.
It's due to the years spent under the Russian embargo, that nowadays the middle-segment wines have got closer to the international standards and production of the premium quality wines has been launched.
Winemaking always was a prestigious profession in Georgia, though it has become particularly popular in the recent years.
Winemakers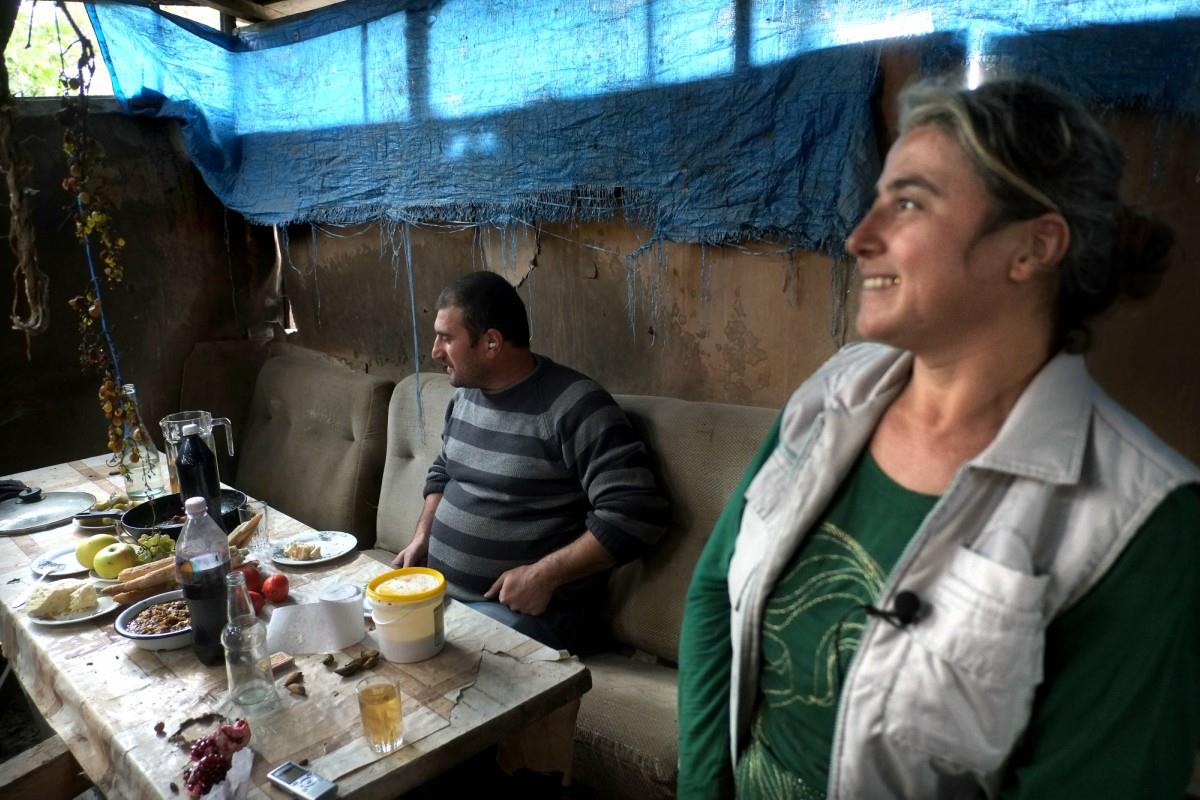 One will often hear stories about young people, who moved from the capital to the rural areas, who cultivated their own vineyards and are now producing wine.
For example, the wine variety under the name 'Oda' could be found in some Georgian cafés and restaurants. Zaza Gagua and Keto Ninidze, a married couple from Tbilisi, produce it from Ojaleshi, a unique grape variety, widely spread in western Georgia.
Zaza and his family moved to Martvili (Samegerlo region, western Georgia) and settled in the oda (an ancient Migrelian house), which Zaza inherited from his grandmother and which he made suitable for dwelling. Keto and Zaza run the business, and their kids go to Martvili kindergarter. Earlier, they used to buy grapes, whereas this year, they will produce their own qvevri wine from Ojaleshi grape variety for the first time.
Their profits increase from year to year, but they still invest those funds in expansion of their production. They produced 2,000 bottles of wine last year and are expected to produce 3,000 bottles this year.
Alongside the local market sales, they are also exporting their wine. They sold 200 bottles in London and 50 bottles in Australia last year.
They are planning to harvest 2-3 tons of grapes from their own vineyards in 2 years.
They are treating this business with great responsibility. Keto took a few-month training course in Germany. She has plans to develop wine tourism. 
'Oda' will offer different tourist services. Some interactive events will be organized alongside wine-tasting; tourists will be able to cook Ghomi (grits) and make churchkhelas in the environment, specially arranged in the yard outside the oda.
"I also want to add some educational element to this activity. I want to open the Sunday school for school students, where they will be able to acquire various skills, says Keto.
Zaza stresses the importance of small and medium wine companies. Last year, he tried to raise funds through the state-run 'Produce in Georgia' program [a program, aimed to facilitate small and medium business, which was launched on Georgian Premier's initiative in 2014], but he was refused.
We wrote on the Facebook that we'd been refused funding. One of the wine bar owners, who read our post, expressed intention to provide us with fund. Those, who are competent in this field, realize well enough that small and medium businesses are the fields that need to be promoted, says Zaza.
Georgian experts and winemakers are unanimous in the opinion that it was due to Georgian farmers and small entrepreneurs that Georgian winemaking traditions didn't finally vanish during the Soviet period and in the hard years that followed it. The fact that Georgia has preserved the unique and ancient grape varieties and qvevri wine-making technique until now, is largely owed to those very people.
Ilia Berianidze, Kardenakhi village
We could hardly find a turn to Kardenakhi village on the mist-covered signboards on the road leading to Gurjaani.
A bow-backed, middle-aged man, carrying a bucket full of water, was walking down the narrow street, on the village road. He stopped at seeing the car.
"I am going to stir the wine. So, you can join me if you want, he told us, when he learned that were journalists and we were interested in vintage-related matters.
Ilia Berianidze is 50. Many years ago, he lived in Tbilisi and worked as a butcher. As life became harder, he left the capital and returned to the village together with his elderly parents.
"Well, how could I have stayed without a vineyard here, said Ilia, inviting us to see around his marani (a wine cellar).
Before ushering us there, he led us to the second floor to show his vineyards.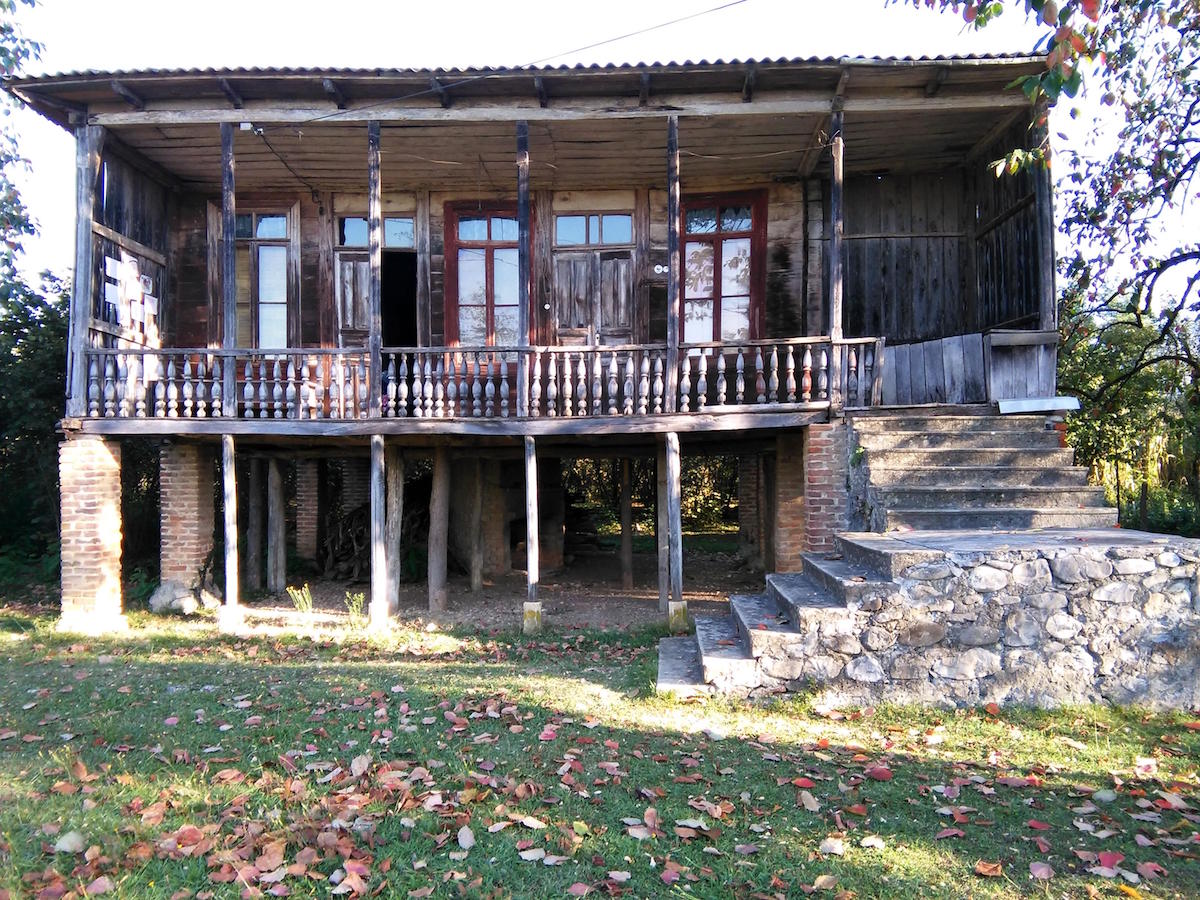 Ilia's house was built in the 19th century. There are cracks here and there because of its old age. We passed through a squeaky wooden door into the balcony of a room with blue-colored walls. The land plots full of vineyards could be seen below.
Ilia was looking at the vineyard and telling us his story:
"Little by little, I managed to buy up to 0,5hectares of land through the savings I'd made.  I'm cultivating two grape varieties here-Saperavi and Rkatsiteli, as well as a bit of Aladasturi. I've already distributed wine into the barrels and I'm going to distill chacha from what's been left in the qvevri. The yield wasn't good this year. The grapevines got infected with powdery mildew, which damaged them. I did everything possible, I spared no efforts, but it was all in vain, there was no way I could help. The chemicals turned out to be of poor quality and it couldn't suppress the disease. The government allocated me GEL 200worth voucher for procurement of chemicals, but that was hardly enough. I treated the vineyards with chemicals dozen times and it cost me approximately GEL1,200."
"Business? What business, are you kidding? I could earn next to nothing from the vineyards to provide for my family. I sold a little bit of wine here, in the neighbourhood. And I also sold up to 80 litres of wine during Tbilisoba. The rest was distributed among the relatives; everyone is looking forward to getting our wine. There are no two ways about it, you know, the Georgian tradition also requires generosity. If you don't give, you won't receive anything. Therefore, the money I earn from wine sales is just enough to make both ends meet," said Ilia, pouring a glass of red wine.
And we tasted it with great pleasure. It was apparent that the wine was clear, pure and unmingled. The host proposed a toast himself: 'I want to raise this glass of wine to my ancestors, who bequeathed me this cellar.
Nikoloz and Tamar, Kardenakhi village
Nikoloz, 41, has been watching the wine-making process since childhood. He was raised in the winemakers' family. For 20 years, he's been operating a small wine producing plant, located in the vicinity of his house. He's got a 2-hectare landplot. He took a bank loan to take proper care of his vineyard, but the yield fell short of expectations, it was spoiled by grape powdery mildew. A few days ago, he had to sell 0,5hectares of his land plot for US$ 8,300 in order to cover part of his loan.
Filming and editing: David Pipia
"I had been nursing and cherishing it like a child for 7 years, but I have had no other choice. So, I sold it. The crop was spoiled by the disease. The imported medicines turned out to be of poor quality; people have been very much affected, said Nikoloz.
The fire is burning in the midst of the yard outside Nikoloz's house. He is distilling chacha. While he is talking, he has his eyes fixed on the process. He says, close attention is required in order to distill good chacha.
Chacha is slowly leaking from a large metal distiller.
A table with barbecued meat, bread and cheese, is laid beside it.
We ask him about the family business that he runs jointly with his wife and the eldest son.
"It's a very labor-consuming business, but it doesn't yield much, says Tamro, Nikoloz's wife. "Instead of selling grapes at a low price, we prefer to make wine ourselves, to distill chacha and sell it. It's good, if we manage to sell it at GEL 3. It is sold at a low price now. So, we wait until spring and then sell it. The expenses are also high. Chemical treatment of the grapevine cost us GEL3,000 this year. In addition, we pay GEL25 per helping person a day in the vintage period. After so much labor and efforts, there is little money left to somehow provide for the family."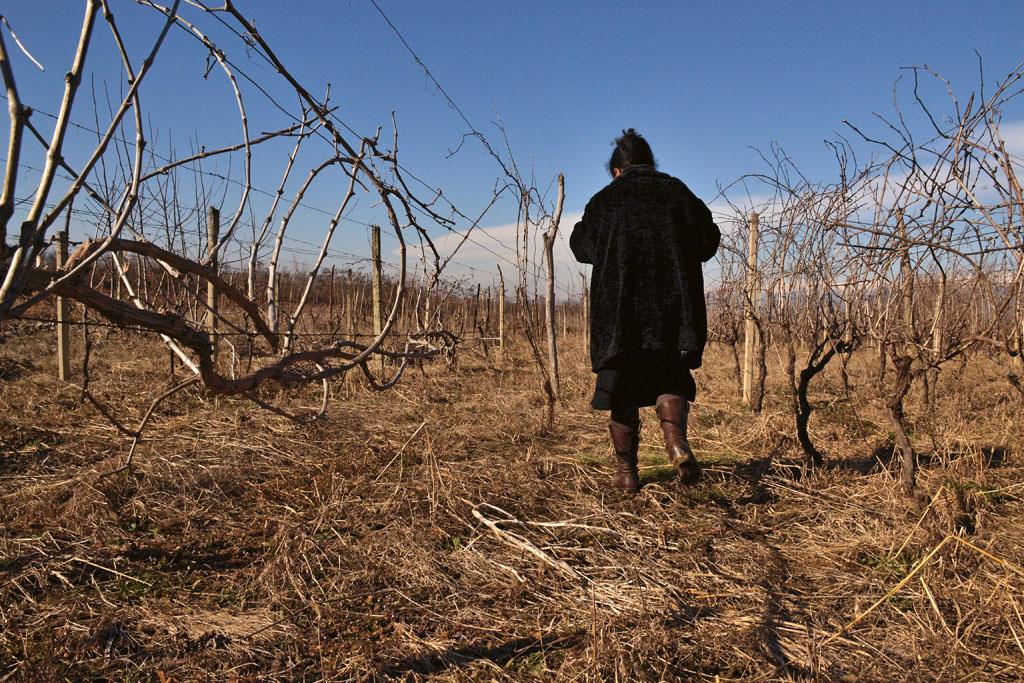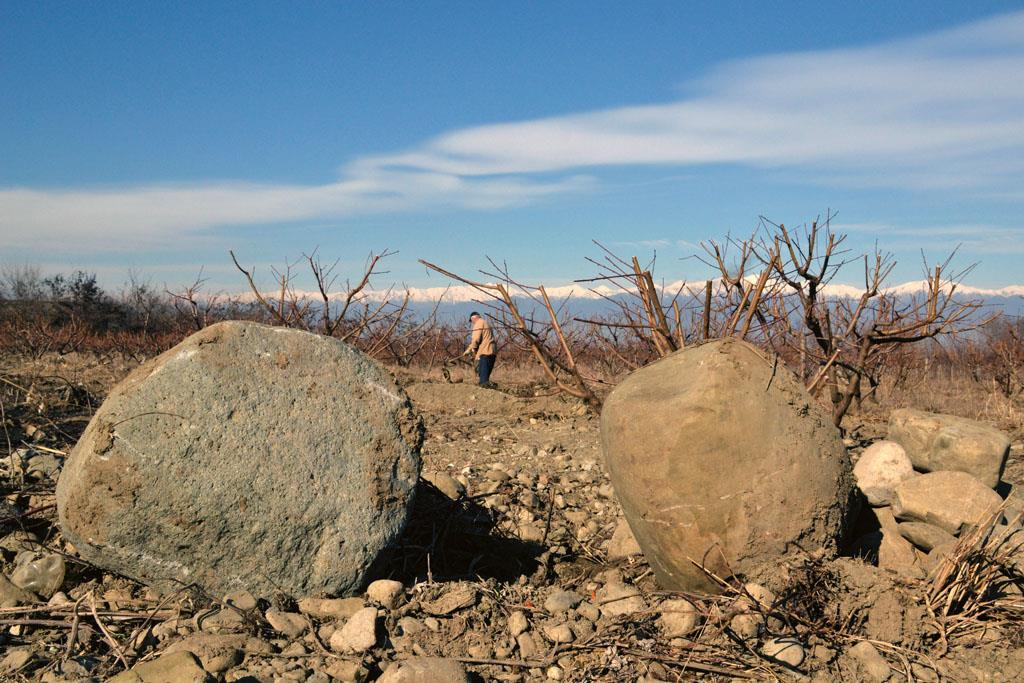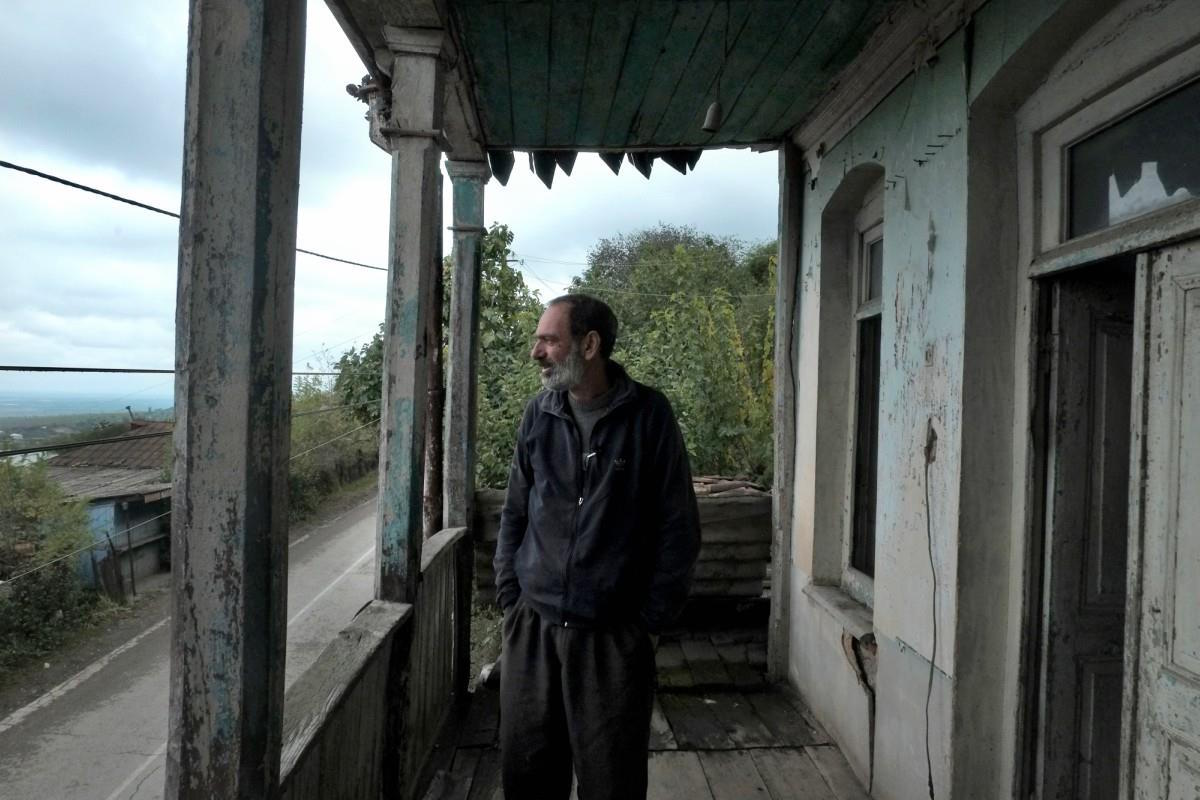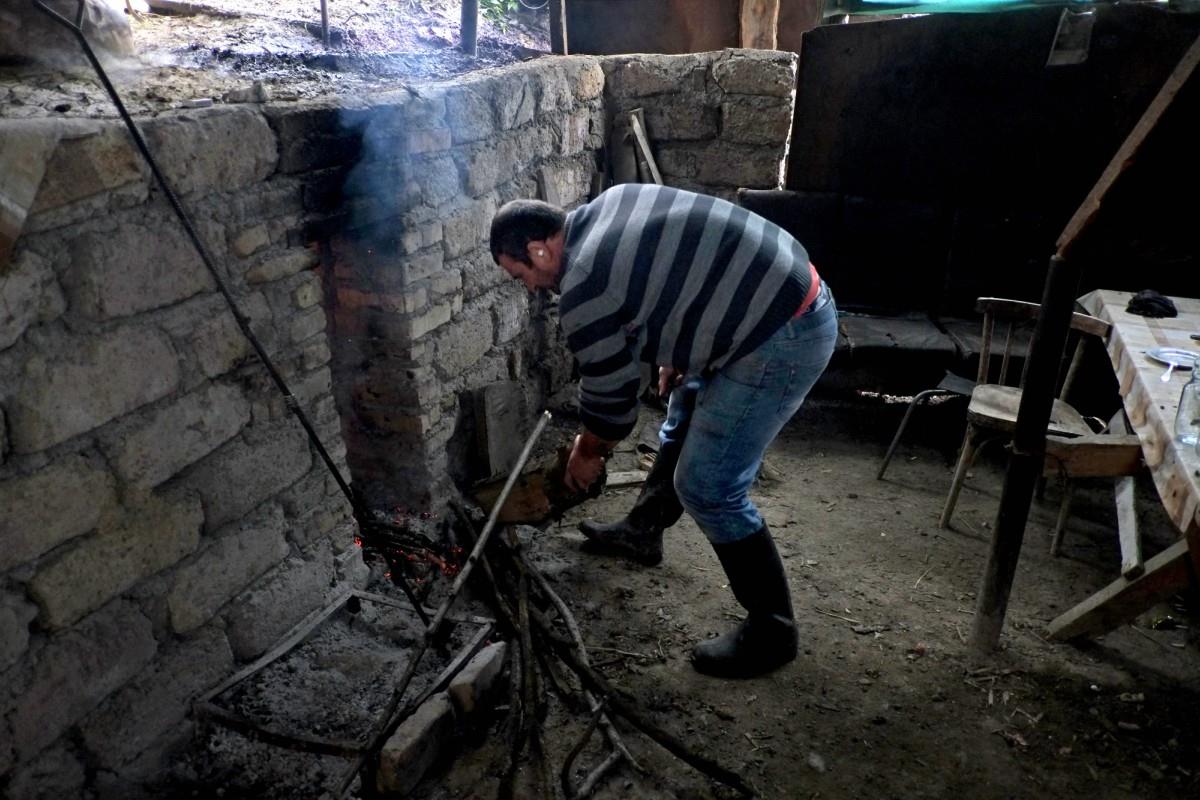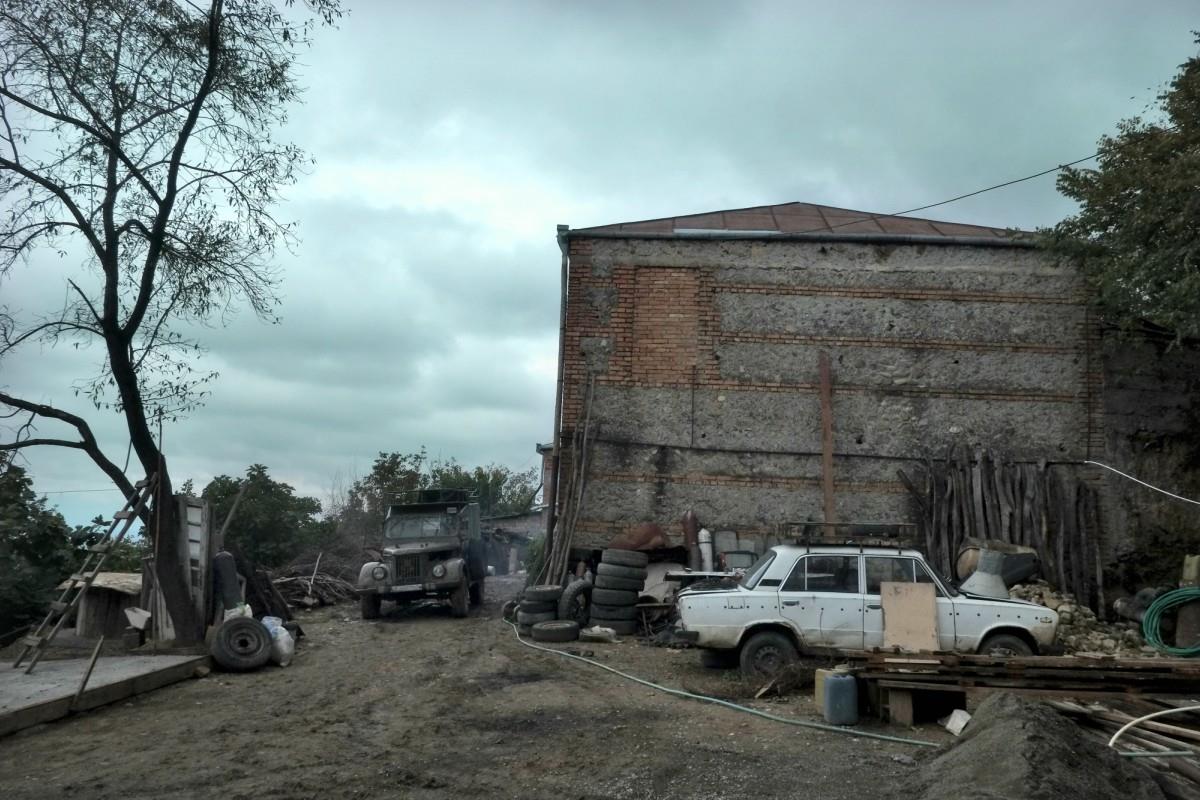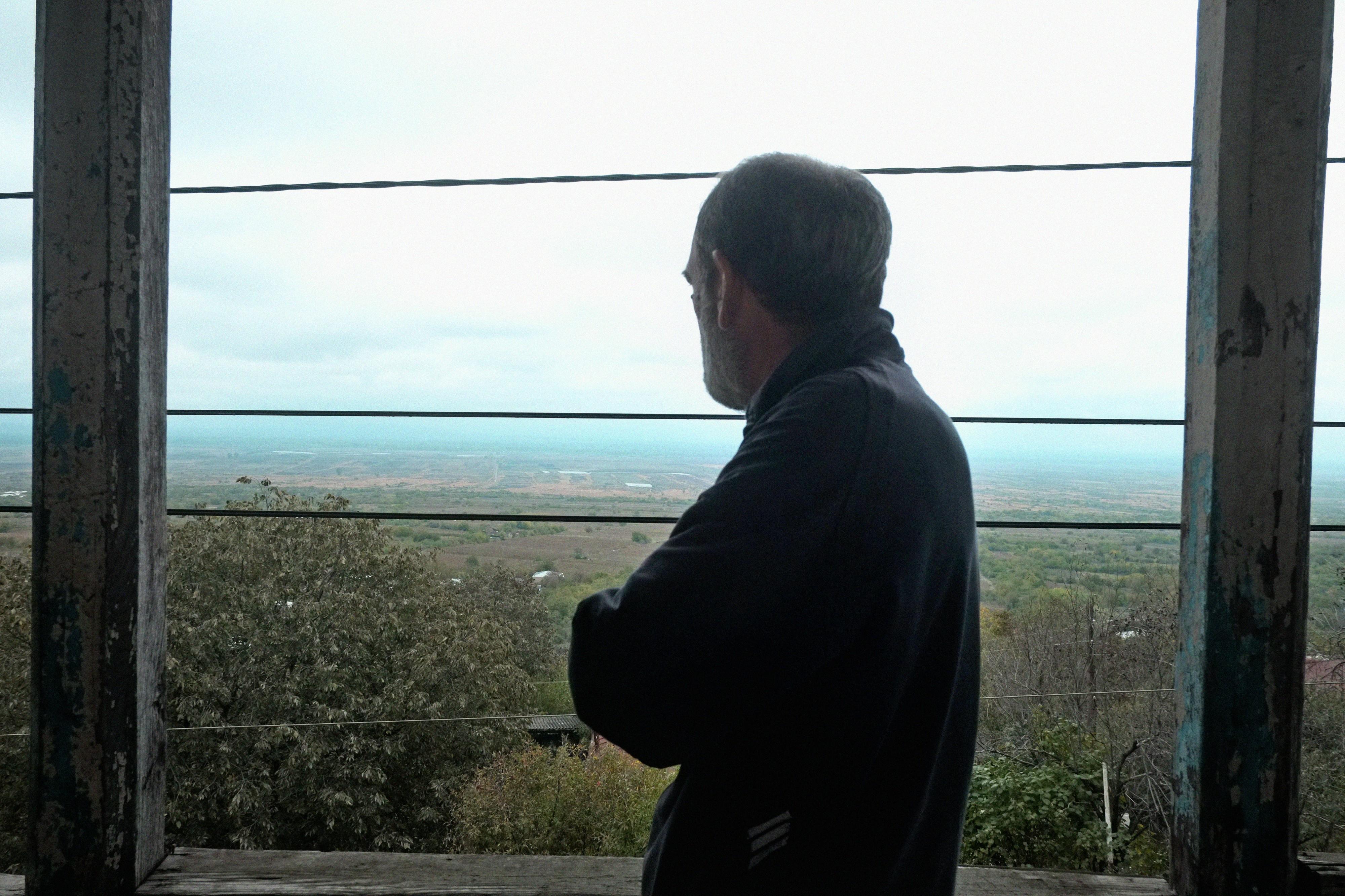 photo: Sopho Aptsiauri